This free pajama pant pattern fits for preteens and teens sizes 10 through 16. It is so easy to sew and you can use flannel, cotton or fleece. My favorite material for these PJ pants is flannel for sure. Check out this video tutorial and start sewing some pajama pants today.
Free Pajama Pant Pattern
This is one thing I hardly ever buy, is pajama pants. They are so easy to make yourself if you have a good pattern or instructions. Unlike regular pants, pajama pants need to fit roomy and loose. They are really hard to mess up. I'm sharing a free kids pajama pants pattern for sizes 10, 12, 14 and 16. My son is 10 years old right now and that is all he wears to sleep (plus a tee). He loves the fit and the feel.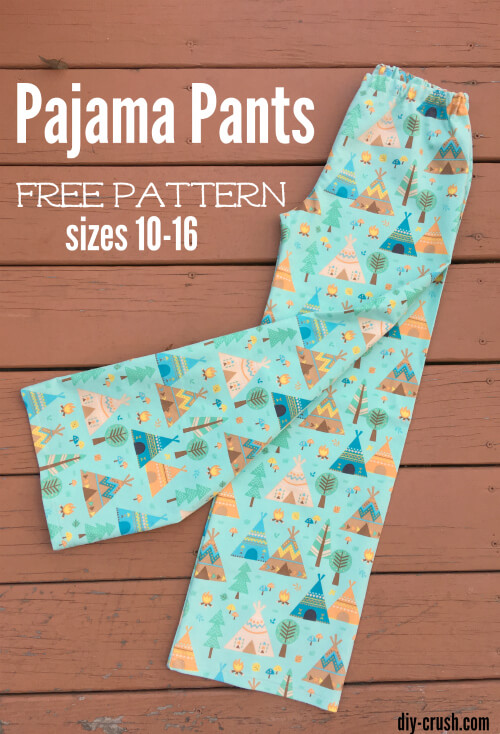 *This post contains affiliate links. Please see full disclosure here.
I always use flannel fabric for his sleep pants. If you have never sewn with flannel, check out my tips for sewing with flannel.
The pj pants in the featured image above are made with the luxurious flannel  called "Teepees" on mint green from Northcott's Teepee Time Collection by Deborah Edwards. I ADORE this collection!
If you prefer knit pajama patterns, then you might like my free kids pajama pattern. My son loves straight cut PJ pants and my daughter loves her snug fitting knit pajamas. I was the same way but nowadays I love loose fitting PJ pants myself.
Here is the cutting chart:

Be sure to check the finished inseam column before you hem the legs. You might have to cut the legs a tad shorter depending on your child's inseam!
What you need to make PJ pants:
Fabric (you can use fleece, cotton or flannel fabric)
Download the crotch/leg template <=======
Sewing Machine
Serger/overlock machine (optional)
scissors
Iron
Fabric marker/pen
Rotary cutter (optional)
Safety pins
Straight pin
Watch this video tutorial on how to sew pajama pants:
Be sure to check out my kids' Christmas pajamas with applique tutorial & the free summer pajama pattern!  <===== click blue links!
My son loves his new comfy sleep pants! The fabric is amazingly soft and washes well. I always wash and dry my fabrics before I sew them.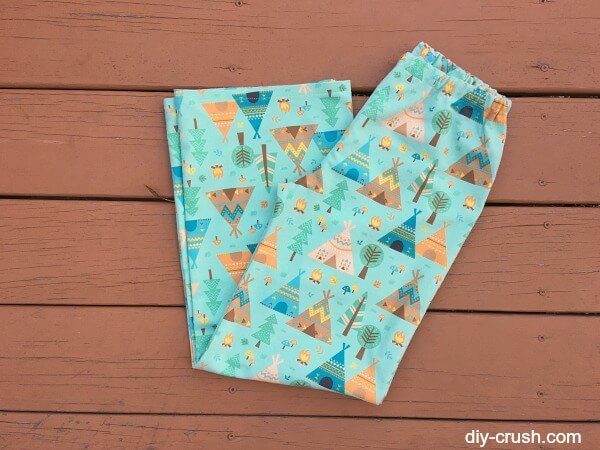 Here is another pair I made, this time in this cute sheep print on lavender. This fabric is not available anywhere anymore.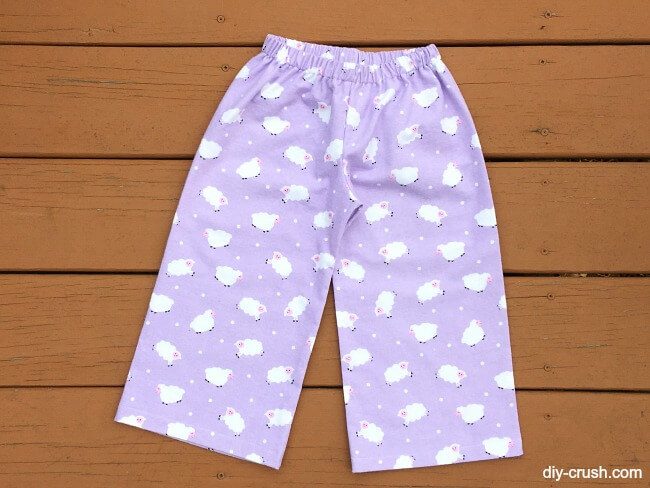 I hope you enjoyed this free kids pajama pants pattern with videos! If have any questions, please leave them below!