What is your favorite fabric to sew with during cold months? One of mine is for sure Flannel! They make the best pajama pants for my kids. Here are my 14 Tips For Sewing With Flannel fabric to make your sewing experience a success!

Want to make something soft and warm for your kids to wear this winter? Are you a bit scared of sewing with this soft and fuzzy material called Flannel? Don't be! Here are tips and recommendations that will make sewing flannel a breeze!
⇓- – – – – – –  PIN THIS – – – – – – – ⇓
14 Tips For Sewing With Flannel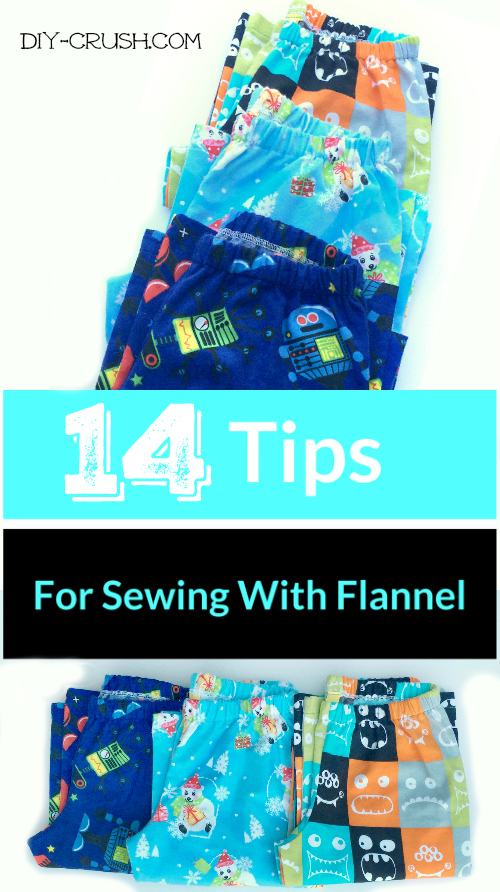 *this post contains links to some of my affiliates. Read my disclosure policy here.
1) What Is Flannel?
Typically Flannel is made from cotton fibers which are woven. Other types of Flannel are made from wool or synthetic fibers. Flannel does not typically have a nap, which makes it different from most other woolen fabrics. A nap is the raised, fuzzy surface on the fabric. A nap happens when the Flannel fabric (made from wool) is woven, which means, the surface is not smooth. This rough surface is sheared away to create a smooth and soft surface. Flannel is made of loosely woven fibers which gives it softness more so than a nap. Flannel is known for its softness and optimal for creating warm clothing or blankets.
You can find Flannel that is brushed for extra softness. Brushing is the mechanical process where a fine metal brush rubs the fabric to raise the fine fibers from the loosely spun yarns.
2) Different Quality Of Flannel
As with other materials, Flannel comes in different levels of quality. High priced Flannel is typically of the best quality and washes/wears very well. Lower priced Flannel tends to pill more in the wash and while wearing. It also lacks the tightness of the woven fibers which makes it not last nearly as long as higher priced Flannel which mostly is double sided. You can feel and see the difference when you compare both qualities up close.

Another aspect of the difference of quality is the shrinkage of the material. It can shrink as much as 1-4″. Prewashing is always the best tip!
3) Where To Buy The Best Flannel
at quilt shops (local shops have the advantage of the test & feel!)
online at fabric stores that sells designer brands such as Michael Miller, Riley Blake to name a few. I absolutely love the quality I receive from my go-to etsy shop at Cali Quilt Co. (formerly Stitch Stash Diva)!
4) What Can Be Made From Flannel?
Clothing such as scarves, baby layettes, shirts, pajama pants,

applique's

, lining in jackets, bathrobes or pants!
Blankets! Just think of cuddly baby receiving blankets or as backing of fleece blankets. Rag quilts! Flannel for babies is amazing!
Bedding such as for cribs or entire bed sets. It's incredible snuggly for winter!
Baby bibs, burpies etc.
Dog beds, blankets.
Stuffed animals and other plushies
5) What Patterns Are Great For Flannel?
You can use pretty much any pattern that calls for woven cotton. Try to avoid patterns that require you to shirr the fabric (sewing with elastic thread in the lower compartment) as Flannel is most likely too thick in order to gather up enough.
Here are some pattern suggestions for the use of Flannel:
GYCT Designs' Jean And Jamie Jammies pattern
OUSM Designs' Ruffled PJ pattern for girls
Snuggle My Baby Pattern's Chris and Christy's All Season P.J. Bottoms and the infant version
Click page 2 below to continue reading more tips!