Kids need some comfy and snuggly pajamas for fall and winter. This free kids pajama pattern includes sizes 9, 10, 11 and 12. The fit is snug to keep them warm and you need knit fabric with good stretch such as jersey knit, softer interlock knit fabric or thermal knit fabric.
Free Kids Pajama Pattern in sizes 9, 10, 11 and 12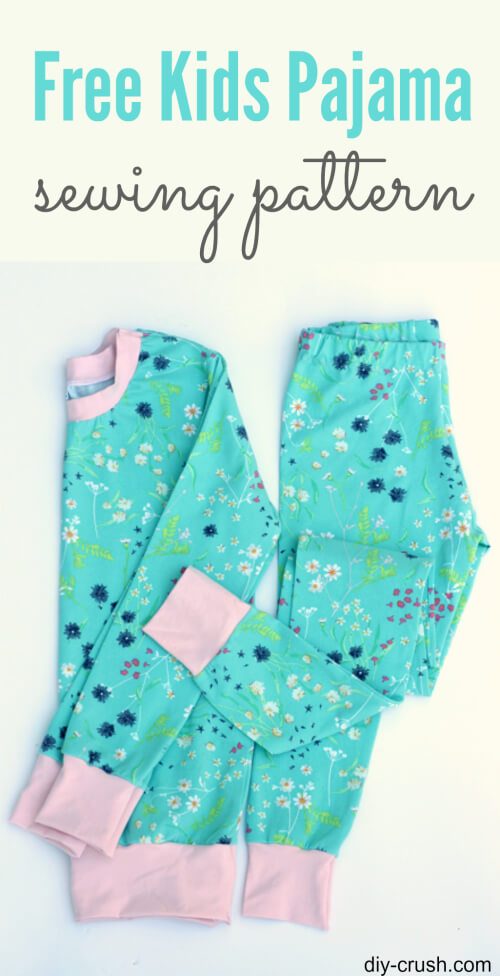 *This post contains links to affiliates. Please see full disclosure here.
This pajama pattern is a continuation of my free knit pajama pattern I posted a while back. It is a very popular pattern so I thought to increase the sizes on this. My daughter now wears size 10 and needed new pajamas for fall and winter. Be sure to see the full picture tutorial of this pajama so you can make one for your kids.
I used a fabulous jersey knit fabric from Art Gallery called Lavish Blossom Swale Calm, to make this pajama. It is of amazing quality and has a great stretch and recovery. The feel is very soft and the colors vibrant and they last a long time and withstands many washings. I also fully dry my pajamas on high heat and they still look amazing as on the first day.
The fabric features tiny wild flowers on an aqua background. Primary colors are: aqua, hot pink, lime green, white, gray and orange. For the price I paid, this high quality jersey knit fabric was a great deal and worth the money!
Although there is no pale pink in this print, I really loved the combo of pale pink on this pajama. I happened to find a great knit fabric in that color which an amazing feel! It is from Art Gallery called crystal pink.
Art Gallery Jersey Knit Lavish Blossom Swale Calm Fabric
Art Gallery Solid Jersey Knit Crystal Pink Fabric By The Yard
&
You need the following supplies to make this free pajama pattern:
knit fabric
free kids pajama pattern <=====download
3/4″ non roll elastic for waist
sewing machine
serger (optional)
scissors
Click HERE to buy the Lavish Blossom fabric and HERE to buy the pale pink interlock knit.
The templates have all the bands measurements on them. You also need to cut elastic for the waist of the pants. Here is the cutting chart:
Yardage: you need 1 yd for the pants, 5/8 yd for the bodice plus sleeves and 1/4 yd for all the bands.
Seam allowance: 3/8″
I made a short video for you about working with the templates. It will show you how to cut and tape them plus you will find out exactly how to cut the front and back bodice as the templates only have one bodice piece. Watch this video:

Here is a video of how to sew the top of this pajama. But be sure to visit my previous post which has a full picture tutorial to follow!
Watch this video of how to sew the pants:
Some adorable kids from my pattern testers in their pajamas:
I hope you enjoyed this free kids pajama pattern with videos! If have any questions, please leave them below! And don't forget to subscribe to my blog updates on the sidebar!