Today I have a free pattern for you! A while back I made a free knit pajama pattern for size 9 which you can find here. Meanwhile my daughter grew and needed summer pajamas, so I made her a larger size and thought to draft 2 more sizes and offer this short sleeve pajama pattern again for free. You will find the picture tutorial plus measurements in this post as well as the templates download link.
Short Sleeve Pajama Pattern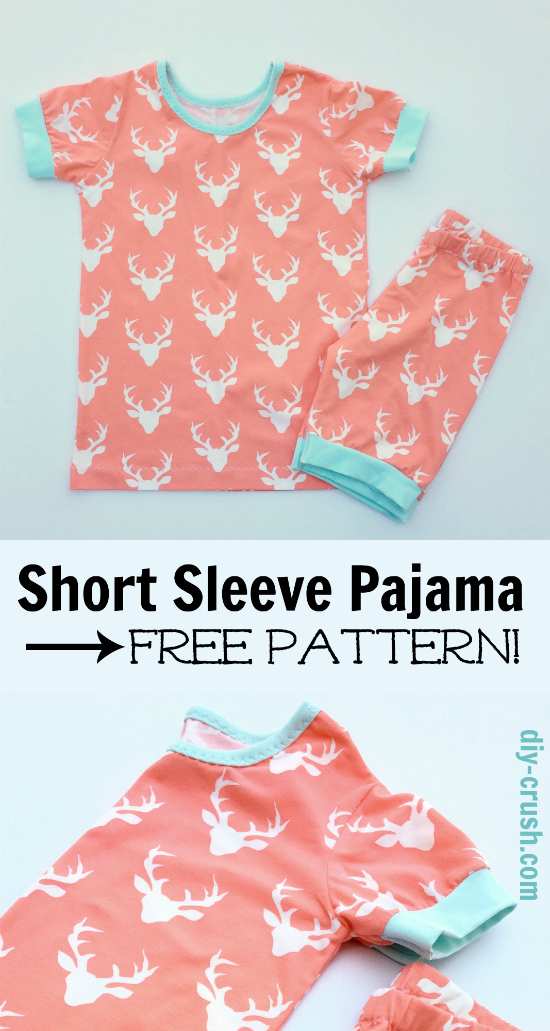 *This post contains links to affiliates. Please see full disclosure here.
This summer short sleeve pajama pattern is available for free in sizes 10, 11 and 12. This post does not have the full picture tutorial because it is the same as the size 9 pajama pattern which I posted with picture tutorial right here.
The style is simple and could work for boys as well! Maybe for a boys size 10 I would make size 11.
List of required materials & supplies:
What to do next:
Print out your templates without scaling (set at 100%) and match the corner markings or trim off the perimeter of each page and then tape together. You will find letters in each corner so just match up 4 letters as shown in the image below.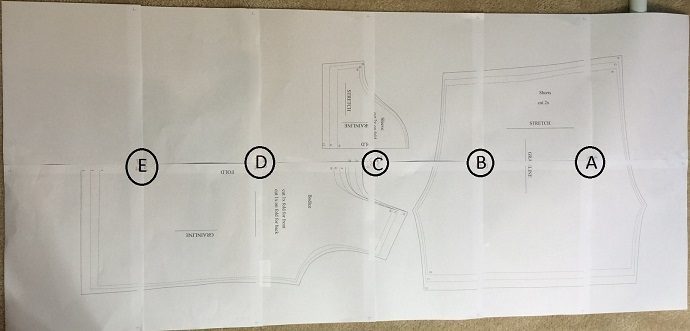 2. The yardage you need depends on the style you will make (top, sleeves and shorts in the same print or individually pieced). Best is to measure the template in order to determine how much of fabric you need for each piece. Altogether you will need roughly about 1 1/3yd of fabric that measures about 40-50″ wide. The back bodice is cut from the front bodice which has line markings for the higher neckline according to size. Mark accordingly before trimming those off.
3. For the bands you want to cut the following pieces across the fabrics width:
-size 10 = 2x arm 9″, 1x neck 21″, 2x legs 13″, top bottom hem band 2x 12″
-size 11 = 2x arm 9.5″, 1x neck 22″, 2x legs 14″, top bottom hem band 2x 13″
-size 12 = 2x arm 10″, 1x neck 22.5, 2x legs 14″, top bottom hem band 2x 13.5″
(the arm, top hem band and leg bands need to be 5″ long so you can fold it in half which will make the bands about 2.25″ when sewn on. The neck band needs to be 2.5″ long so you will end up with a sewn on neckband of about 1″ width). If you prefer, you can increase the length to make the band reach longer down on the arms and legs. I tend to mix those up a tad and make some shorter and some longer.
Waist elastic: 3/4″ width – cut 1x 21″ long for size 10, 22″ for size 11 and 23″ for size 12 (adjust length of elastic as necessary).
4. Seam allowance is 3/8″ and the best stitch for knits is a tighter zigzag/stretch stitch.
Ready to make this short sleeve pajama pattern?
Below I'm showing off some of the PJ's I made for my daughter who is now in size 10.
As you can see, the neckline band is skinnier as instructed in the original tutorial, you can find this technique here. The bottom hem is a folded hem and sewn with a wide zigzag/stretch stitch. To accommodate the hem, extend the top template 3″.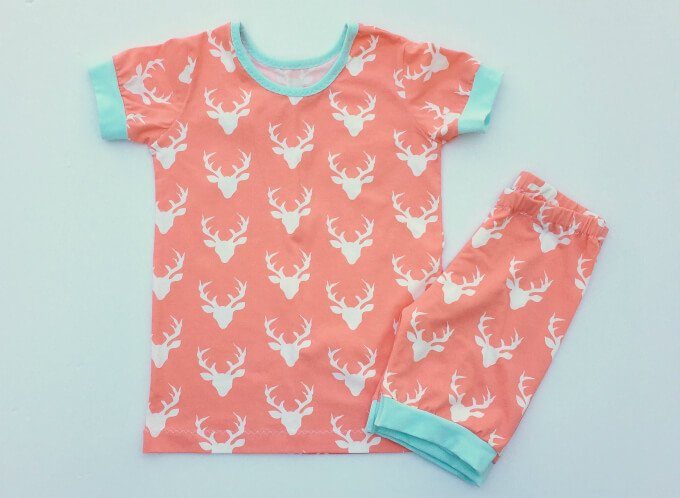 For this pajama I used organic cotton knit fabric from Organic Cotton Plus in mustard deer print (not available anymore). The striped fabric was from Girl Charlee.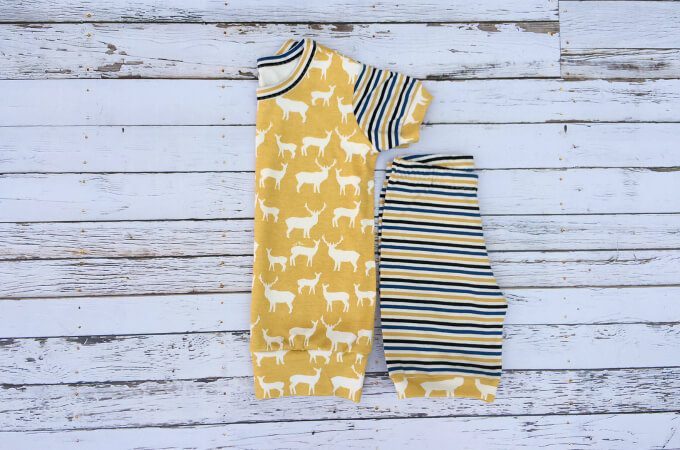 This pajama was made using this leopard interlock knit fabric from Hancocks Fabrics. Unfortunately they closed down though. The red knit was also from them.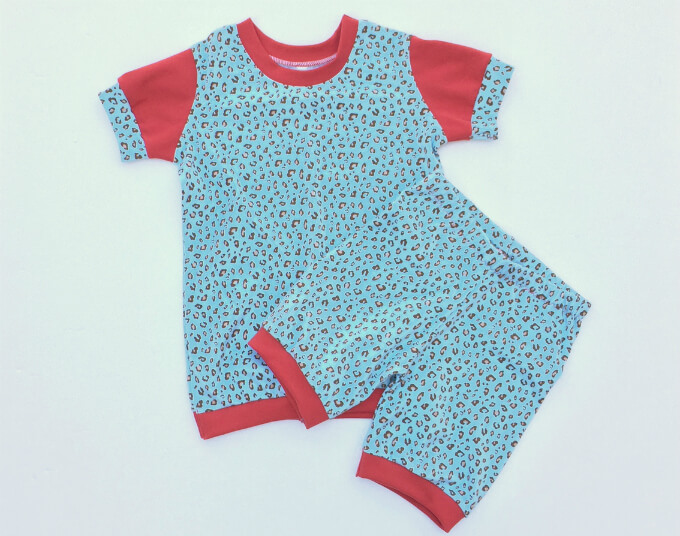 The last pajama I want to show off today is this one with a cute sea turtles applique'! I'll be sharing the free template download soon! The knit fabrics I used on this PJ are leftovers from previous projects. The deep fuschia knit and the cute tiny print is from Organic Cotton Plus, the peachy pink is from an old t-shirt. For the top on this PJ I extended the top templates 3″ and folded up the bottom hem 1/2″ and sewed it with a wide zigzag/stretch stitch.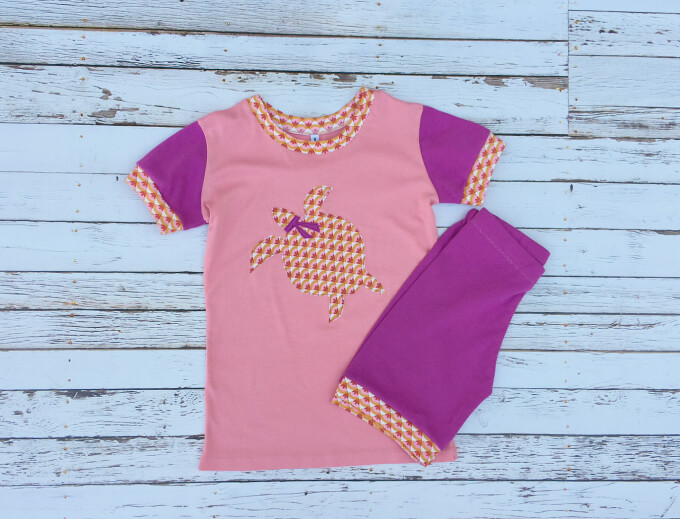 Check out where else I have used Organic Cotton Fabric on HERE (includes free pattern!)