With Valentine's Day just around the corner, the pink and red DIY'S keep popping up everywhere. I personally love this romantic holiday and not only for the chocolates, red roses and delicious dinners. I love creating and sewing for Valentine's Day. Today I have a cute Valentine's Day hat DIY for you!
Valentine's Day Hat DIY
In February it is still cold in my area and we love our warm fleece hats and other clothes. I keep sewing my daughter these little
fleece hats with ears and fringe pom poms
. She has about a dozen, probably more! They are super to whip up and you can use scrap fleece fabric which makes them a great frugal project.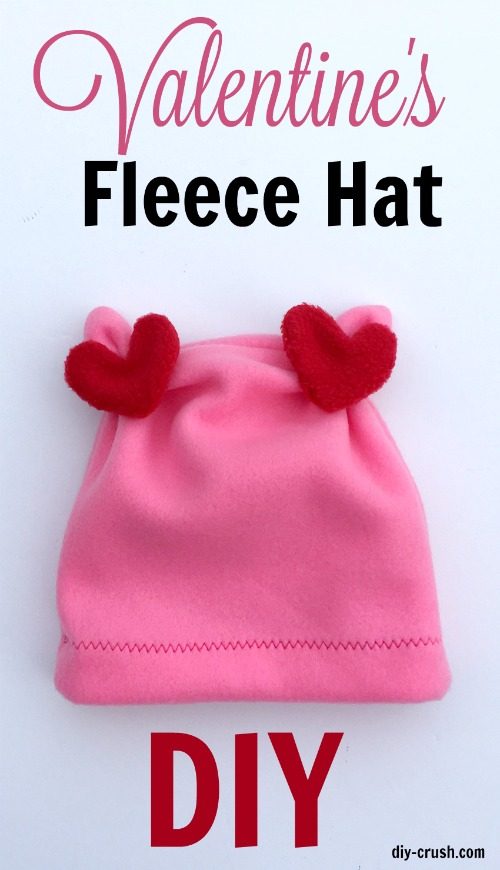 *This post contains affiliate links. Please see full disclosure
here
.
I had this vibrant pink and red fleece fabric which I thought was perfect for the hearts! I also loved the bright pink for dark days when the sun just doesn't want to come out. Bright colors make me happy.
How to make a hat with hearts
For this example I added only two hearts to the front of the hat. You can make four hearts and add them to both sides! I think I need to add two more hearts to my hat, too. BTW, I used the smallest size heart with a roughly diameter of 2.5″ for my size 10 hat.
You need the following materials and supplies:
double threaded hand sew needle
sewing machine
straight pins
fleece hat templates (head over to this post to download them!)
heart templates (I am offering 4 different sizes, downloadable from here)
Once you downloaded the templates, cut out the desired size. I used the 2.5″ heart template for my size 10 fleece hat.
Fold your fleece fabric over sideways so that the stretch is going sideways and the print direction (if applicable) is going down. Cut out 2 pieces for the hat and 4 heart pieces (unless you want to add hearts to both sides).
Seam allowance is 3/8″ for the hat and 1/4″ for the hearts.
Please watch this video tutorial for the construction:
And our little hearts fleece hat is done and ready to be worn! Now I have to get my daughter to model it for me! Hopefully very soon!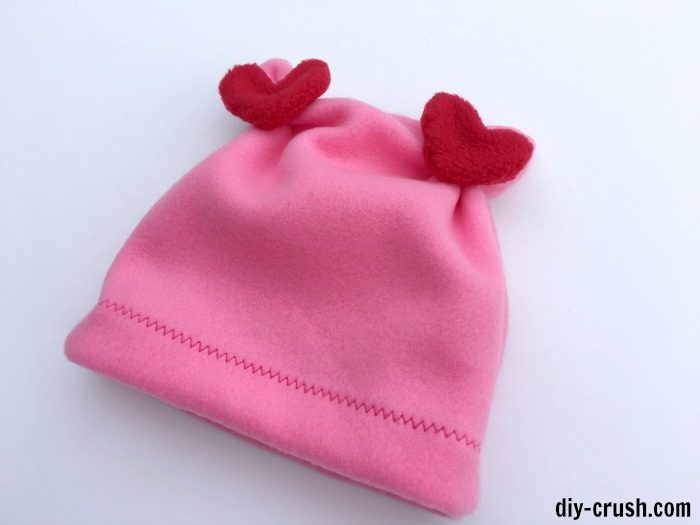 If you like this project, you might be interested in our Valentine's Day DIY'S <= click this link!
Are you interested in getting our newsletter? Hop on the mailing list on the sidebar!
Proudly linked up here: