With the weather getting cooler now I am finding myself making fleece things again such as hats, mittens, scarves, legwarmers etc. How about you? Here is a great free pom pom fleece hat sewing pattern for you!
Here is a FREEBIE for you again! As part of an adorable set which includes hat, mittens and legwarmers, today I'm sharing this easy to sew fleece hat sewing pattern which has ultra cute fringe pom poms sewn on to the pointy corners. All in all a super easy DIY! Wanna make one to keep your kids heads toasty this fall and winter? Come on, I'll show you how!
This hat comes in three size groups, for newborns, up to 3t and up to 12 girls. The templates are downloadable. Oh and don't miss to check out our other free fleece patterns for mittens.
⇓- – – – – – – – PIN THIS – – – – – – – – – ⇓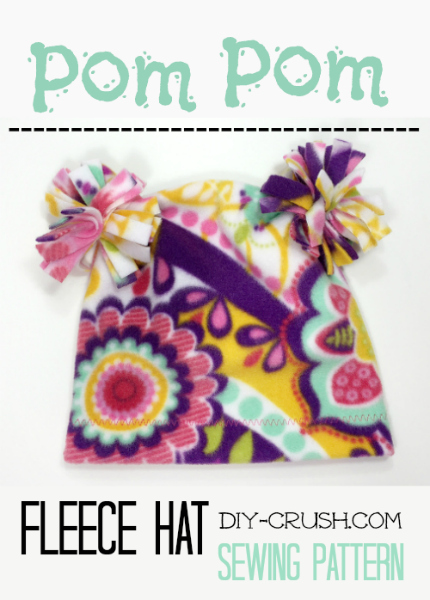 ---
Gather Your Materials:
fleece
sewing machine
thread
scissors
embroidery thread and matching hand sew needle
optionally a cutting mat and rotary cutter
It's time to get started!
Download the hat templates HERE and print both pages, cut around perimeter of templates and tape together following the tape markings. You only need 1/3 yard of fleece. Fold over the fleece from side to side and place the template onto the fold of the fleece, matching the templates fold line. Cut out one piece of fleece on the fold. Then follow the step-by-step picture tutorial.
---
Pom Pom Fleece Hat Sewing Pattern Tutorial: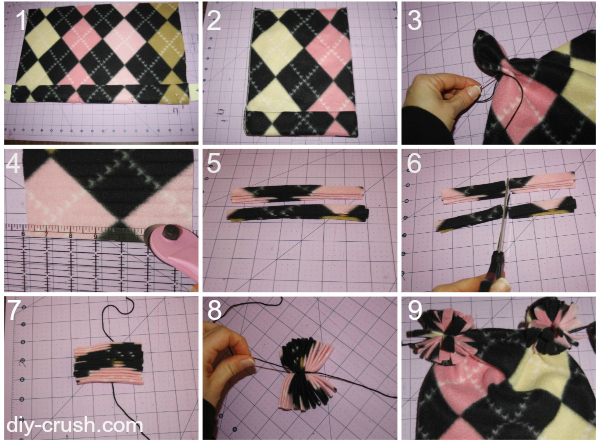 Step-by-step instructions:
Place larger fleece in front of you with the right side of fleece facing down as well at the print direction (if applicable). Fold bottom edge up 1″, then pin and sew in place with a wide zigzag stitch or stretch stitch.
Fold piece over to the side and pin then sew the top and side edges. Backstitch the end. Turn hat with right sides out. You only have one side seam.
Thread your needle with a long piece of embroidery thread. Double knot one end. Now take each corner of the hat and pinch at about 2″ down from the corner and sew back and forth to form an "ear". Double knot thread before cutting. Repeat with other corner.
Cut 2 pieces of fleece 4×7″ and cut small strips along the long side. Cut strips at 1/2″ thick.
Divide each cut piece of fleece strips in two stashes
Cut both stashes in half
Stack cut strip halves and insert needle with embroidery thread through the center of strips.
With the thread ends, tie a tight knot. Repeat with second stack of strips
Last step is to sew both pom poms on to the front ears of the hat where you have previously sewn them tight. Double knot the ends and trim off close to the fleece.
All done! Enjoy your new pom pom fleece hat!
If you like this FREEBIE, please share it with your friends!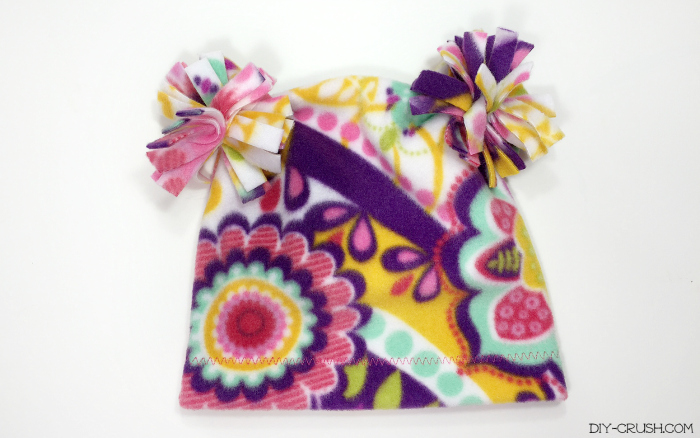 Want to be the first to know when free patterns (such as the faux fur muff or the Christmas PJ applique tutorial are posted? Please subscribe via the box in the sidebar!