Learn how to make a muff for ladies and girls. This sewing tutorial shows you step by step how to sew a muff. It is a pattern without template and consists of measurements only. So very easy to make!
How To Make A Muff For Ladies And Girls
This muff is very easy to make with no visible seam! It's not as hard to work with faux fur as you might think! See below!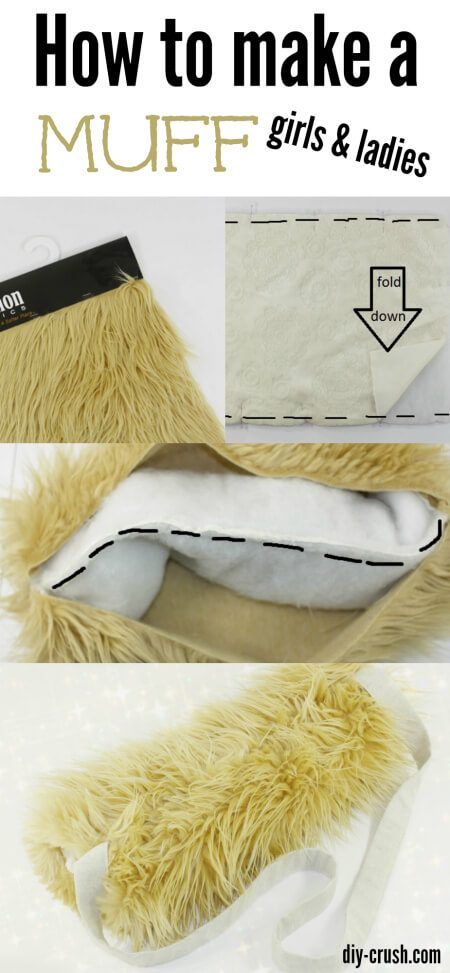 Origin of MUFF
Dutch mof, from Middle French moufle mitten, from Medieval Latin muffula
Let's gather the supplies
Ready to begin sewing
Place the faux fur piece on top of the just sewn piece, with right side down.
 Sew along the dashed line (short ends on the ladies' version and other ends on the child's)
It's time to turn the 3-layer piece with right sides out. Turn it so the batting is on the inside. Then the top and bottom corner of the right side are going to meet………
 With your hand, grab the top and bottom corners of the right side and bring them together…..
 Sew along the dashed lines with backstitching the beginning and end:
Fold the outer material away or down so that  your piece looks like this now. Place the strap ends above the muff as shown:
 Place the center of the strap inside the muff where the outer fabric is:
 Align the left strap end with the corner of the muff's outer material:
Last step to finish your muff
I hope you enjoyed this tutorial on how to make a muff! You can download the PDF from HERE!
 If you liked this free muff sewing pattern tutorial, would you like us to email you when we have a new post up? Then hop on the list by entering your email on the sidebar! We promise, we only send you 1-2 emails per week!