Sew a cute crop top and bloomers for babies. This free 2-piece sunsuit sewing pattern for babies is perfect for summer. The crop top is super comfy with elastic all around. It ties behind the neck. The bloomers feature an adorable big bow and the leg hems can be made in contrasting colors and prints.

Free Maui 2-piece Pattern
*this is a sponsored post and the fabric was provided by Phat Quarters All opinions are mine and Phat Quarters will not be held responsible for these opinions. Further, this post contains affiliate links. See my disclose policy here.
I can't stop making cute little outfit patterns for babies. Maybe it's because my kids are not babies anymore and I still want to sew for babies. Well, it's a bonus for you, my readers! You get enjoy these free patterns such as this free Maui 2-piece pattern. BE SURE TO GO TO PAGE 2 TO FIND THE DOWNLOAD LINK!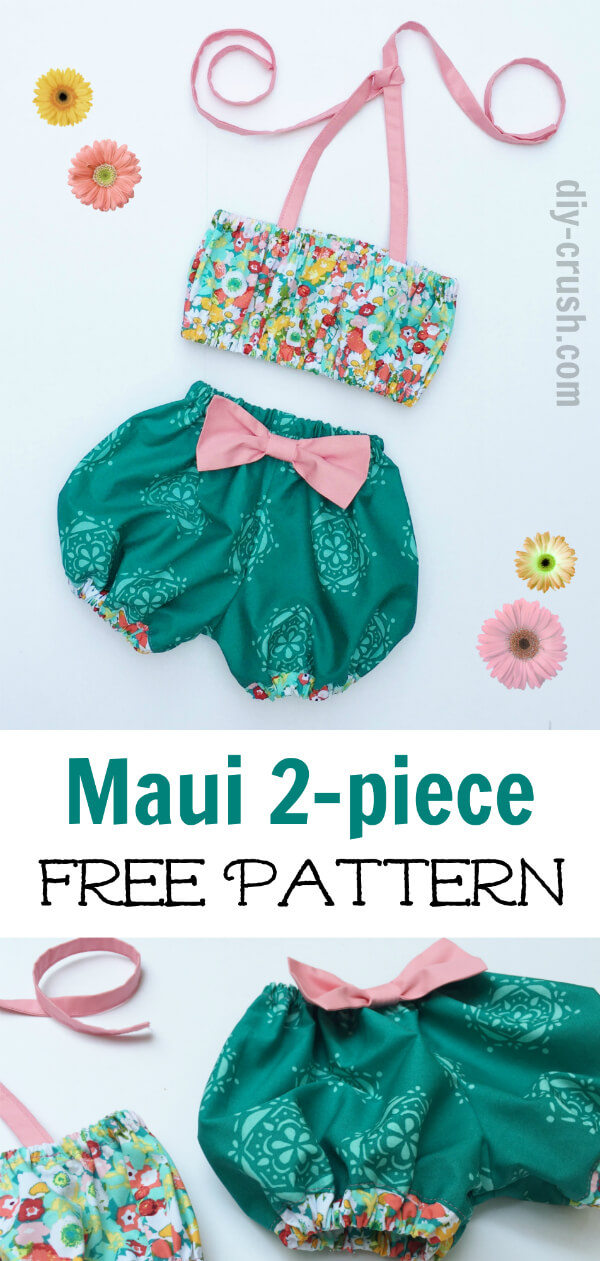 Just a couple of weeks ago I posted a picture tutorial and download link for the templates and chart for the free Fiji Sunsuit pattern and it is well loved! I keep seeing little models wearing this sunsuit all over facebook. BTW, join our group so you can post pictures of what you make with free DIY Crush patterns!
Is was thrilled when I heard that Phat Quarters wanted to work with me! Yay! I just love fabric, that is no secret anymore. I was even more thrilled when I got to sew something with this amazing fabric selection which is Art Gallery's 'Lavish' line. The package arrived so quickly which was great because I have a very low patience level when I comes to waiting for fabric lol… the ladies at Phat Quarters from Etsy packaged it so nicely that I almost (almost) didn't want to unpack it. But then I did. I LOVE, LOVE, LOVE, the quality of this fabric. If you haven't tried Art Gallery fabric you really should. It's far different than many others.
If you like to follow them, you can like them on facebook and on their blog.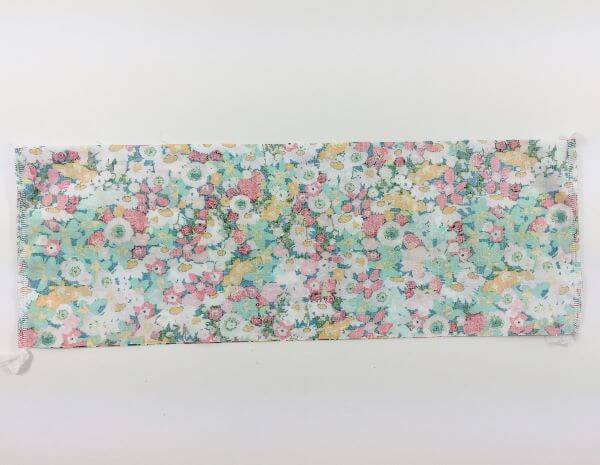 Fold down the top edge 1/4″ and press, fold down once more 1/2″ and press. Repeat with bottom edge.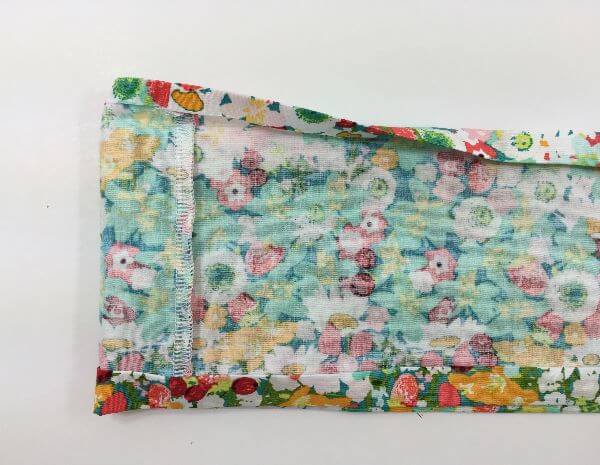 Sew the hems down along the dashed lines, with a 1/8″ seam allowance to the inner folded edge. Leave a 1/2″-3/4″ opening in the center on the top and bottom casing (image below does not show the opening on the bottom). Backstitch the beginning and end.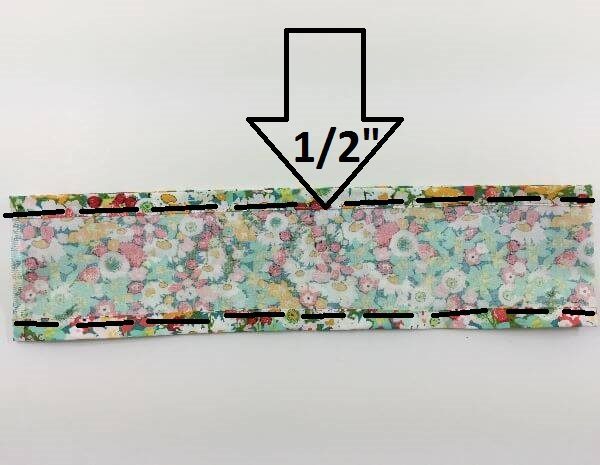 Secure a small enough safety pin to one end of the elastic and insert into the casing. Once the ends meet, overlap 3/8″ and hand stitch together with several stitches. Repeat this step by inserting the elastic into the bottom casing as well. Close both openings with your machine.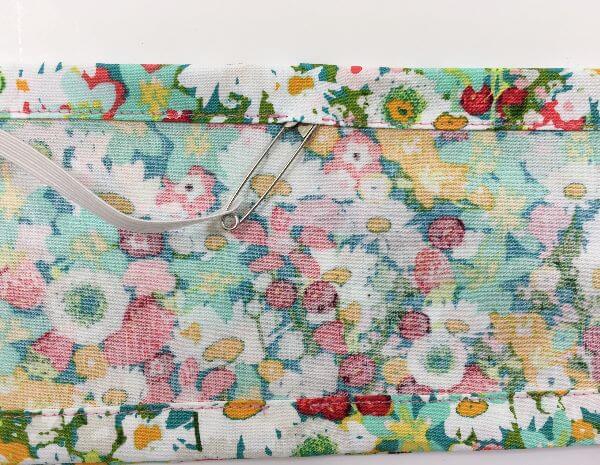 To make the ties you want to create those just you would making binding tape (just not cut on the bias) but sew the long edge, where the folds meet, closed.
Pin both ties to the inside of the bodice and hand stitch or machine sew them on. Best is to use a matching thread so it won't be that noticeable from the outside. Your crop top is done and lay it aside.
.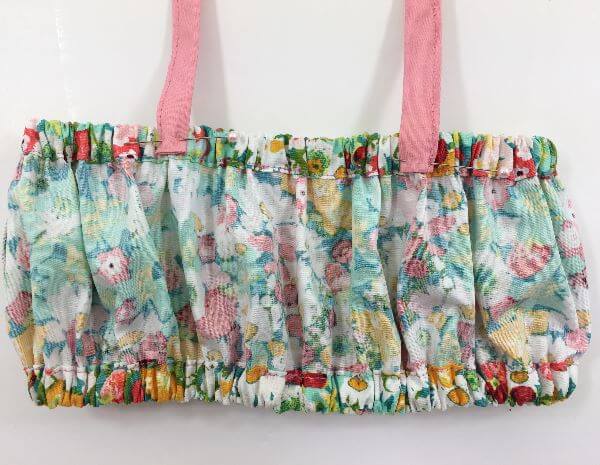 The little crop top is done! Now off to make the bloomers!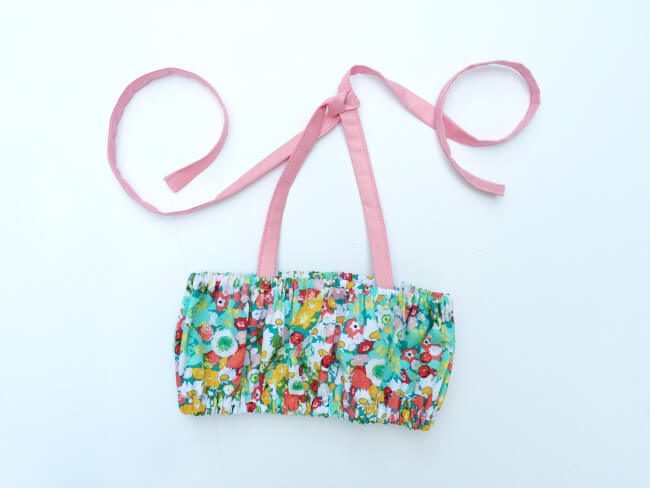 To make the bloomers, fold your fabric over sideways so that your fold is on the right. Place the crotch templates into the upper left corner and pin in place. The long, straight edge of the template must align with the raw edges of the fabric, as well as on top. Trim around template. Repeat with the other bloomer piece.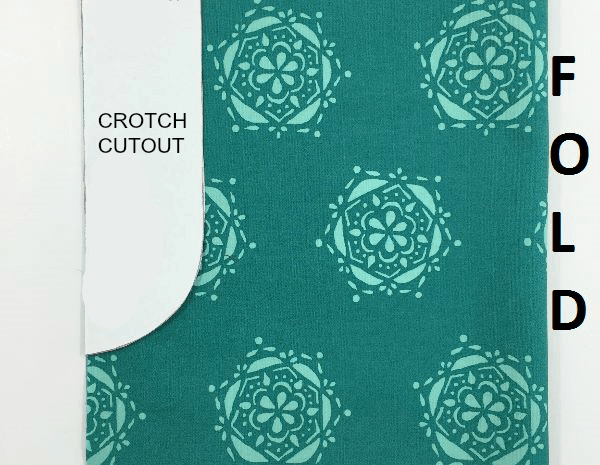 Fold your leg bands in half lengthwise and press. Shown below is the unfolded piece on top and the folded piece on the bottom.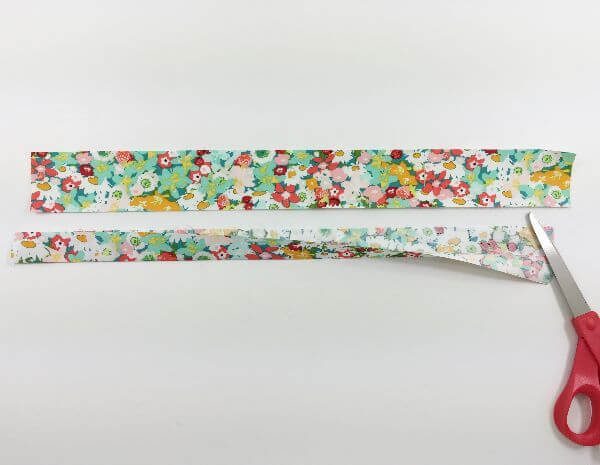 To sew the band on, place one bloomer piece with right side up onto your table and place one folded leg band onto the bottom edge with the raw edges meeting. Pin and sew in place, then hem the raw edge. Repeat with the other bloomer and leg band pieces.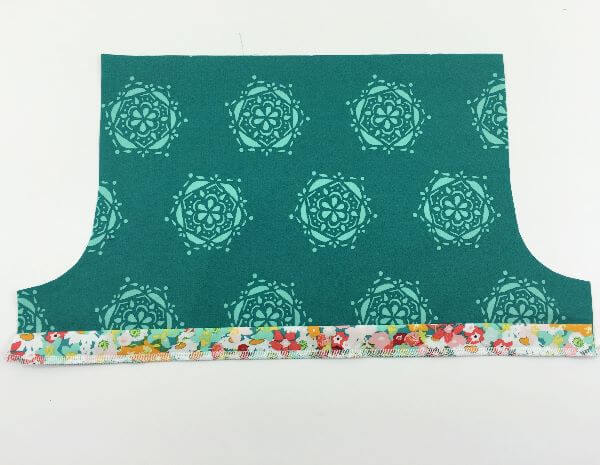 >>> Follow DIY Crush on Youtube for great sewing tutorials <<<
To continue with the tutorial please click on page 2 below!