This free sunsuit pattern is perfect for kids up to size 6! It is a must-sew for hot days. It features a fitted bodice and has elastic in the back. No shirring, just regular band elastic! It ties behind the neck and the legs are short with elastic added which makes them look ruched. Cute effect if you are looking for a bit of a change to regular shorts. Comfy elastic around the legs make the shorts into a cute bubble. You can omit them if you like but I think it looks adorable with it. BE SURE TO GO TO PAGE 2 TO FIND THE DOWNLOAD LINK!
Free Sunsuit Pattern for kids up to size 6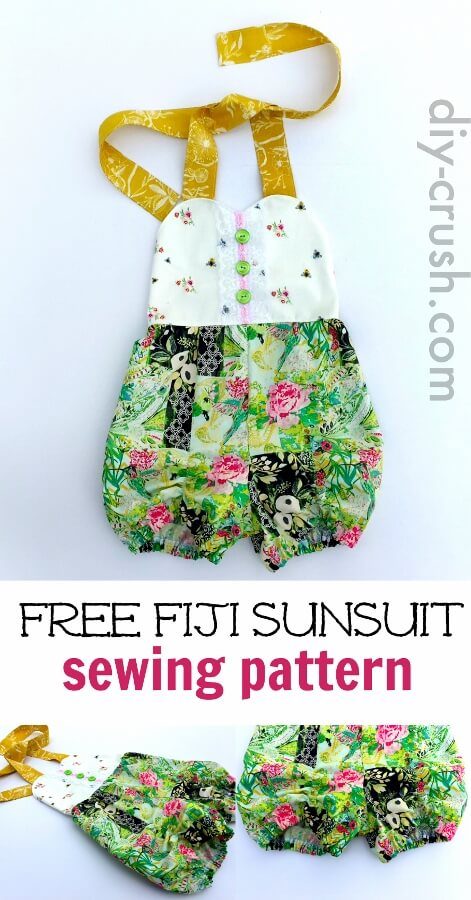 Last year I offered a free sunsuit pattern for babies up to size 6 but it was only a video. Many of you loved it and asked about a picture tutorial which now is here! For this tutorial I used this gorgeous kit I got provided by 'Fabric Fix'! It has 4 cuts of amazingly beautiful Art Gallery fabric from the Millie Fleur line. If you like to know more about Fabric Fix, check out my review!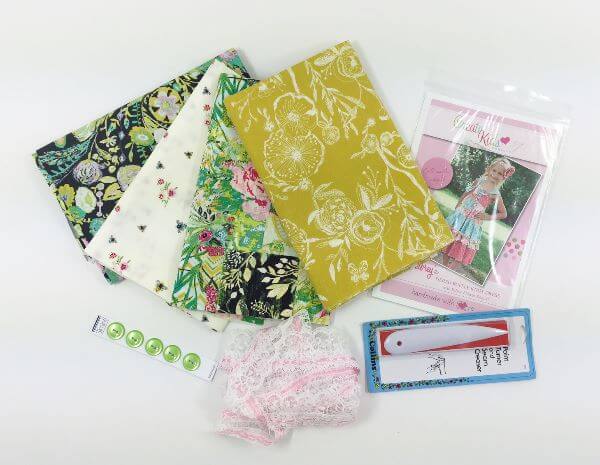 Free Baby Romper Pattern Details
The free sun suit sewing pattern was designed by me with Whimsy Couture.
It comes with templates and a sizing chart for 3 months through 6 girls and a video tutorial! Videos are great for visual learners. You can pause whenever you need and scroll back if you need to read something again. But now I have a picture tutorial for you as well! Read below!
The skill level for this pattern is beginner to intermediate, depending on if you are going to add the pompom trim and/or snap button tape. Both are optional features.
Print out the templates:
set your printer to no scaling or 100% and check the 1″ print scale to ensure your templates are to scale. Only the slightest difference will result in an ill fitting sunsuit.
Cut out the desired size
You need the following materials:
cotton fabric or any other lightweight fabric
band elastic
trim for bodice is optional
trim for the waist as seen in the

video (below)

sewing machine
serger optional
cutting mat
rotary cutter
scissors
thread
Let's sew this adorable free sunsuit pattern:
Find the cutting, yardage and elastic chart in the download ON THE BOTTOM OF PAGE 2.
First, watch this video of the construction of the original Fiji sunsuit pattern with pom pom trim:

Pin the front bodice to the folded bodice fabric and cut out on bodice for the front. Also cut out one bodice lining piece from a coordinating fabric, in my case I used white since the pretty floral fabric is so see through. Repeat these steps and cut out a back bodice front and lining piece.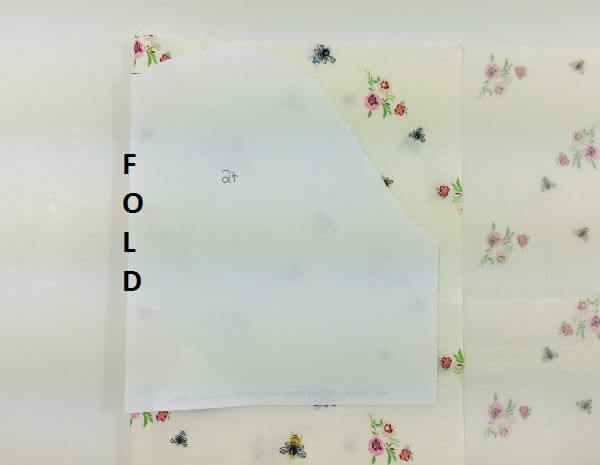 Mark the center of the front bodice by either drawing a line or pressing a crease.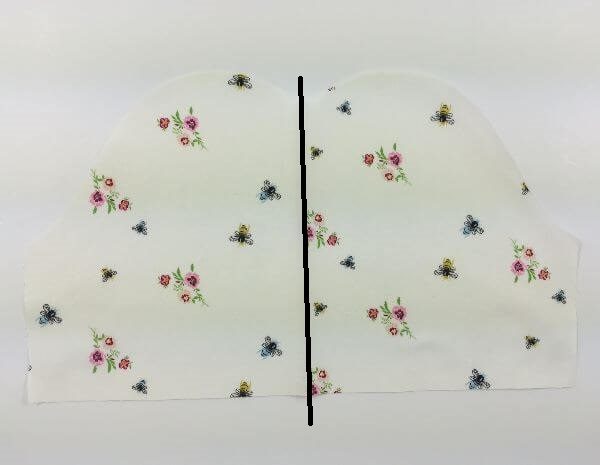 Pin your trim to the center of the front bodice and sew it on along both sides (since mine is made from two overlapping ribboned lace, I will stitch it down along the edges of the pink ribbon.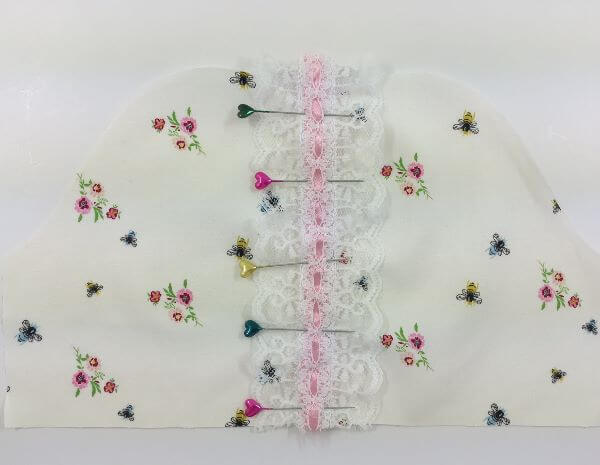 Place front and lining bodice pieces with right sides together and stitch only the upper area. Backstitch the beginning and the end. I don't have images of this step but you can find a detailed how-to in the video starting at 3:30.
Cut off the seam allowance half way.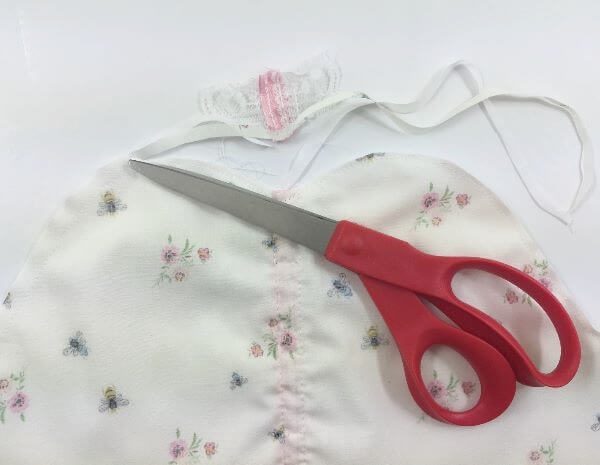 These are the finished back and front bodice pieces. Don't top stitch yet!!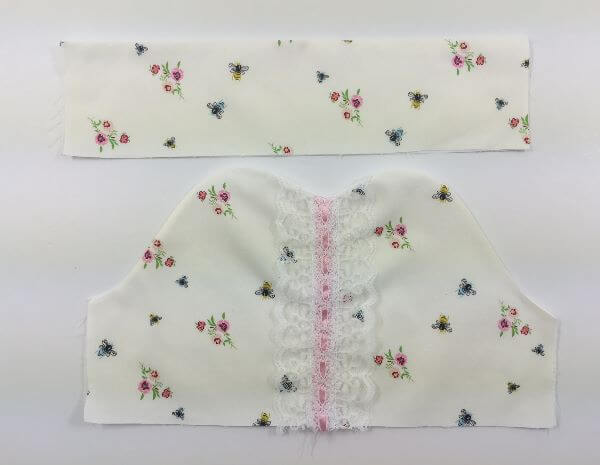 To make the ties, secure a safety pin to the right side of the fabric in each corner, keep a seam allowance of 1″. This helps for turning the ties with right sides out later on. Now fold the tie strip in half lengthwise and pin, then sew the entire strip, leaving a 2″ opening anywhere on the long side. Backstitch by the opening.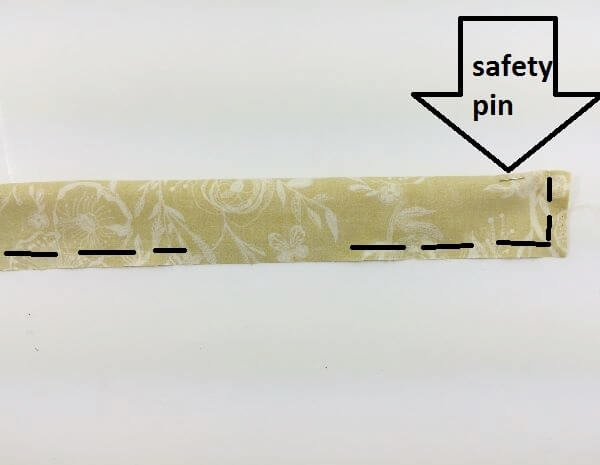 Repeat with other tie strip. After you have turned the ties with right sides out, use your point turner (this nifty little tool that comes in the Fabric Fix kit!) and gently push out the corners. Press your ties flat and top stitch around each tie which will also close the opening.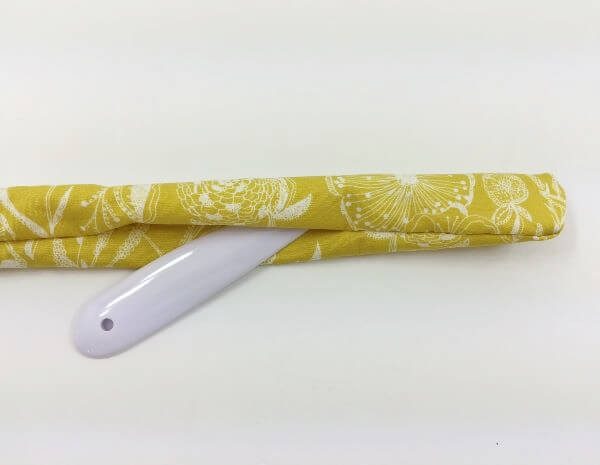 Both ties are done!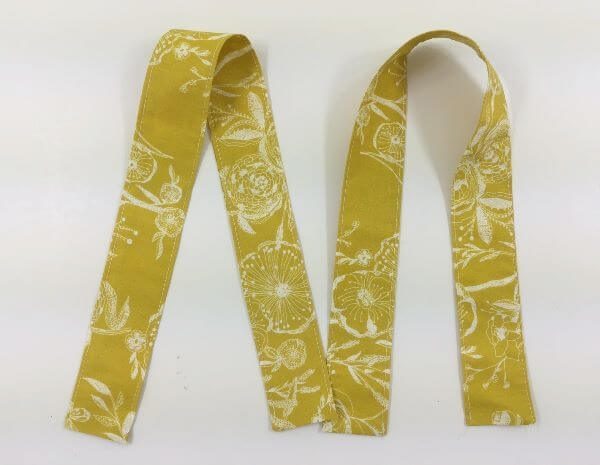 To sew the tie straps onto the bodice, you want to place the front bodice with right side down and place both ties just little bit leaning towards the center, onto the bodice about 1/8″ in front the outer edges and about 1/2″ in on the inner edges of the ties. Pin tie straps in place. Now top stitch along the outside of the bodice, over the tie straps. You will get a much better view and understanding from the video at 4:50.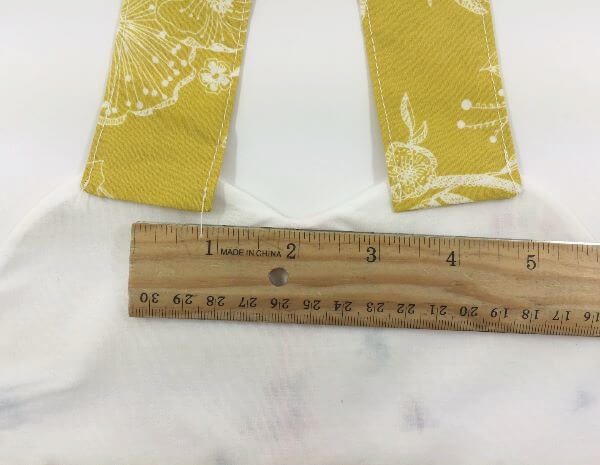 >>> Follow DIY Crush on Youtube for great sewing tutorials <<<
To continue with the tutorial please click on page 2 below!
Hi! I'm a craft & sewing loving mom of 4 (+ 2 dogs). When I am not crafting or sewing, you can find me playing with my kids and dogs! I am a slow cooker & coffee addict. My favorite color is any color and I have a degree in business management. My 24/7 job is DIY Crush and Whimsy Couture, besides being a mom. Hope to inspire you to DIY with me!