Beautiful fabric is not hard to come by these days and today I'm so excited to present you to a fairly new business called 'Fabric Fix'. I think there is nothing more I need to say, right? Check out the Fabric Fix Review below!
Fabric Fix Review
(I have received the shown materials for this review. All opinions are mine. See my policy here)
Last year I offered you the free Fiji sunsuit pattern which was only available via YouTube video. I promised that this year I was going to make it into a tutorial! View the free Fiji sunsuit pattern HERE!
I am very excited to introduce you to a new company called 'Fabric Fix'! The owner sent me generously a surprise package of her latest subscription to sew up a Fiji sunsuit for the new free pattern release (coming soon!).
First, let me explain to you what exactly Fabric Fix is!
It is an online shop that sells monthly subscriptions with beautifully selected fabric & supplies from name brand designers
The package may contain a pattern to entice you to sew these pretties up & trim and/or other notions you might need for your project
It is a surprise, meaning you won't know what you will get the following months – super fun!
⇓ – – – – – PIN THIS – – – – – ⇓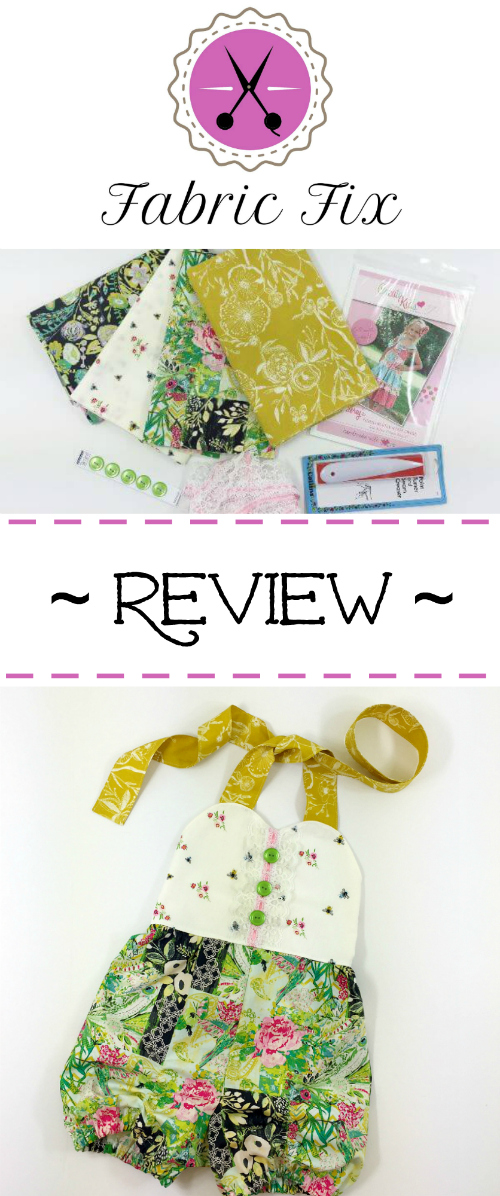 Here is the package I have received: Art Gallery woven fabric, Millie Fleur by Bari J. 4 coordinating prints each a one yard cut. The feel is amazing and the colors just gorgeous. The pattern is for a girls dress 'Aubrey's by CKC. 5 lime green buttons, dainty ribboned lace and a point turner/seam creaser by Collins. I have never had one of those and must say, I LOVE it!! This is a tool I'll be using a lot from now on. Thanks, Fabric Fix!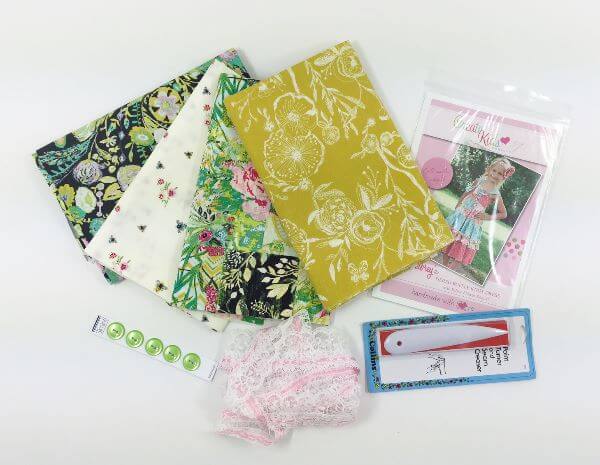 I was so excited to wait for my package and when it arrived within just a few days, I was thrilled to find all the goodies. Everything was nicely packaged and had a pretty 'Fabric Fix' sticker on it. You know, the little details really count 😉
Now, the pattern that comes with it is only a suggestion of what to make from the materials. I chose to make a little sunsuit with it and use the pretty lace with ribbon as a button placket for the cute lime green buttons. The button size worked perfectly for my sunsuit.
How to get these goodies to your door:
Read all about how to order your fabric fix HERE! Then head over to their subscription page to order one of their subscriptions starting at $35.00. The next subscription up is available for $40, then $45 and lastly $55 which was mine since it had 4 yards of fabric. To make a decision what subscription is best for you, you want to check out what comes in each box.
You can also choose between girl or boy themed packages! So cool! BTW, check back for a boy themed fabric fix soon!
Here is my little sunsuit I made. Remember, the free pattern will be up on this blog very shortly!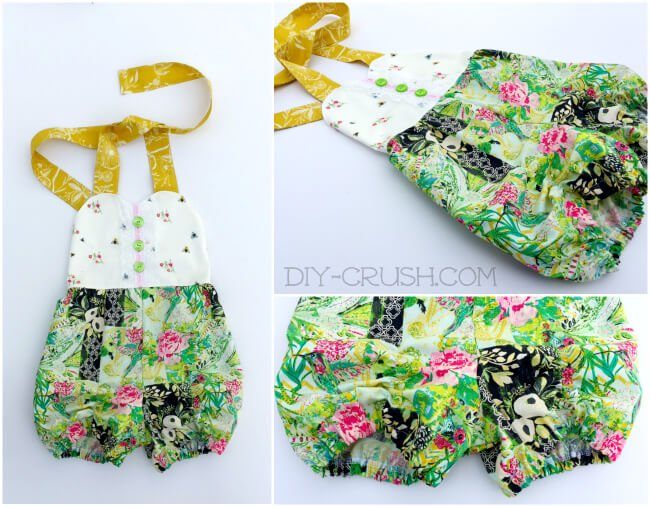 Visit Fabric Fix here:
Has this Fabric Fix Review made you curious as to what could be in YOUR Fabric Fix box? Head over to the website and pick out your subscription! Oh and I know what's in it for May! 😉 Psst….gotta find out for yourself!
———————
If you enjoyed this post, would you like us to email you when we have a new post up? You can choose what interests you! Then hop on the list by entering your email below! We promise, we only send you 1-2 emails per week!