I love upcycled denim hearts and have quite a stash of denim scraps. I thought it would be fun to use these scraps to make some Valentine's heart decorations. However, being an indecisive person I couldn't decide which way to go so I ended up making 2 very different denim heart decorations.

Upcycled Denim Hearts 2 Ways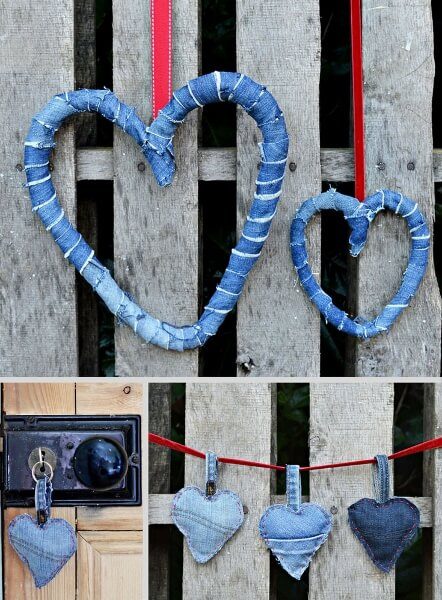 One is a really cute heart shaped wreath made with long strips of denim and an old coat hanger. These rustic hearts look so good that never mind Valentine's day, I think I will keep them up all year round. For the other denim heart decorations I used a cookie cutter as a template to make some cute padded hearts, These look great hung up in a garland but also make a really sweet key ring/chain.
Which ones do you prefer? As I said I couldn't decide so made both.
What you need to make upcycled denim hearts:
All you need to make both these decorations:
old jeans
wire coat hanger
heart shaped cookie cutter
….see the rest on Claire's blog!

Ready to craft and make your own denim hearts? Check out Claire's post today! This post was submitted by Pillar Box Blue:


If you like this project, you might be interested in our Denim Upcycle DIY'S <====== click this link!
Are you interested in submitting your own DIY projects such as sewing, crochet, quilting, recipes or other helpful do-it-yourself tips? Hop over HERE to submit your projects!
---
I hope you will enjoy using this tutorial and would like to invite you to subscribe to my posts!
Hi! I'm a craft & sewing loving mom of 4 (+ 2 dogs). When I am not crafting or sewing, you can find me playing with my kids and dogs! I am a slow cooker & coffee addict. My favorite color is any color and I have a degree in business management. My 24/7 job is DIY Crush and Whimsy Couture, besides being a mom. Hope to inspire you to DIY with me!