I love crafting with maps, they are a brilliant way to bring interest and personalise things. Maps can transform the mundane and ordinary into something beautiful and extraordinary. I have a lot of map decor in my house, from personalized map chairs, place mats and cushions but one of the most simple and effective map DIY's in my home is my IKEA map lampshades.

IKEA Hack Map Lamp DIY
My house is full of rather functional but plain IKEA pendant lampshades. I decided to pimp them into something much cooler with maps. However I wanted a subtle effect, so I decided to decoupage the inside of map lampshade rather than the outside.
IKEA lampshades are brilliant to decoupage as they come flat packed so its really simple to do. Other flat packed lampshade kits will work just as well. You can use any paper map you like, it maybe one of your hometown or a favourite holiday destination or just a map of the world. Don't worry if you don't have any maps, you can buy on amazon, map wrapping paper, which is what I used. I made one lampshade with some wrapping paper that had a vintage map of the world on it and the other a London street map as that is one of my favourite cities.
To decoupage the map you just lay out your IKEA lampshade or kit out flat. Measure the area and cut the map lampshade to size. Using decoupage glue stick the map down to the inside of the lampshade, and then coat with varnish. Once dry you then simply assemble your lampshade according to the instructions. Normally these lampshades are just wrapped round a wire frame with velcro.
I love these map lampshades they look really good round the house, my son has now requested one for his room this time with a New York street map. What map would you use ?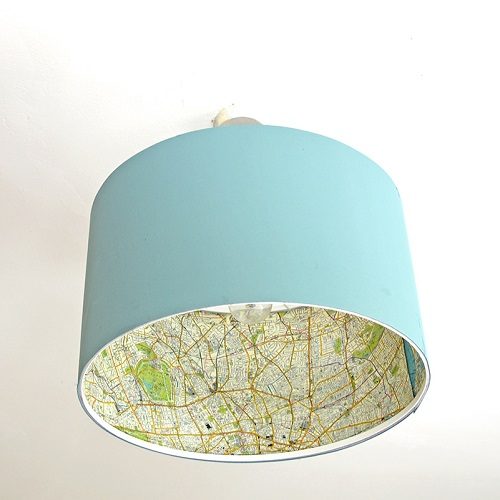 Materials needed:
Ikea lamp
map wrapping paper
…..see the rest on Claire's blog!
Ready to hack an Ikea lamp? Check out Claire's post today! This post was submitted by Pillar Box Blue:


Are you interested in submitting your own DIY projects such as sewing, crochet, quilting, recipes or other helpful do-it-yourself tips? Hop over HERE to submit your projects!
---
I hope you will enjoy using this tutorial and would like to invite you to subscribe to my posts on the right sidebar.