So nice to see you today at our 19th craft party! Yippie!! We had 18 great weeks so far and in each I have found amazingly talented people like you! Come and party with us this week. It's not only for crafts but also for recipes, blogging/business/life tips and other instructional posts. Let's party!
With spring nearing soon I am starting to think that I better get on a diet and loose some of that winter puffiness I acquired during cold winter days at home, baking cookies and drinking hot chocolate. I know, I know! It's time to start eating healthier and it's actually kind of a routine from me to eat bad during winter and healthy when the days get longer lol…..so anyways, I have found just what I need to get started. Check out my favorite 3 entries from last week's party!
PLEASE spread the word about this party!!
♥ ♥ ♥ ♥ ♥ ♥
I will pin every instructional post but won't be able to comment on every post, but if you are one of my three faves, I will comment to let you know!
♥ ♥ ♥ ♥ ♥ ♥
Please be kind and share/pin/tweet this post! Thank you!
⇓ – – – – – PIN THIS – – – – – ⇓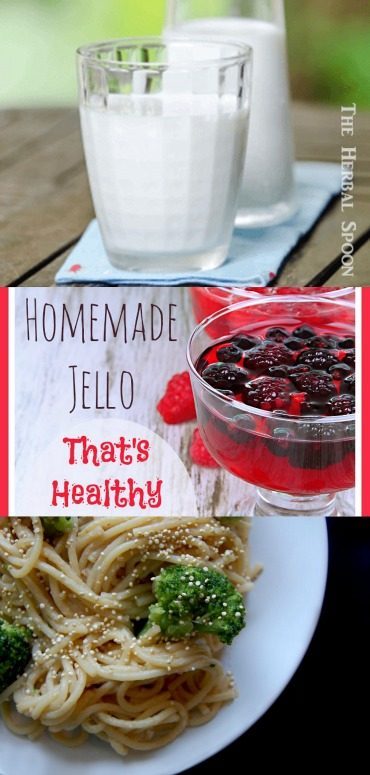 The Herbal Spoon shows us how to make rice milk. It's actually not that difficult at all! I love all kinds of milks and will for sure make this milk ASAP!
Making healthy jello at home is really easy with this recipe from Simple Pure Beauty. She even made a video tutorial to make this delicious looking jello. Check it out!
As a huge pasta (and broccoli) lover I found a new favorite recipe to make yummy Sunbutter Sesame Noodles, a recipe by The Pistachio Project!
Now these recipes will definitely give me a head start on healthy living again, what about you? Now it's time to start a new party!
What Can You Show Off?
free craft tutorials & patterns
pattern reviews (can include links to the pattern for purchase)
decoration with small list of how you did it
recipes for foods that are also kids friendly (no alcoholic recipes please)
business/blogging tips
money tips for SAHM's and WAHM's
What You CAN'T Show Off?
shops
giveaways
spam sites
products for sale
adult content
///By linking up you are giving us permission to visit your blog, pin/share images from linked up post and link back to you///<


If you liked this link party, would you like us to email you when we have a new post up? You can choose what interests you! Then hop on the list by entering your email below! We promise, we only send you 1-2 emails per week!