Hey! Welcome to the 18th week of our DIY Craft Party! It's Thursday and we are having a party! It's not only for crafts but also for recipes, blogging/business/life tips and other instructional posts. Let's party!
Happy February! Since last month was MAN-uary and my husband took fully advantage of that, my daughter and I decided that February is now FAB-urary! What do you think? So we are going to do only fabulous things this month! From last week, here are my three favorites! They are all wood/metal artwork and just amazing!
PLEASE spread the word about this party!!
♥ ♥ ♥ ♥ ♥ ♥
I will pin every instructional post but won't be able to comment on every post, but if you are one of my three faves, I will comment to let you know!
♥ ♥ ♥ ♥ ♥ ♥
Please be kind and share/pin/tweet this post! Thank you!
⇓ – – – – – PIN THIS – – – – – ⇓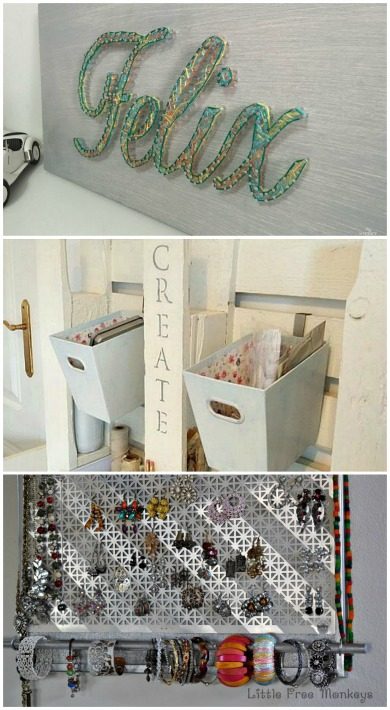 I am always excited to see what Pili from My Sweet Things makes every week. She is an awesome designer and creator and her post about the customized name string art for a kids' birthday is simply amazing! You have got to see it HERE!
Another sweet lady who always shares her awesome crafts and DIY's with us is Katrin from Kreativ K. She made this "Create-Station" with a few pieces of wood! What a great craft storage idea!
My third favorite is from Anika at Little Free Monkeys. She shares how she made this beautiful and big jewelry organizer from a cork board and an alu sheet!
I am in dire need of organizing my sewing room, that's for sure! Now it's time to start a new party!
What Can You Show Off?
free craft tutorials & patterns
pattern reviews (can include links to the pattern for purchase)
decoration with small list of how you did it
recipes for foods that are also kids friendly (no alcoholic recipes please)
business/blogging tips
money tips for SAHM's and WAHM's
What You CAN'T Show Off?
shops
giveaways
spam sites
products for sale
adult content
///By linking up you are giving us permission to visit your blog, pin/share images from linked up post and link back to you///<


If you liked this link party, would you like us to email you when we have a new post up? You can choose what interests you! Then hop on the list by entering your email below! We promise, we only send you 1-2 emails per week!