Recently we found a hutch at the thrift store that we LOVED the shape of! But unfortunately it looked a little old fashioned and beaten up. I went to Lowes and picked up 2 colors of chalk paint (eggshell white and light blue), a brush, and sealing wax. I put 2 layers of the white paint over the furniture, then 2 layers of the blue. Using some sandpaper, I rubbed the edges of the furniture to create a "distressed" look (just lightly distressed, we were going for a french provincial look rather than a full on shabby chic). Some areas we sanded down to the white layer of paint, and other areas we sanded all the way down to the wood. After we were satisfied with the look, I painted a layer of sealing wax over everything, let it sit for a couple minutes, then rubbed off the excess. And presto! We now have a lovely piece of furniture for our dining room that cost only $110 for the furniture and materials. See how to chalk paint furniture.

How To Chalk Paint Furniture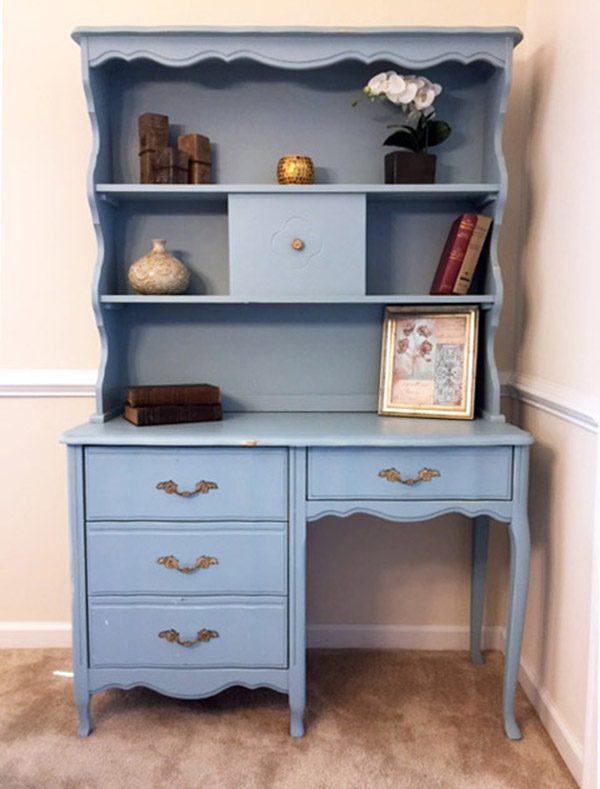 Materials needed:
old wooden furniture
chalk paint
…..see the rest on Kyle's blog!
Ready to learn how to chalk paint furniture? Check out Kyle's post today! This post was submitted by enreverie:


Are you interested in submitting your own DIY projects such as sewing, crochet, quilting, recipes or other helpful do-it-yourself tips? Hop over HERE to submit your projects!
---
I hope you will enjoy using this tutorial and would like to invite you to subscribe to my posts!