Just in time for all your summer BBQ's and pool parties, this is a free pattern for you! Make this fun Stars & Stripes applique to add to shirts, pillows etc. Let's make it!
Stars & Stripes Applique
You can embellish a shirt with or even a pillow or wherever you want to show your patriotism! This free stars applique` tutorial is brought to you by DIY Crush, your pattern place!
(Some of the links are affiliate links. Please see our disclosure policy for info
This applique is for hand applying and not suitable for hoop appliques! If you have never appliqued before then check out this great course on Craftsy: Fusible Applique Secrets: Home & Garden (w/Margie Ullery)!
Gather your materials
Follow this 8-step picture tutorial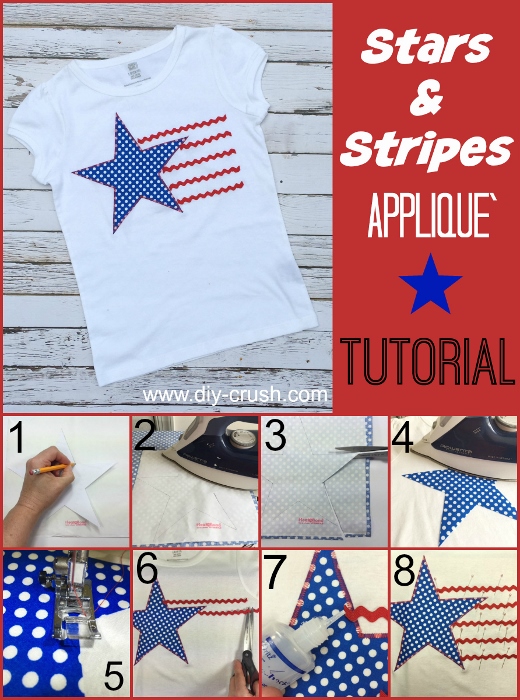 Once you have printed out the desired size star, cut it out and place it onto the iron on adhesive's smooth side. Then trace the shape with a pencil and cut a square out including the star shape.
Set your iron to high heat and no steam. Place iron on adhesive with the rough side down onto your fabric's wrong side. Press for about 10-15 seconds or according to the iron on adhesive's instructions. Make sure to press it in sections so that all areas are getting pressed for that amount of time.
Once cooled, cut out the star shape (with your paper scissors, not fabric scissors!)
Peel off the backing and place the applique` with the sticky side down onto the t-shirt's upper left area and press about 10 seconds or as instructed by the iron-on adhesive. Let the shirt cool off.
To sew the applique` set your machine to the preferred stitch (I used a wider, moderately spaced zig zag stitch) and sew around the perimeter. Back stitch the end.
Cut the rickrack to size by measuring where the right edges should end. Space them as you like. Cut the strips 1″ longer so you will have enough on both ends left to turn them under.
Seal the ends of the rickrack trim with fray check and let them dry for a few minutes.
♥ Your Stars & Stripes Applique t-shirt is done! ♥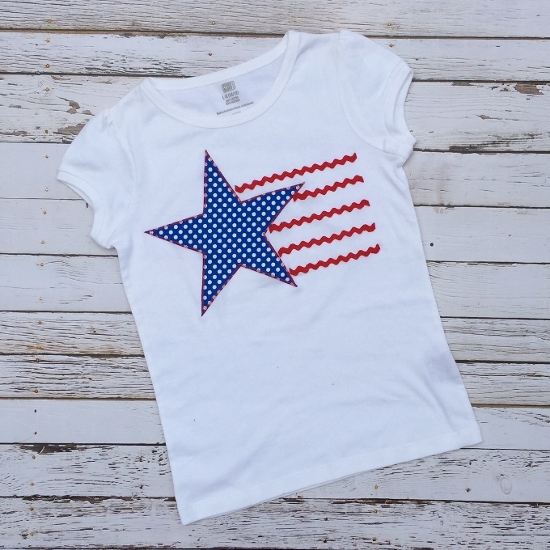 Are you inspired to sew more? Please visit our pattern marketplace for great (mostly free) sewing patterns and DIY's HERE!

♥♥♥ ♥♥♥ ♥♥♥ ♥♥♥ ♥♥♥♥ ♥♥♥ ♥♥♥
Hope you like this quick 8-step applique tutorial and will make an applique soon! If you do, please share pictures on facebook!
Sign up to our mailing list to get such goodies right into your inbox! Sign up box is on the right side bar on top!
Please follow us here:
Tell us what is YOUR favorite applique lately? Leave us a comment below!! We will reply!! ♥ ♥ ♥