If you have pets you want to include them perhaps into your holiday greeting cards. I have three dogs and although it is near impossible to have them sit pretty for any pictures, I had luck with one of our dogs. See how to make holiday greetings cards with pets yourself.
How To Make Holiday Greeting Cards With Pets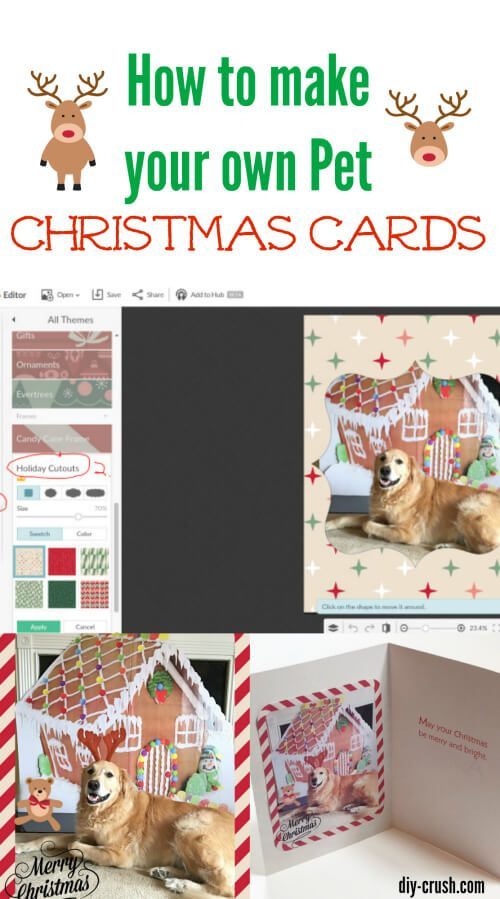 *This is a sponsored post by Oriental Trading. They provided the shown gingerbread house cardboard stand-up to me but my opinions are all mine. Please see full disclosure here.
You need the following to make your own holiday greeting cards:
a dog 🙂
camera
Christmas cards
Printer
Paper or card stock
scissors
gluestick
picture editing software or service (I used PicMonkey)
As I am usually behind on things, especially during the holidays. I tend to have just too many things to do at one time and having pictures taken with my dogs usually gets put way back on my list. I was in luck when I received this adorable gingerbread house cardboard stand-up! It was simply perfect to use a background for pictures! You can order it through Oriental Trading from their wide selection of holiday crafting and party supplies. It is very sturdy!
I chose to "work" with my youngest and biggest dog, Landen. He was most eager to cooperate. But of course, I didn't get the perfect shot at first try. See how sad my previous attempts were lol….all of the ones below I had taken AGAINST the window which was a big no-no! Plus, I fed him sooo many dog treats already. I planned to lighten them up afterwards but then I moved the gingerbread house to in front of the fire place.
That way it got light from the side which was MUCH better. Oh and I used my iPhone 6+ which has a great camera.
THEN I had it! The perfect shot! I think Landen slowly got tired of following commands. He was even breathing hard after a while, so he may have decided to finish off this session.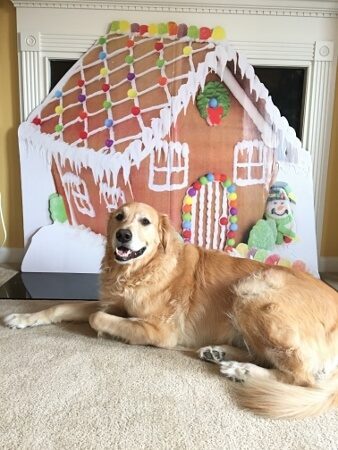 So, I had my perfect shot of Landen. Now all I had to do is use the free picture editing service from PicMonkey (some of their tools are for subscribers only and you can rent monthly) and use one of their adorable holiday frames. First I cropped the picture a bit. After I added the candy cane frame, I also added two stickers. One was for Landen to wear on his head, the other one was a teddy bear to cover up the left area of the gingerbread house. I also added an overlay with Merry Christmas.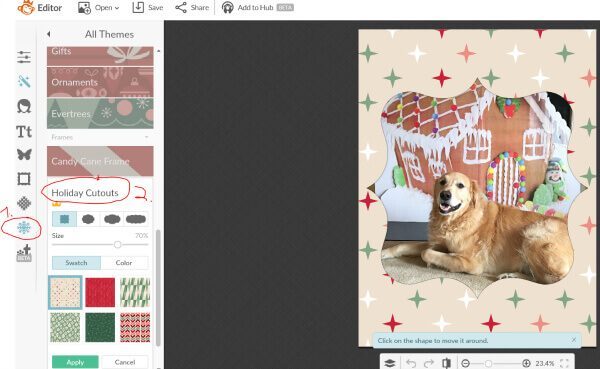 Finished was my self made holiday greeting card picture of Landen and the gingerbread house front was perfect!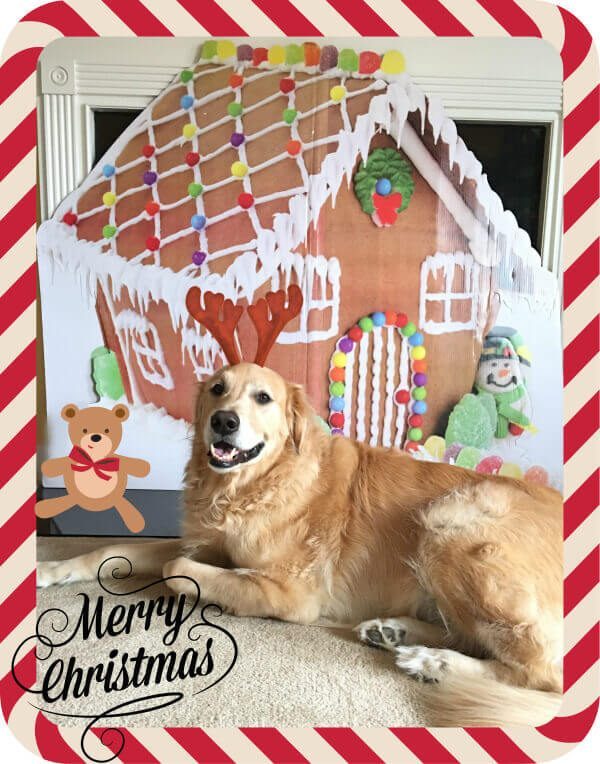 I printed it out on card stock. You could also send the image off to an online printing service. Anything would do. Or, just add this photo into a larger Christmas card from the store (which I did). There are so many option to create your own holiday greeting cards without spending a lot. I glued my picture to the inside of a card which was from the dollar store. Pretty inexpensive!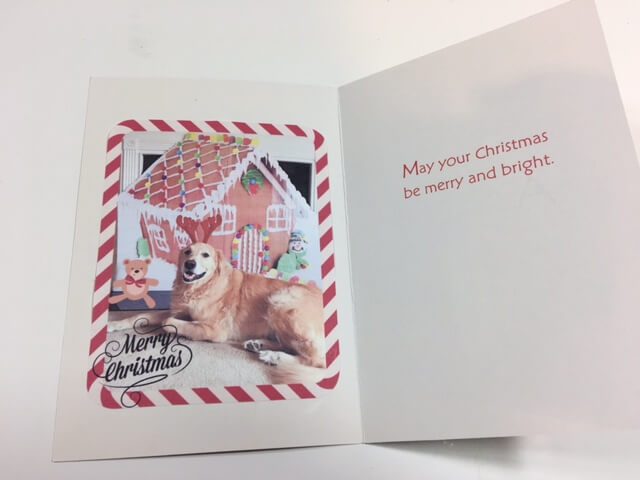 The gingerbread house stand-up is also perfect as a backdrop for small children or even as imaginary play. With a few larger cardboard pieces added, this house front could turn into a three dimensional play house perhaps.
I hope you enjoyed this tutorial on how to make holiday greetings cards with pets!
PS: store your gingerbread house cardboard stand-up away for next years' cards!