Finishing hems with bias tape is a great alternative to folded hems because your original garment length will remain. See how to sew bias tape the easy (and correct) way.
How To Sew Bias Tape
Bias tape can be purchased already packaged at craft and fabric stores or online in different colors and different widths. My favorite bias tape is handmade because I can make it to match the project much better and I already know the quality of the fabric instead of trying to match store bought bias tape. See my previous post of
how to make your own bias tape
.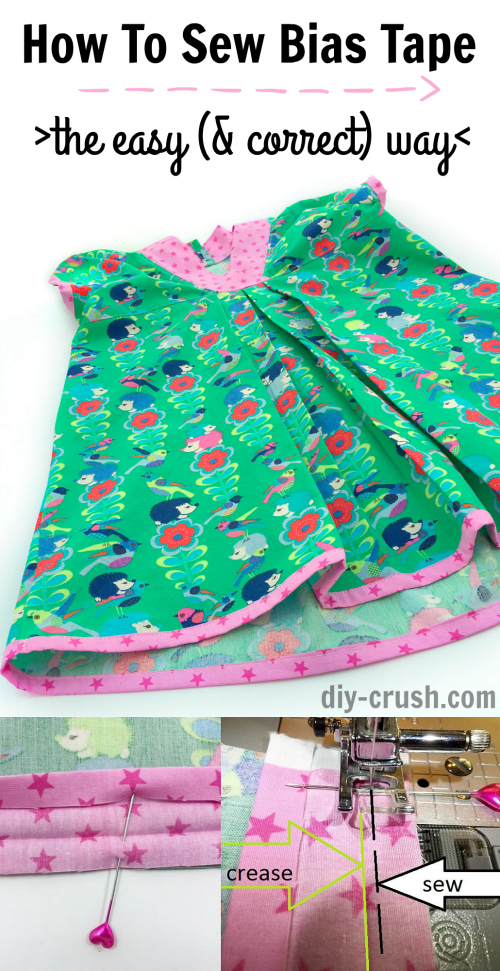 *This post contains links to affiliates. Please see full disclosure
here
.
But how is bias tape sewn on? I think I can say with certainty that the way I'll be showing you is the correct way. Oh that sounds so teacher like, doesn't it? No really, I had to learn this method a long time ago after I got frustrated after only sewing bias tape for couple of times. I always did it wrong. What I did was, I pinned the folded bias tape to the hem (the hem was sandwiched in between the bias tape) and went straight to sewing it. The front always looked great but the back never did. Often times my stitches didn't catch the bias tape on the underside which left me to decide whether or not I should unpick the stitches and try again or if I could get away with leaving the underside look like that. Oh boy! I'm so glad I learned it the correct way soon after!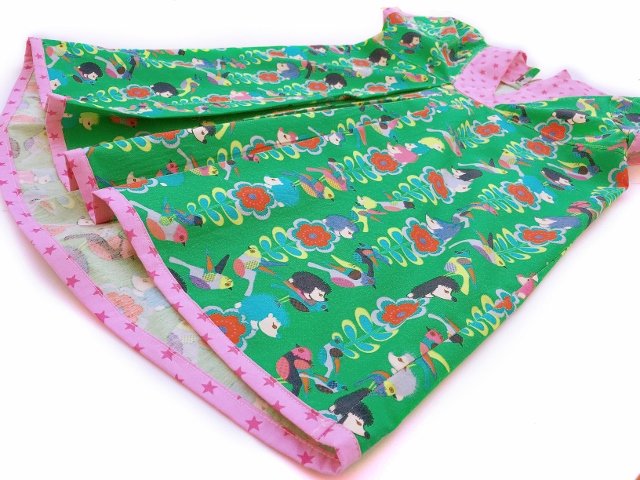 What you need to sew bias tape
straight pins
scissors
a project with a raw edge/hem
sewing machine
The shirt I am adding bias tape to is the Ma Cherie Tunic, a great pattern by Winter Wear Designs. The absolutely darling fabric combo is from Mabel Madison, a supplier of high quality poplin fabric. BTW, if you haven't sewn with poplin fabric, read all about it HERE.
So, the reason I wanted to add bias tape to the already super cute Ma Cherie Tunic was, because I loved the star print fabric that much that I wanted to have it on another place on this tunic besides the neckline and sleeve hems.
Let's get started
You can literally add bias tape to anything you like that doesn't have ruffles (although you could add it to ruffle hems if you really would like). The only modification you want to make is to adjust the length, that is important for garments that should fit correctly in length such as tops, dresses, skirts and pants. This tunic normally has a folded hem so I took off the seam allowance from the fabric and that was it. It was ready to get bias taped.
NOTE: my "bias" tape in this post is actually NOT cut on the bias. A reader made myself aware of that I never mentioned that lol…so thanks!! You can cut a simple strip of fabric along the edge if you are not using it on curved edges!! For curved edges you should cut it on the bias.
Step 1: Place the bias tape (or straight cut fabric tape) underneath the fabric with the two folds facing down and the single fold of the bias tape facing up, towards the fabric.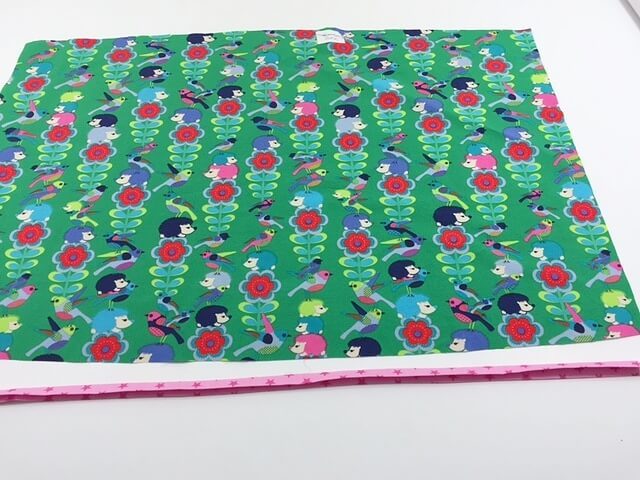 Step 2: Flip your fabric over so the right side is facing down (I know, I should have done this already in the above image). Move the bias tape over the fabric and unfold the bottom fold. Pin in place. Be sure that your bias tape's right side is facing the wrong side of the fabric.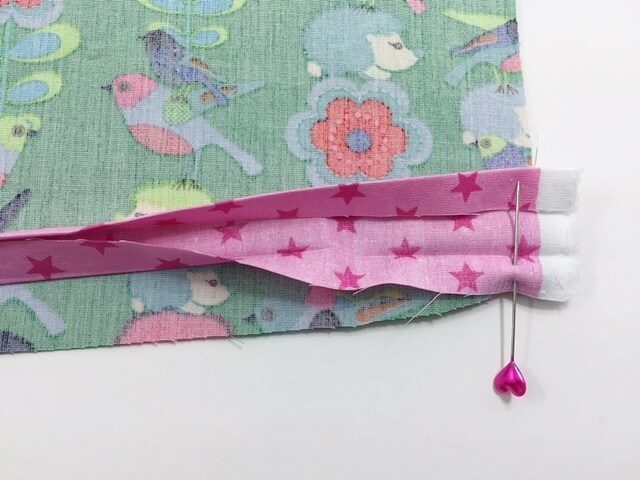 Step 3: Continue pinning the entire bias tape for that piece of fabric. Use plenty of pins.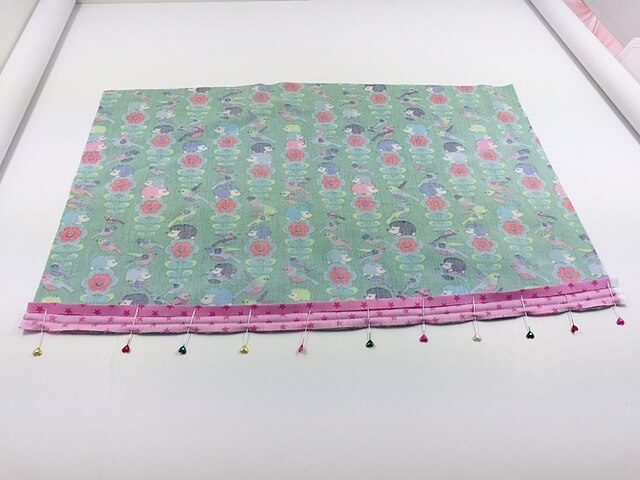 Here is a close-up of how the bias tape is pinned to the wrong side of the fabric. The upper fold of the bias tape is still folded.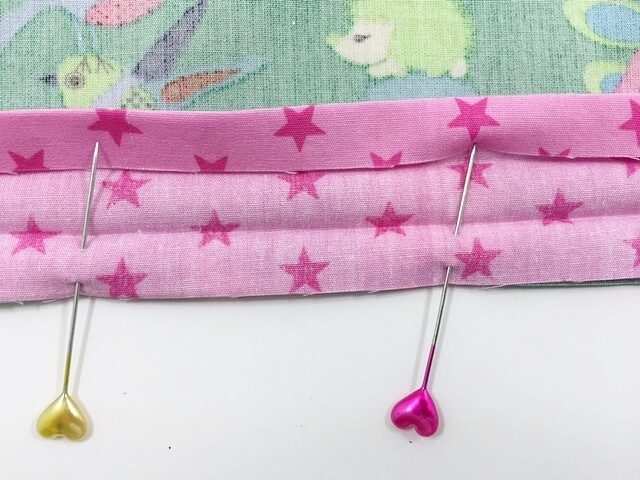 Step 4: With a straight stitch on wovens and a stretch stitch on knit fabrics, sew along the RIGHT side of the fold/crease. You can keep a seam allowance of 1/16 – 1/8 of an inch. Just don't sew along the crease, only right next to it.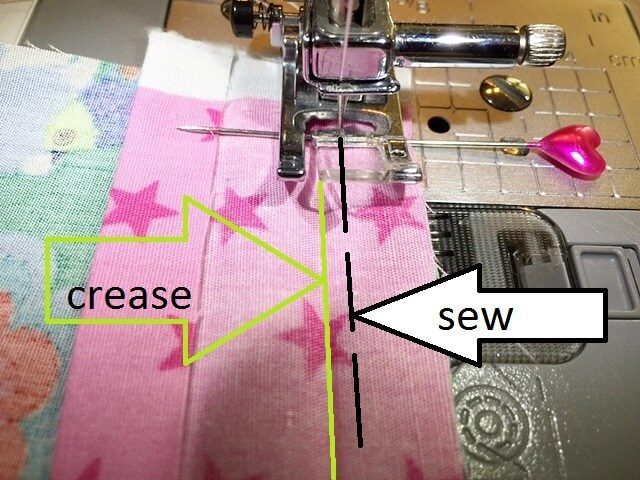 To continue with the tutorial please click on page 2 below!