Free Valentine's Heart Pillow Sewing Pattern. I admit, I love pillows but who doesn't, right? A pillow adds a nice decorative touch to a room no matter if it's the couch, a chair or the bed. The more pillows, the better actually. We agree? So I thought why not make another heart shaped pillow? I know there are probably tons of patterns out there but THIS is Valentine's Heart Pillow! lol
I made sure to provide the digitally traced template on only 4 pages to cut and tape! Ready to make one? Let's do this!
Free Valentine's Heart Pillow Sewing Pattern
⇓ – – – – –  PIN THIS – – – – – ⇓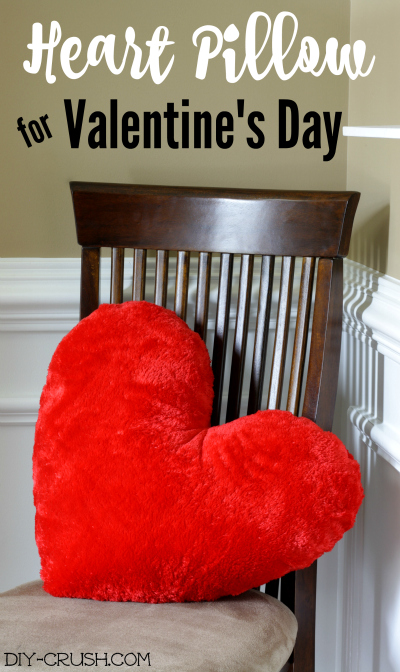 *This post contains affiliate links. Please see full disclosure here.
For this example I chose this soft and fuzzy, vibrantly red shaggy-lookalike material I also had in my fabric closet for a while waiting to be used on the perfect project (you can find similar shaggy fabric here). The material instructions said not to be washed but hey, I tried a small piece and washed and dried it and what do you know? It turned out great!! Voila! Another "non washable" fabric turned into the perfect (almost) every day material.


If you like this project, you might be interested in our Valentine's Day DIY'S <= click this link!
Other Suitable fabrics
minky/Cuddle fabric
fleece
regular cotton
I prewashed the entire amount of plush material just to have it on hand ready to go and somewhat, de-fuzzed (I know, it's not a word but let's pretend it is).
Other materials you need
Ready to get started?
Valentine's Heart Pillow DIY:
Download the heart shape template. BTW, the finished pillow measures roughly 18″ tall! I am also crushing on these Valentine's Pillows (see pattern here)!
Now follow this simple guide below.
Step-by-step picture guide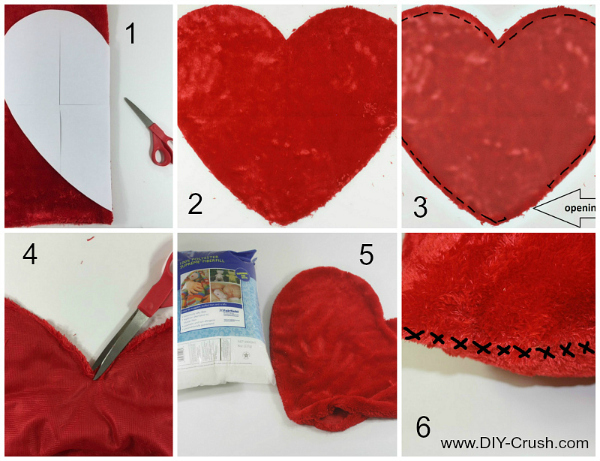 Fold your fabric over sideways and place the template with the heart's center seam along the fabric fold. Pin and cut around template. Repeat one more time.
You now have (2) heart shaped fabric pieces
Place both with right sides together and pin along the outer edges, leaving a 5″ opening on one of the bottom sides. Sew along dashed lines with a 3/8″ seam allowance. Backstitch the beginning and end.
Cut a small slit into the center dip of the top edge of the heart. This will prevent some bulk when turning right sides out.
Turn heart right sides out and stuff with fiberfill. The amount you will use will depend on your liking of firmness for pillows.
Push the filling far into the pillow so the opening can be pinned and sewn close.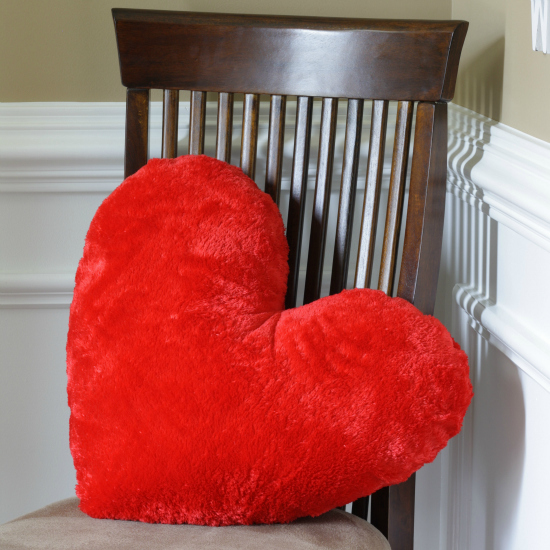 You are done!! Enjoy this pretty Valentine's Day pillow which for sure will brighten anyone's day throughout the entire year! See my other free pillow patterns here, here and here.
---
If you liked this free Valentine's Heart Pillow sewing pattern, would you like us to email you when we have a new post up? Then hop on the list by entering your email on the sidebar!