There is something so beautiful about gold applique's. Especially for the holidays I use a lot of gold and silver in my home. Beautiful décor does not have to be expensive when you make it yourself. That's why you are here! I love bringing you inexpensive ideas you can recreate yourself for a fraction of the cost of what stores offer them. Make this Golden Deer Head Pillow DIY!
⇓ – – – – – PIN THIS – – – – – ⇓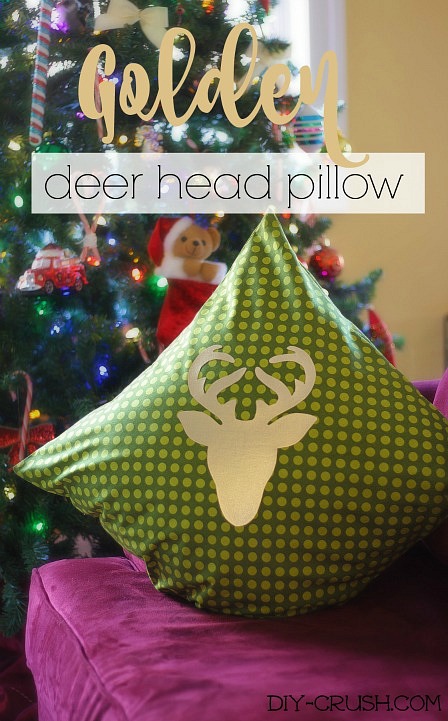 *this post contains affiliate links, please see my policy.
Golden Deer Head Pillow DIY
This deer head pillow DIY came about because of two things. First, I needed just one.more.pillow! I just love pillows, see this free one. Then I recently offered 4 sizes of deer head templates for free download. I made a cute container with deer applique to store scissors in or artificial greens for Christmas. That's where you will find the free template download link as well!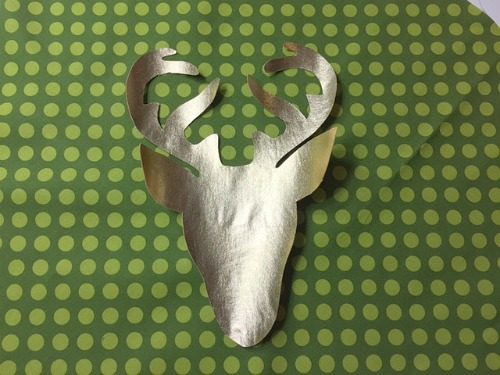 For this pretty Christmas deer pillow I chose the largest size template because my pillow is 20×20″. For the pillowcase I chose
Michael Miller's Ta Dot fabric,
widely available on Etsy. The gold fabric was a semi stretchy material with a firmer grip so I thought it would work well as an iron on.
How I Made This:
I basically made the applique as instructed in
this tutorial
but I did test a small piece of that gold fabric, covered with a layer of cotton fabric to see how well it would hold up being pressed with a hot iron. It worked great! If you use any kind of shimmery material please do make sure to cover the fabric with cotton before pressing!! Otherwise it might stick to the iron.
I opted not to sew around the perimeter of the deer because frankly, I was too lazy! lol And it would only be for a decorative pillow anyway.
I Love The Outcome:
 My pretty golden deer Christmas pillow is done and now adorns my sofa next to the tree. I am thinking there will be more golden (and silver) silhouette pillows!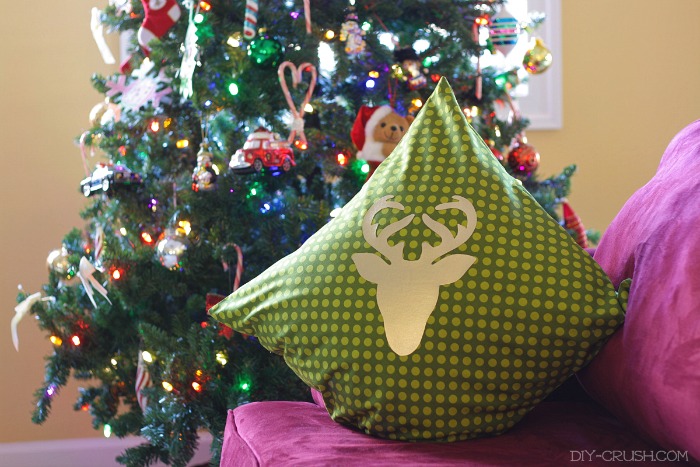 ---