Decorative pillows add so much beauty to every room and décor! We have a free Blossom Doily Pillow Sewing Pattern for you today! Ready to learn more?
Blossom Doily Pillow Sewing Pattern & Review
Read our disclosure policy about reviews and affiliate links.
This is a sponsored post and we just love what we will show you now! Pillow forms are a must-have when you sew and craft and PillowCubes is the company for your business!
I was excited to be contacted by PillowCubes recently for a review. I thought, sure! I love pillows and could definitely use one for my projects.

So who is PillowCubes? They sell pillow forms in many different shapes and sizes!  Even pet beds you can get there! One thing though, they are for businesses or people who love to order lots of pillows! They ship as little as one pillow!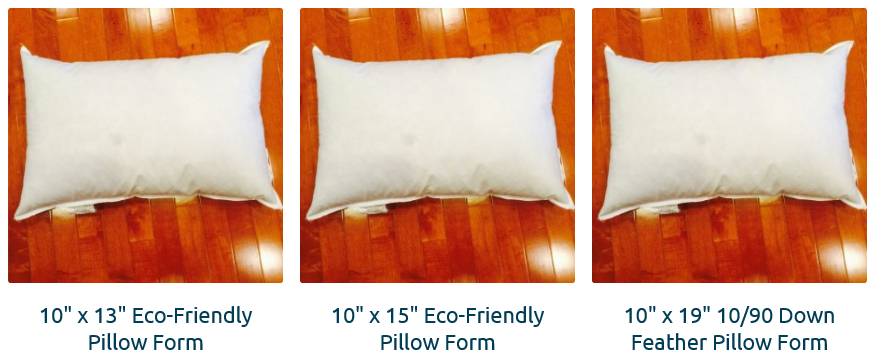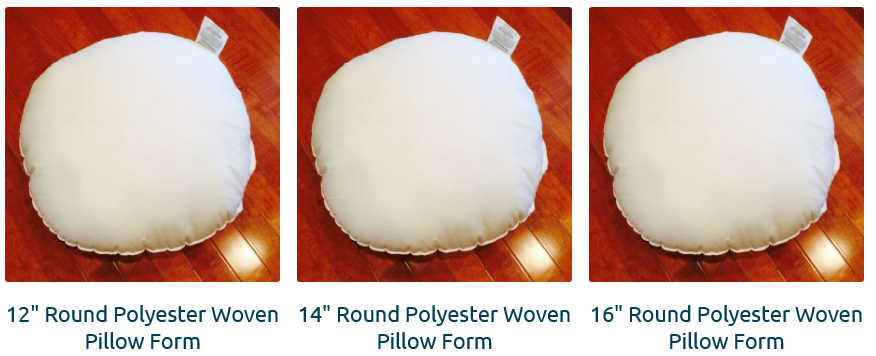 The round 20″ pillow form I have received is AMAZING!! So fluffy and heavy! It's filled with down feathers! Wow! Luxurious, I tell you! I knew I had to create something special with it. Not just a round pillow cover. No! I had just the materials on hand already but didn't know what to do with them until just now!
Pillow form types
100% Cotton (feather proof)
100% unbleached Cotton
100% Polyester – non woven
50/50 Poly/Cotton – woven
Different stuffing
eco friendly green recycled
Down feather
Synthetic Down
Down Polyester
More than half of their pillow forms are allergen free! That's awesome!
But before we go to the fantastic giveaway, here is a free sewing pattern just for you!
What would an Amy Butler print and 3 vibrantly colorful dish rags (or coasters, or doilies) be if combined with a PillowCube? Aha! You guessed it! A Blossom Doily Pillow!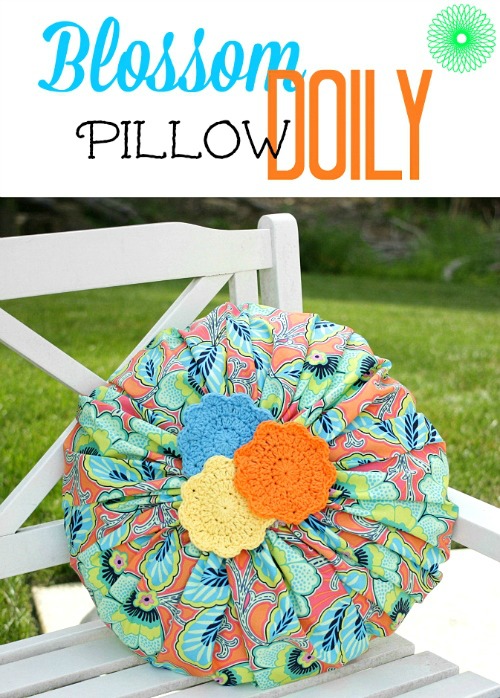 And yes! I surely over expressed those cute little petal edged crochet coasters and made them doilies! But here is a free crochet pattern for download in case you want to make your own! I had those on hand from a lovely lady who makes those.
♥♥♥ Want to make a Blossom Doily Pillow? ♥♥♥ 
How to make the blossom doily pillow
You need the following materials:
20″ pillow form such as a PillowCube
1.25 yd fabric
print your round pillow cover template —-> click to download
sewing machine
serger (optional)
7/8″ grossgrain or satin ribbon (appr. 4 yds)
3/8″ grossgrain ribbon (appr. 2 yds)
many straight pins
3 or more safety pins
Picture Tutorial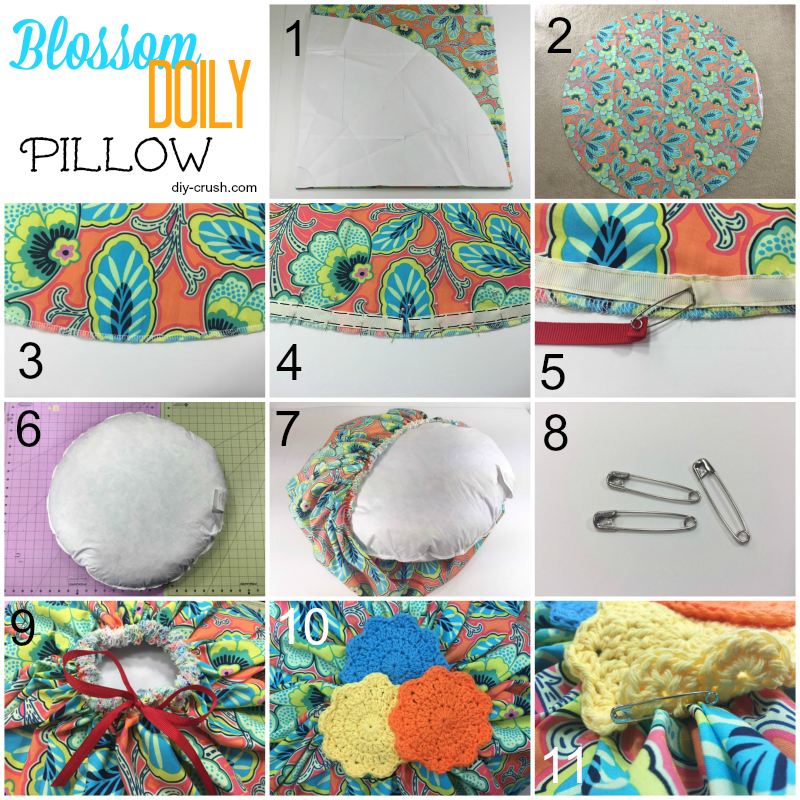 Print/cut/tape your quarter circle template and fold your fabric twice so that the template fits right on it. Align the template's straight edges with the fabric folds. Pin in place and cut around it.
This is your round pillow case piece.
Either serge around the perimeter of the fabric or zigzag stitch the edge.
Fold down one side of the 7/8″ wide ribbon 1/4″ and start pinning it right above the stitches. Once you reach the beginning, be sure to overlap slightly then cut off the ribbon and fold down 1/4″. Sew ribbon on along both sides going all around the circle. This will form a casing for the ribbon ties.
Secure a safety pin to one end of your 3/8″ wide ribbon and feed it into the casing until it comes out the other end. Your pillowcase will bunch up quite a bit. Be sure not to pull the end of the ribbon in.
Take your round PillowCube….
…and insert it into the case.
Get your 3 safety pins ready.
Pull the ribbon ties so that the opening is scrunched up with no room left.
Place your 3 crochet coasters (eh, doilies) over the opening and arrange them so that the opening won't show. Then pin only the doilies together. Hand stitch or machine stitch those together where they are overlapping.
Secure your 3 safety pins between the doilies and the scrunched opening. Of course you can use more safety pins if you need!
Your beautiful Blossom Doily Pillow is done and ready to adorn a pretty area!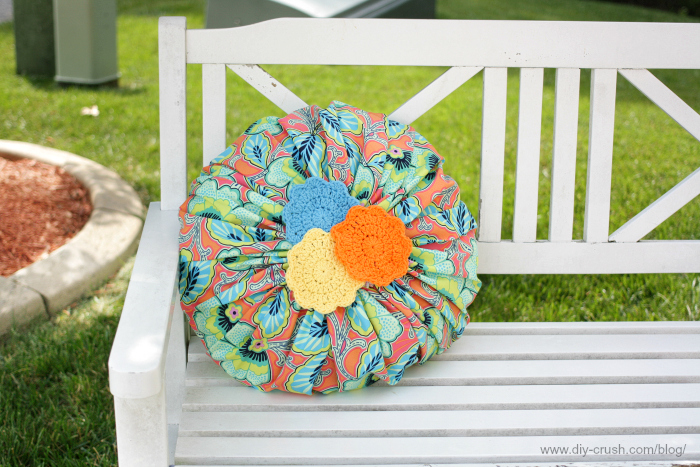 ♥ ♥ ♥ ♥ We are linking to some of these awesome blogs! ♥ ♥ ♥ ♥ 
---