It's time again for a new Valentine's DIY Challenge! Last year was great (see the final voting) and we hope this year will be even better! Are you ready to enter to win some amazing prizes?

Last year we incorporated entries from all areas of crafting but this year we'll be concentrating on sewing only. You can submit one (and only one) photo of your finished garment that has been completely handmade by YOU. The garment can be a dress, romper, or top and bottom. It has to be a complete outfit.
Valentine's DIY Challenge
We'll be doing this years' challenge a bit easier to submit for you. Please read the submission details which will explain how to enter your creation.
Submission details:
Anyone from any country can enter!
Entry must be sewn entirely by you.
You must be 18 years or older.
Image must be yours (if professionally photographed, you must have the rights to share the image)
Image must be of professional quality (great lighting, in focus, styled)
Entries will be submitted into the link-up below. Must contain your blog link, shop link or facebook post where your creation can be found without searching. If none apply then you can upload the image from your computer. Must include your email and name. (for any questions please contact me directly at support @ diy – crush . com (remove spaces).
If required info is missing a detail we will reserve the right to delete your entry. Please check back to see if you are still in when it gets closer to the deadline.
Contestants can delete their own entries in case a better outfit or image was created or an error in uploading occurred.
We will announce when voting will start!
These were the beautiful submissions from last year that made it into the final voting: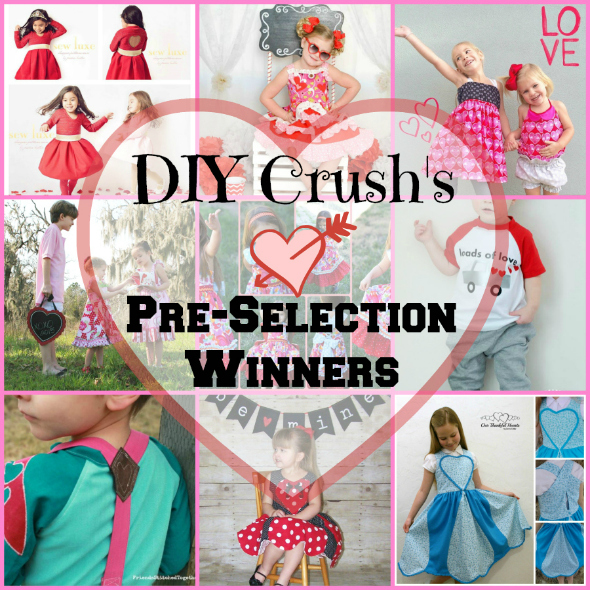 I've made my garment, now what?
That's easy as pie! All you need now is a GREAT photo of your creation, either your blog link, shop link or facebook page link and your email address. >> only ONE entry per person << (once you have read the entire post, please go to the very bottom to link)
Our judges will pick their favorite 4 entries:
The judges will be looking for the following criteria:
Use of Valentine's Day theme
Skill/talent and quality of construction
Overall appeal of the photograph (background, props, poses… have fun with it!!)
Once the judges have their Top Ten, we'll open the voting up to our fans! Photos of the Top Ten entries will be showcased right here on the blog, and you'll be able to cast your vote for your favorite outfit. Three winners will be announced no later than Feb. 25th. Don't forget to join our mailing list (on the bottom, select 'sewing') so you'll be informed during this contest!
The amazing prizes!!
That's the fun part, right?? And OMG, we have some AMAZING sponsors again who have generously donated some incredible prizes. I encourage you all to go find them on FB, Instagram, Twitter, Pinterest, or wherever else they may be, and let them know you appreciate them sponsoring our challenge!! This year some of them have generously offered a discount during this challenge! Woohoo!!!! Get shopping for some beautiful fabrics and patterns!!
>>>A HUGE Thank You to our sponsors<<<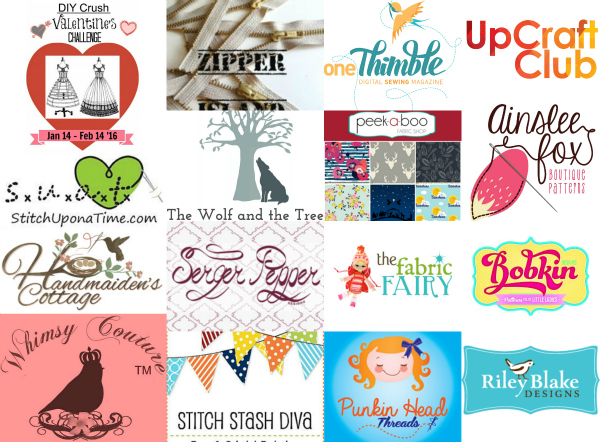 1. First place prize package – value $237.00:
Stitch Upon A Time patterns $25.00
Serger Pepper Designs patterns $20.00 (save 20% w.code LOVEU20 2/11 – 2/16)
Handmaiden's Cottage patterns $30.00 (save 30% w.code 30LOVE 1/14 – 2/14)
Bobkin Designs patterns $40.00
Peekaboo Patterns & Fabric $25.00 (save 10% w.code VDAY10 on patterns and fabric 1/14 – 2/14)
One Thimble pattern e-magazine $17.00
The Fabric Fairy $30.00   (save 10% w.code DIYCRUSH 1/14-2/14)
Punkin Heads Threads fabric $50.00 (no specific code but they have site discounts of 30-90%)
2. Second place prize package – value $134.00:
The Wolf And The Tree patterns $24.00
Riley Blake Designs 1x fat quarter bundle value $75.00
Stitch Stash Diva fabric $35.00 (a free fat quarter of cotton fabric with their purchase of $25.00 or more. To claim, please leave a note at checkout with the full name of the free fabric, please do not purchase the free fabric. Any cotton fabric, except Birch Organic, knit, or minky. Limit one per customer)
3. Third place prize package –  value $64:
Ainslee Fox patterns $14.00
Zipper Island $10.00
UpCraft Club patterns $20.00 (save 20% w. code DIYCRUSH 1/14 – 2/29)
Whimsy Couture patterns $20.00 (save 50% no code needed 1/14/ – 2/14)
—————————-
Those are the kinds of prizes that have you running to your sewing machine!! Get on it and let's see what you create!
So just to recap:
Sew an outfit using a distinct Valentine's Day theme. Must be a complete outfit.
Photograph your model and select your favorite photo to submit.
Come back here and submit your photo according to the instructions above.
Let ALL your friends know as soon as voting has started so they can help you get a prize!
So, off to go to sew your heart out! We'll be waiting here, oh so patiently, for your entires. We can't wait to see what all you creative ladies come up with!! Best of luck to you all!!!
>>disclaimer: this post contains affiliate links. See our policy<<
---
Vote for YOUR favorite entry!
Our judges have picked their 4 favorites and some got picked twice so that leaves us with 8 amazing entries!! But first, let's see the entire entries here:

It's time to vote for your favorite creation! Only one vote per voter. Voting will close Feb.23 at 23:59pm EST: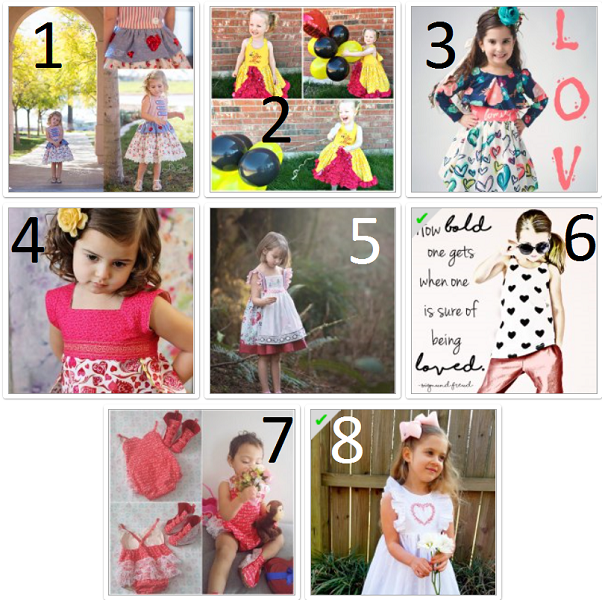 Here is the original link list which is edited. By clicking on the individual images you can visit their pages!