We got some fine results on our Valentine's Challenge! (see original post). It is NOT yet voting day but it is getting close!
A big thank-you to our judges for getting the voting rolling! See below what they picked!
We had so much fun seeing all your beautiful Valentine's Day creations on facebook! It will be very hard to crown the 1st, 2nd and 3rd winner! Before the final voting can begin, which will be done by your fans, friends, customers etc. we want to get a pre-pick by valued DIY craft bloggers. DIY Crush has chosen 3 talented ladies who had the pleasure to select their favorite 4 pictures. All 3 judges have selected a total of 12 pictures, some of them are double picks which will result in one. See for yourself!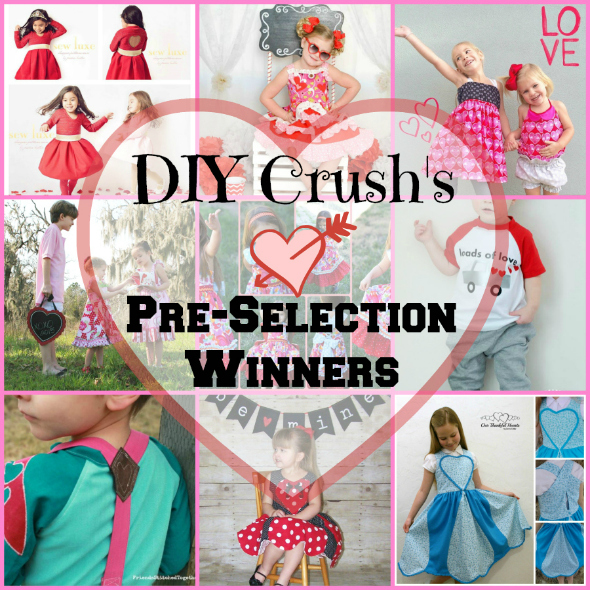 Our first judge is Deborah from Sprouting JubeJube. She lost her heart on the following 4 entries. Read why below!

1: picture
• The bunting in the background matching the colors in the dress.
• I'm not one for characters but the silhouette of Mickey and Minnie on the front bodice is very cute.
• The little girl looks like she's waiting for her Valentine
2:  picture
• This cutie got me form the first time I saw him!
• The outfit is simple but fit for a boy (I can see him being a Valentine for Grandma)
• beautiful sewing with the knit fabrics…the collar isn't stretched out and the fabric isn't all wavy at the hems.
3:  picture
• so many details with all 3 kids!
• beautiful dresses on the girls and the boy matching his sisters
• This person took the time to get props for the shoot
4: picture
• 2 cute outfits. love the mix of fabrics
• added graphics to the image
• The whole thing caught my eye 🙂
---
Our second judge is Elisa from Lacasa Cactus and her selections are: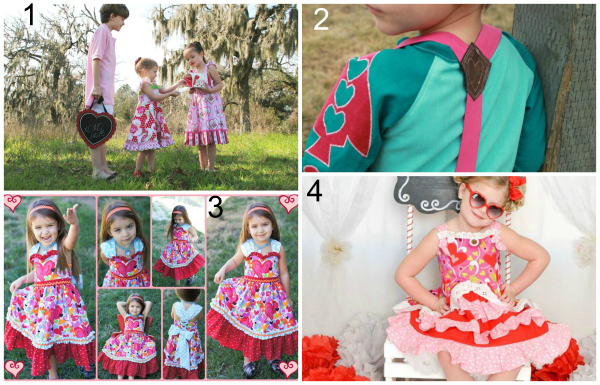 1: The Valentine thematic is easily recognizable, along with the sense of family AND friendship. It also shows that boys can wear pink (!). The outfits are Valentine-esque in their choice of colors and structure. I love how the prints are combined on the girls' dresses and how they complement each other.
2. everything is in the details. Not easy to sew something for a boy on such an occasion, but the hearts on the sleeves and the suspenders are so cute!!!
3: a little princess in an outfit full of hearts and love. The blue fabric complements the red ones so well and add a nice touch to the dress
4. A lovely sens of Valentine's Day with an amazing outfit along with afun and nice setting. The outfit mixes fabrics well and accessories also bring some funk!
---
Our number 3 is Lisa from Lisa Lisa Designs and she selected these: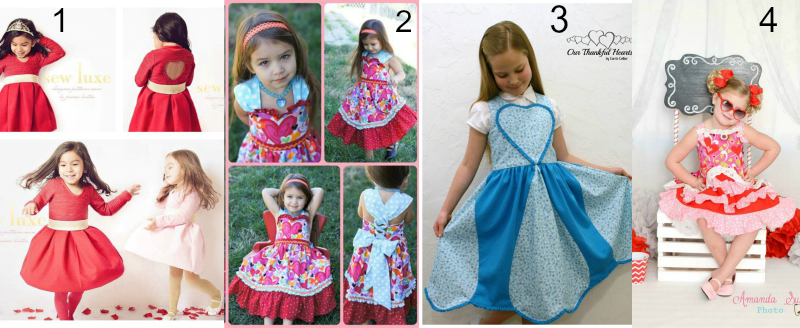 This is what Lisa thought about her selection:
1. I choose lil luxe for the unique construction and I love her presentation. Those heart cut outs are difficult also!
2. and 3. The middle two were unique and seemed more tedious and difficult on the construction. They also did a wonderful job showcasing their dress.
4. The last one I liked her overall theme presentation to the max. I also loved the combinations of her fabrics.
---
Oh those were fabulous pre-selections from our awesome judges!! Next step in this contest is the public voting! Come back tonight and vote for YOUR favorite from the above selections!
Browse our marketplace to find some holiday sewing patterns for your next DIY!
♥ Like this post?♥ We would love it if you would follow us through our social media channels:
And please leave us a comment below!! We will love your forever!! ♥ ♥ ♥
Hi! I'm a craft & sewing loving mom of 4 (+ 2 dogs). When I am not crafting or sewing, you can find me playing with my kids and dogs! I am a slow cooker & coffee addict. My favorite color is any color and I have a degree in business management. My 24/7 job is DIY Crush and Whimsy Couture, besides being a mom. Hope to inspire you to DIY with me!