How to choose a sewing machine
Once you have made the decision to start sewing it will be the beginning of a long and adventurous journey.

If you are lucky and have inherited a sewing machine which is in good working order you can jump right in after you have gathered the necessary supplies.
If you aren't that lucky and need to look to acquire a sewing machine of your own you might be overwhelmed at first. The internet and local fabric shops are full of different machines from various makers and it will be a quite confusing task to find the right one!
⇓- – – – – –  PIN THIS – – – – – – ⇓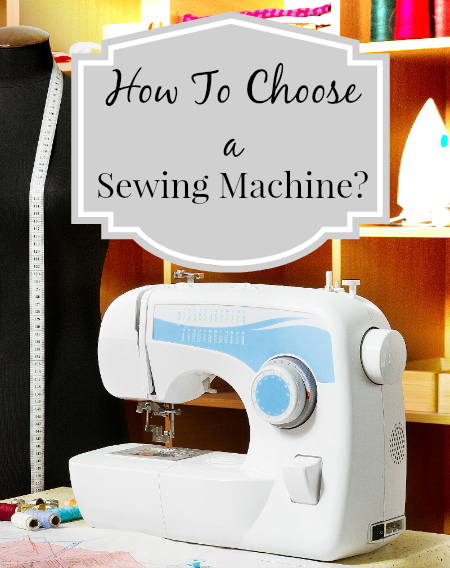 A couple of things to consider first
Before you make the commitment and purchase the well represented model or the "one on sale" at your favorite craft store you might want to read further and gain a few important insights in choosing the machine that's right for you.
As a brand new beginner 'sewer' or better said 'seamstress' you want to determine just how much and what you will be sewing. Are you going to enjoy yourself and make it a mere hobby for sewing small gifts for friends and family or do you envision yourself creating beautiful things for sale?
In either case you want to have a sewing machine which can fulfill the basic needs of either, a hobby seamstress or someone who desires the ability of making things for sale which can help contribute to the family income. Either is possible!
A good working sewing machine does not have to cost a fortune
When I started sewing around 1990, I have only been working with a basic sewing machine for making things like small quilted purses for myself or easy to sew garments such as sweatshirts, lounge pants or pillowcases (see my free tutorials HERE and HERE). Those were the things I started working on. I have found two of my sewing machines from a yard sale and from a thrift store. Both machines were great working with basic stitches such as straight, zigzag and some decorative stitches for adding that special touch to garments. Much later I became intrigued to acquire a serger (I have been using this serger
 for years now and love it) which finishes inside seams so much more professional and faster too.
If you don't want the challenge of purchasing a used sewing machine you can find great, basic models at your local craft store or big name retailers such as Wal-mart, Target or online from Amazon.com etc. Always look for sale ads in the Sunday paper or search online for coupons. Hancock Fabrics and Joann Fabrics to name just a couple always have great prices and coupons you can check out.
So which model should you buy?
The brand is really up to you! Seasoned seamstresses and hobby sewists have their favorite brand but within any of those such as Singer, Brother, Janome and others you will find a basic model which covers the basic stitches and functions you can start learning with. Nothing too complicated is great to get your feet wet and create some of the first little projects that might instill the desire to go farther and one day splurge on an embroidery machine but before you go that way, consider getting a serger/overlock machine to nicely finish inner seams and just to make sewing a bit more fun that just doing the basic straight stitch.
Conclusion
No matter what your desire is when you want to start sewing, start with a small, basic sewing machine which may be around $150-$250 and work your way up if you feel you need to improve your appliances. The good thing I have learned about purchasing less expensive sewing machines is that if it breaks you won't be locked down to pay a small fortune to have it fixed, if it even will be repairable. I call my "cheapo" machines, my disposables. Nowadays I have a good basic model on my work table and one in my closet, if the one I am working with breaks I will get the spare machine out and see what my sewing machine repair guy says about the broken one. If it's not worth it, it will be replaced and my next back up machine is on my shopping list.
———————-
Thank you so much for reading this post! Tell us now how you chose your first sewing machine by leaving a comment below!