Organic cotton knit fabric is a wonderful material to sew clothing with. It withstands many wears and washes and always looks as new as when you bought it. I love using organic cotton knit fabric for t-shirts, leggings, pajamas and other things. Organic Cotton Plus is my favorite manufacturer. They grow and produce most of their fabric here in the US and they don't use chemicals to treat or color their fabric.
My favorite fabric for comfy clothes is organic cotton fabric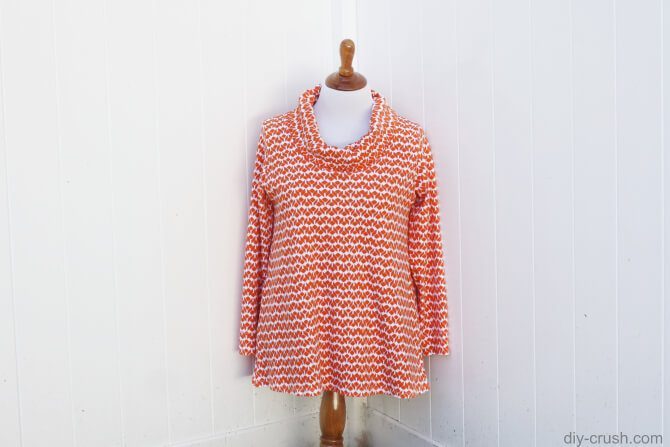 *This is a sponsored post by Organic Cotton Plus. They provided the shown fabric to me but my opinions are all mine. Please see full disclosure here.
Organic Cotton Plus is generously offering a $25 gift certificate to one lucky winner! All you have to do to enter is visit their website, then come back here and comment underneath this post with your favorite material and what you would do with it. This giveaway will end Friday, November 18, 2016.
Since quite a while I have been working with Organic Cotton Plus and can't ever say just how much I love their fabric! Every time I get to use their fabric, I absolutely love their quality. Today I am showcasing a t-shirt I made for myself with this amazing orange/white organic cotton knit fabric.
I made myself a top with a pattern from Love Notions, the Laundry Day Tee which I have used once before (see the post here). This time I made this shirt slightly different as the pattern instructed. I love the fit of the shirt and it has some really great flare. I slimmed it down a bit, probably about 2″ from each side (lower area only, I kept the width of the chest area the same). I added a flattering cowl neckline instead of the regular band binding. I really love the outcome!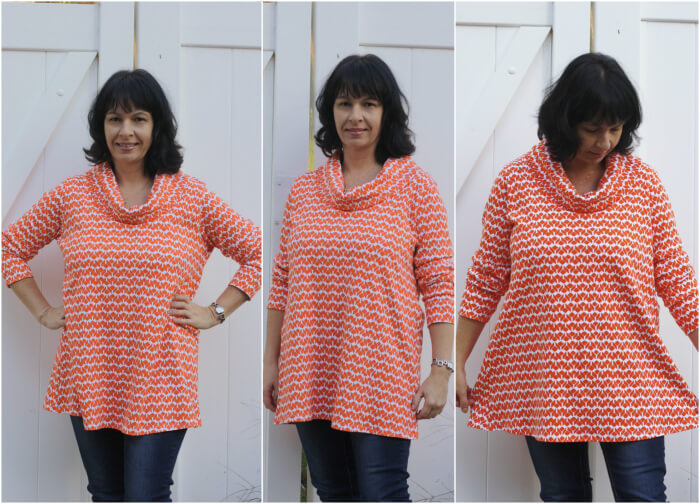 Fabric details:
Organic cotton grown and knit in India and printed in USA using water-based ink
it consists of 100% organic cotton fibers
the knit fabric type is interlock
the color orange is vibrant and looks amazing with the white
the fabric width is 60″ and the print covers the entire width! There is almost no selvage.
Check out where else I have used Organic Cotton Fabric on HERE (includes free pattern!)
Just a note to using interlock knit fabric for this type of shirt: I love the quality of this organic knit fabric because it is very soft unlike some other interlock knits. That is why I love to use it for some of my shirts. It is also a nice and warm thickness, perfect for colder months.
Another benefit for me is that I can sew the hems without stabilizing them first, which I normally do as shown in this post. This interlock knit fabric works for me for comfy everyday clothes all the time!
I hope you will sew with organic fabric soon!