Maybe you plan on sewing yourself or your kids swimsuits this year and if you have never worked with swimsuit material, it can be quite aggravating. Let me show you two of my preferred methods how to sew a swimsuit hem.
⇓ – – – – –  PIN THIS – – – – –  ⇓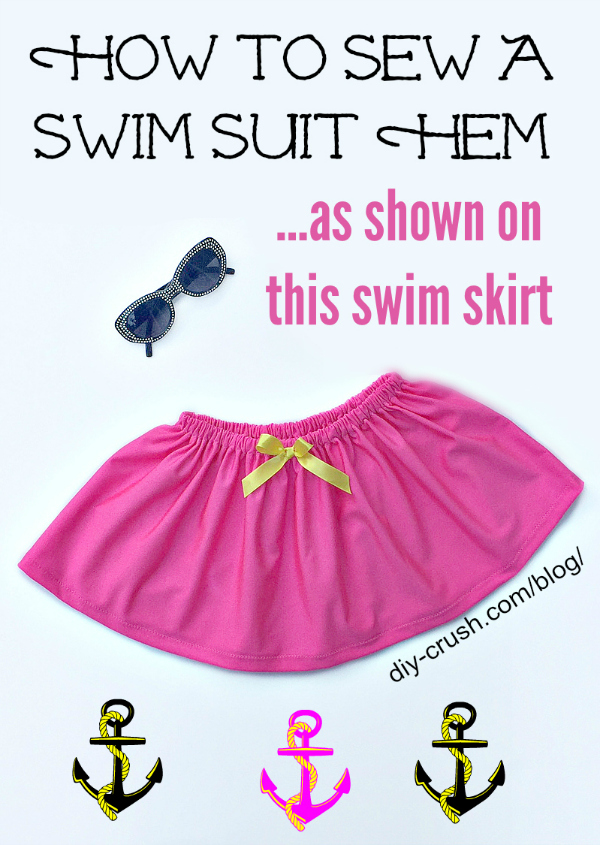 Note, some of the links in the post may be from our affiliates – please see our disclosure policy).
How to sew a swimsuit hem
In this tutorial you will learn how to sew a swimsuit hem such as the top's bottom hem of a 2-piece bikini as well as on a swim skirt (see the free swim skirt sewing pattern!) but first, let's look at some important factors of the material.
Swimsuit material with different fabric content
Lycra: also known as Spandex or Elastane, is a soft fabric that is comfortable to wear. The lifespan of Lycra is not as long due to the way it is manufactured. Although there is a new type of Lycra out there called Xtra Life Lycra which is more durable.
Polyester: this material offers a great alternative to Lycra although swimsuits made with this fabric are not as soft and stretchy as Lycra.
Nylon: most non-polyester swimsuits are made from Nylon and even though it is very lightweight, it is one of the strongest materials for swim wear.
For today's tutorial I am using Nylon in a very vibrant pink to show my preferred ways of sewing with it.
Pick the right thread for sewing swimsuits
You can use several threads to sew Nylon, Lycra, Polyester materials with. Here are some that I often use.
Rayon: No.40 is the thinner of both Rayon threads and it gives swimsuits a nice sheen (my favorite is the Sulky Rayon Thread In Hot Pink )
Polyester: is a durable thread with good stretchability/recovery
Textured Nylon: mostly used in sergers because of it's wooly texture. It is a strong but soft thread which is perfect for seams and rolled hems.
Gather your materials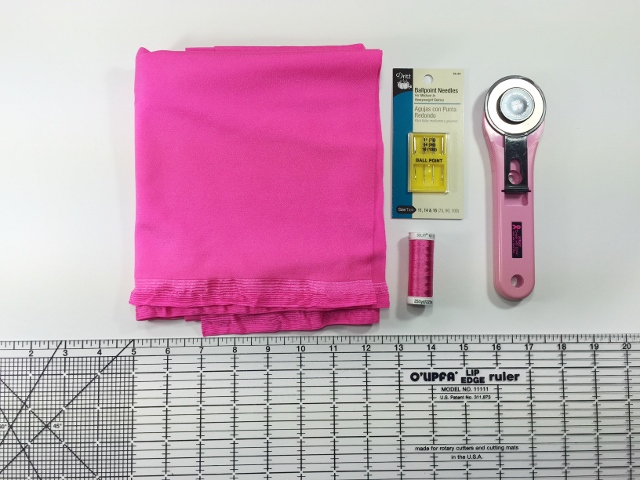 Nylon fabric
Rayon thread
Cutting mat (not shown)
Lip edge ruler
Different stitches explained
For this first example I show you to sew with different zigzag stitches. Zigzag stitches provide excellent stretchability for any stretchy material. It's actually my preferred way of How To Sew A Swimsuit Hem.
Install your needle:
I recommend Ballpoint needles because the tip of the needle forms a tiny ball so it won't snap the fabric unlike standard needles which have a sharp tip. You can also use a standard needle if you like, I often times use one for knits or other stretchy fabric but for this tutorial we are talking about the BEST option. – There are different sizes of the tip of ballpoint needles, go with a medium size to be safe unless your fabric is super thin then you want to use the smallest needle. I use size 11 for my Nylon material.
(shown below is the company Dritz but Schmetz also has great needles!)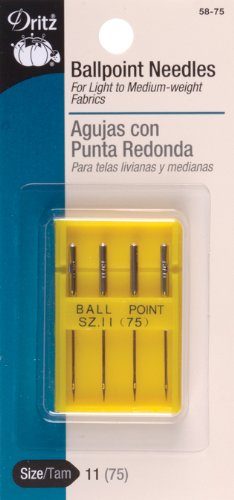 Sewing machine settings:
Set your sewing machine to zigzag stitch (on my Brother CS-770 it is number 04) and the stitch length to 2.0 and the stitch width to 2.5). This will provide a medium stitch and a nice look. Set your tension to 2-3 which will allow for a bit more stretch and the zigzag stitch won't get pulled together.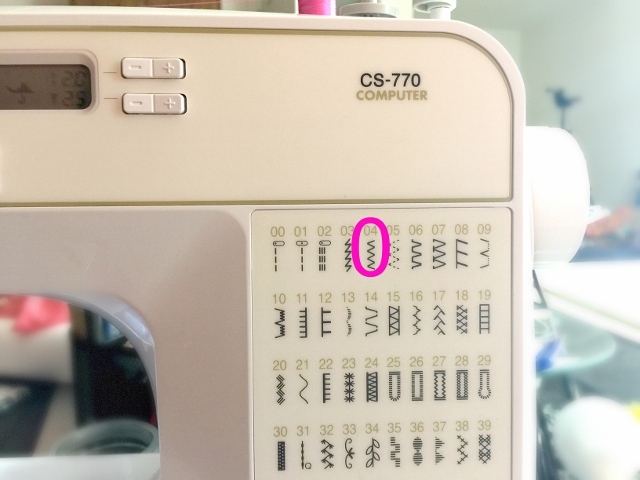 Prepare your fabric edge:
Fold the edge down according to your pattern instructions. The right side of the material is facing down. Place straight pins every 1/2 inch to prevent shifting of the fabric. Then sew along the folded edge as shown in this picture: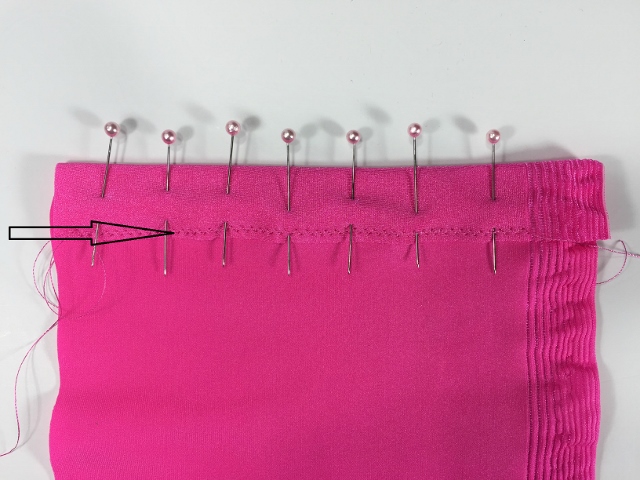 A zigzag stitch also eliminates too much stretching of the fabric. This is how the stitches look on the right side: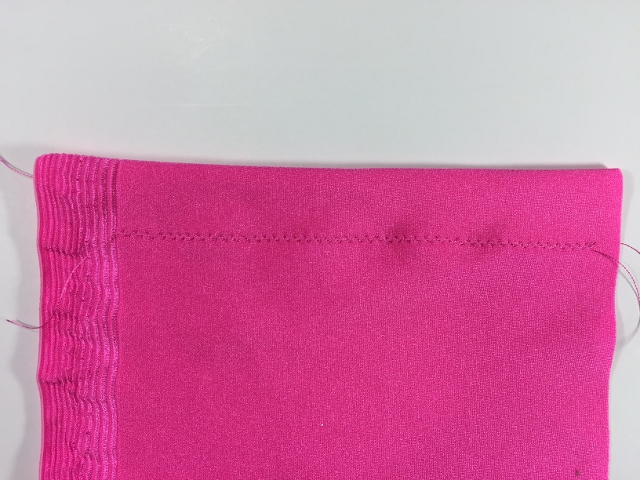 Next up is the 3-point zigzag stitch
Using a 3-point zigzag stitch seams to be the best zigzag stitch for any stretchy material as it overcasts well and it can also be used for attaching elastic at the same time. I just love the look of it and how my swim skirt looks when it's done.
Set your Brother machine to stitch number 5: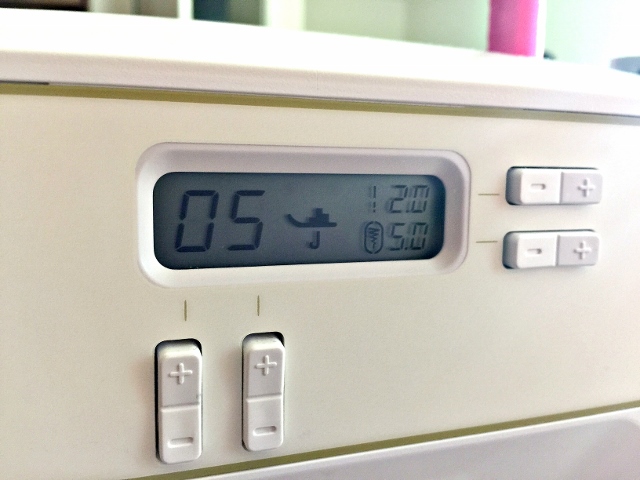 Sew the hem the same way you did with the regular zigzag stitch. Here is the finished seam: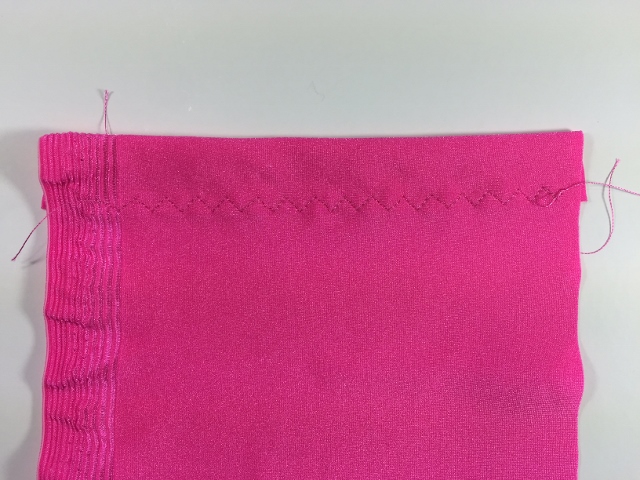 Our last stitch is the straight stitch with twin needles
First we want to take a look at the twin needles. Sewing with a twin needle is awesome for achieving a professional look of two rows of stitches on the outside of a garment but also for stretchability on knit and swimsuit materials.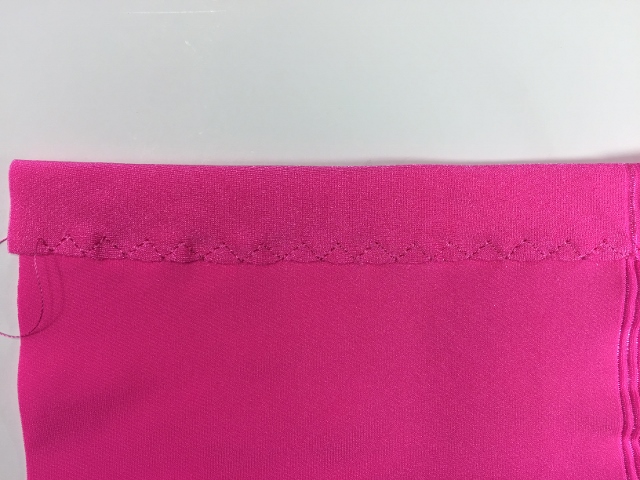 I use the Schmetz Twin Needle 3-pack all the time for various projects. Some stretchy material projects will need a moderate distance between each row where others need the largest distance for maximum stretchability such as on swimwear.
Difference of the twin needles:
1.6/70 – Needle Distance: 1.6mm. Needle Size: 10/70

2.0/80 – Needle Distance: 2.0mm. Needle Size: 12/80

3.0/90 – Needle Distance: 3.0mm. Needle Size: 14/90
For my swim skirt I am using the largest size. There is no special setting on your machine necessary, you only need a second thread cone holder or use a cup right behind your sewing machine where the cone can be held in and let the thread smoothly run along.
My stand stitch length is set at 3 and my tension between 2-3. This will allow for great stretchability.
The hem gets pinned the same way as in the above examples. The only difference is that you need to sew on the RIGHT side of the fabric like this: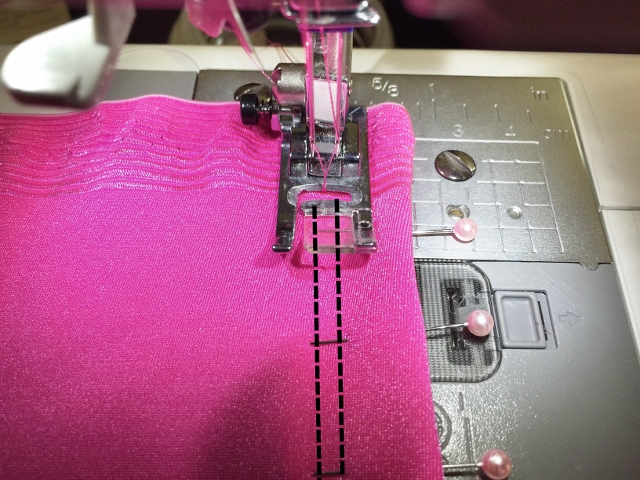 Of course you want to make sure that you sew right along the cut edge which is on the under side. Use the sewing machine plate as a guide to sew at the same distance.
And this is how the finished twin stitches look from the outside of the material. Pretty neat and professional, right?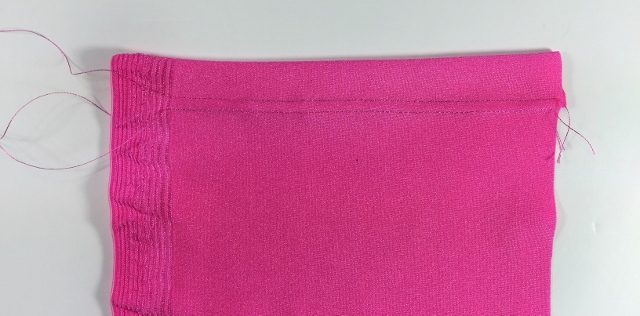 This is how the reverse side looks.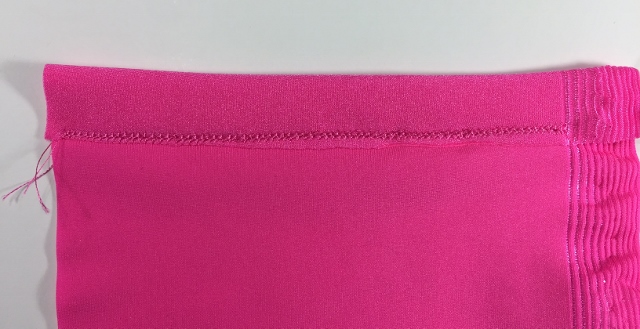 These were my preferred ways how to sew a swimsuit hem! Hope you enjoyed this post and find it educational! Would you consider sharing it on your social media for me? Thank you so much!
Are you inspired to sew more? Please visit our other posts for great free sewing patterns!
What is your preferred method of sewing a hem on a swim suit? Leave us a comment below!! ♥ ♥