Dolman style shirts are pretty fashionable all over right now and maybe you are in a hurry and want to sew a new top for your girls or for yourself but don't have a tee shirt pattern yet. Here is a detailed tutorial with video on how to sew a shirt without a shirt pattern. All you need is a shirt. Any shirt.
How to sew a shirt without a pattern
It's actually pretty easy to recreate a favorite piece of clothing. It just has to have clean lines and no fancy detail. My daughter basically lives in soft, comfy knit clothes. Especially t-shirts and long sleeve tops.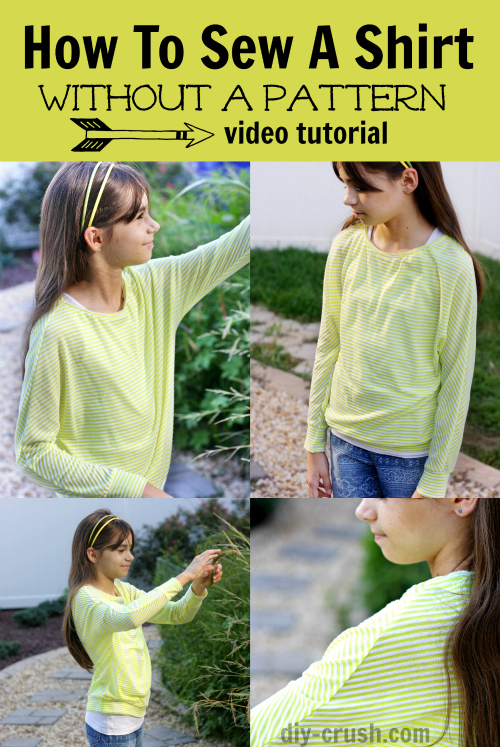 *This post contains links to affiliates. Please see full disclosure here.
The idea of making a dolman shirt came to me when I wanted to whip up a quick shirt for her but didn't want to mess with several pattern pieces. Dolman tops are the way to go! The style is fun and comfy to wear and sew easy! 😉 Look at those wide sleeves! The best part is that you will only have 2 pieces to sew plus the bands on neckline, wrist and waist. That is up to personal preference though. You can easily finish the wrist and waist by folding over the edges and hem them the old fashioned way. Here is a tutorial I made recently on hemming knit shirts without any hassle of having wavy, stretched hems.
I love doing this kind of sewing without a pattern which is especially fun if you have a shirt that you absolutely love like I did in this tutorial on how to sew a top from an existing top. If you get really serious about it and want to learn to sew step by step then [eafl id=16699 name="craftsy sewing classes" text="sewing classes"] are the perfect way to learn sewing the easy way.
List of required materials:
an existing shirt with simple, clean lines
knit fabric with good stretch and recovery (I'm using a jersey blend knit from [eafl id=16351 name="Girl Charlee" text="Girl Charlee"])
[eafl id=15952 name="Fiskars cutting mat" text="cutting mat"]
[eafl id=15141 name="Rotary Cutter" text="rotary cutter"]
serger
straight pins
Watch this video:

Here is my guide. It's an outgrown long sleeve t-shirt.
Next step is to fold over the knit fabric sideways (just like it comes from the bolt). Place the folded guide shirt onto the knit fabric's fold as shown below. Then cut around the shirt with a generous 1″ allowance. I did that because I wanted to increase the fit of my new shirt and of course accommodate the seam allowance.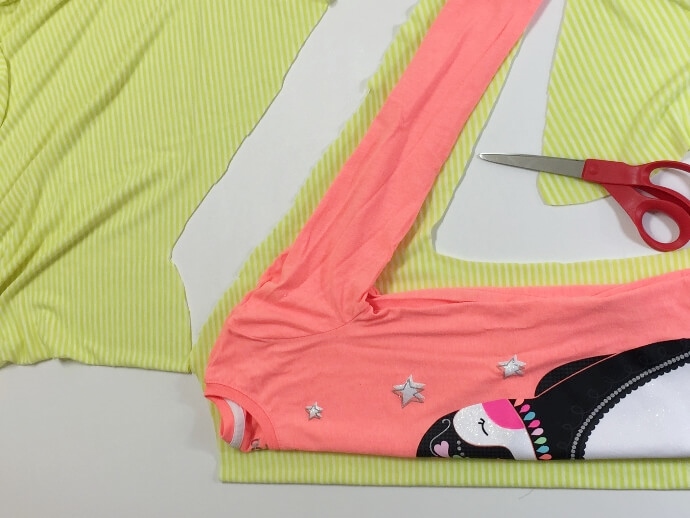 Here is my cut out front shirt piece with sleeves in one piece. Yay! Now off to cut the back piece. Remember to cut the back piece higher along the neckline!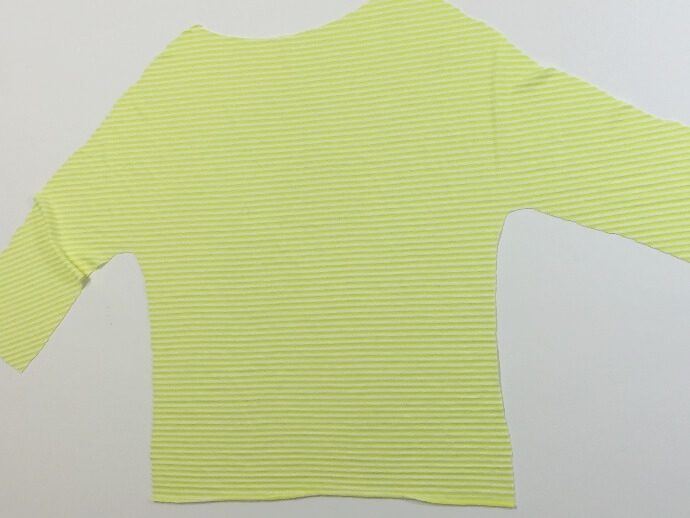 Measure for the waist bands. I like to measure the width of the smaller shirt. That usually gives me a great snug fitting waist band for the new and larger shirt. Do the same with the sleeves.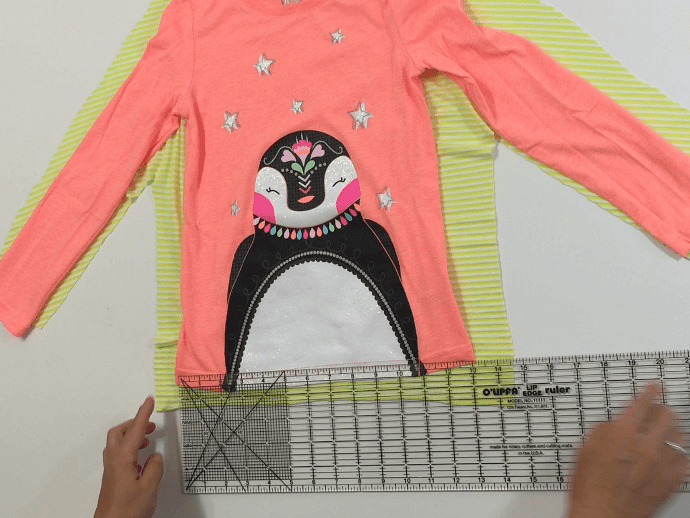 For the neckline it's best to measure the front and back together, then take off about 2″. That should ideally give enough stretch for a comfy fitting neckline. The width of the neckline is 2″ so when folded in half, my neckline band will have a width of about 3/4″ when sewn on. Here is my (front) with a folded neckline band which is twice the length of the front. Then I have two wrist bands which appear extra long because they get folded in half before sewn on. I like to cut my wrist bands to 6″ which will make them about 2.5″ when sewn on. Last is the waist band which I cut in two pieces, one for front and one for back. My waist band measures also 6″ and about 2.5″ when sewn on.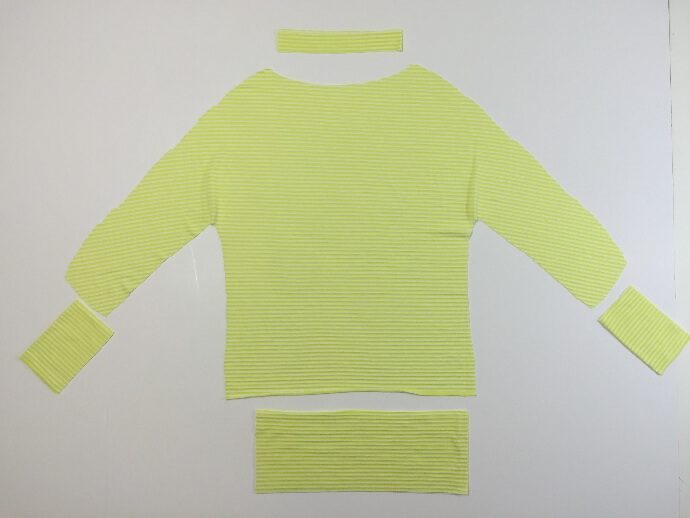 It's time to sew on the waist band. First step is to mark the center of the shirt and the waist band. I used pins.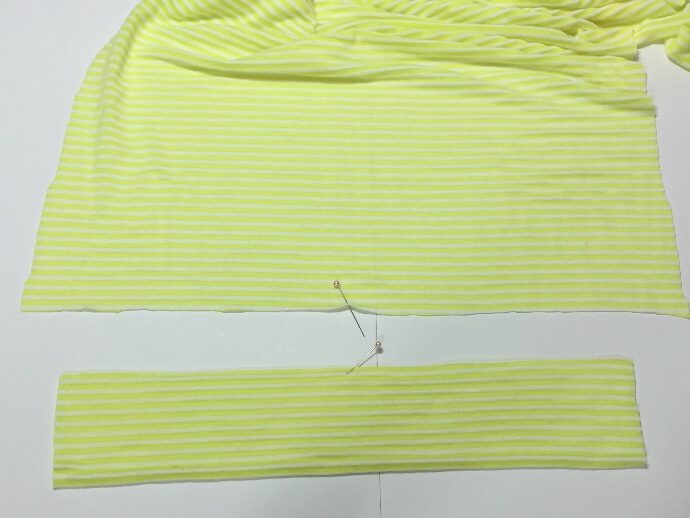 Flip the waist band over and match up the pins. Pin the waist band to the bottom hem of the shirt.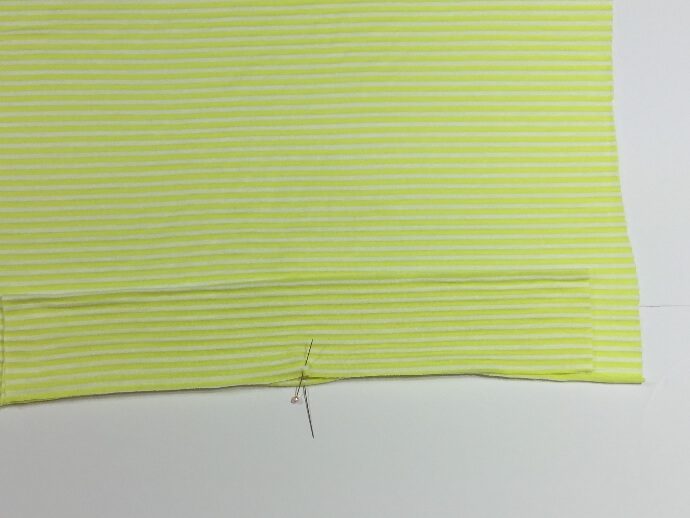 Please watch the rest of the construction of the knit shirt in the video above! It shows the remaining steps on how to finish this shirt.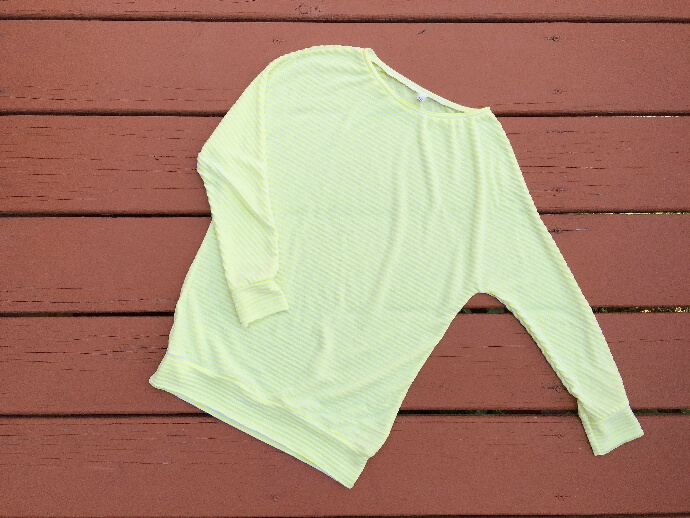 I love wrist bands because they help keep the sleeve snug against the skin. This is great for cooler days! And of course adding bands to knit clothes eliminates finishing the hems and you can easily create a shirt with your serger only.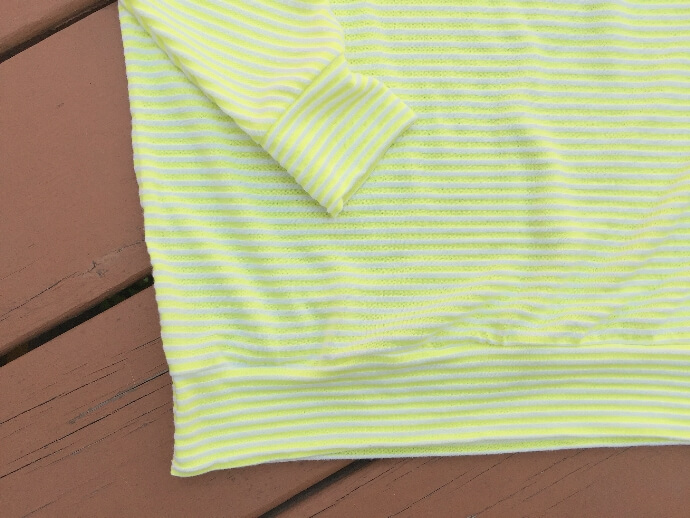 The neckline turned out nicely wide with a boat neck shape. Add a [eafl id=16700 name="size tag" text="size tag"] to the back and you are done!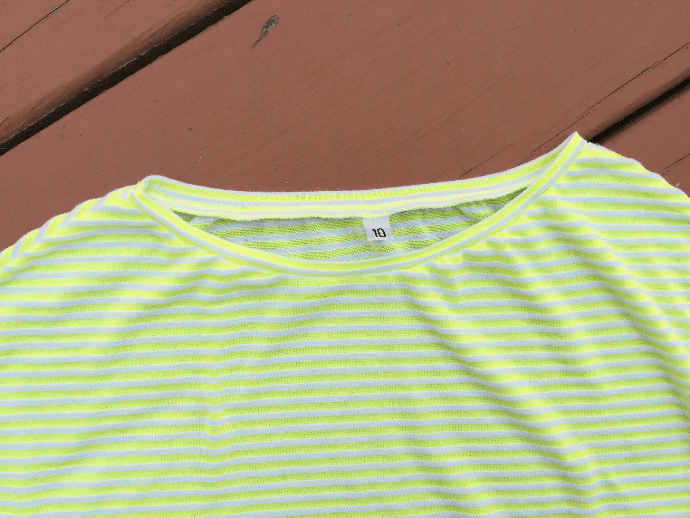 I hope you enjoyed this tutorial on how to sew a shirt without a shirt pattern and hope you'll subscribe to my newsletters at the top right!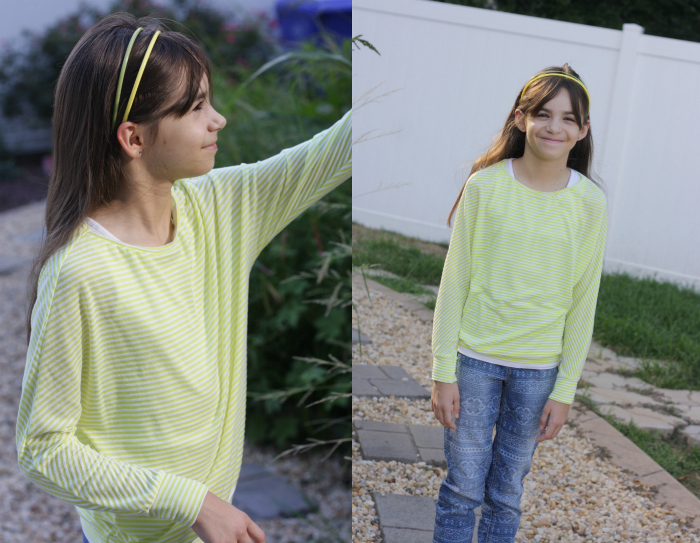 (bleach jeans from Walmart)