Today I want to bring a part of my homeland's cuisine to you. I am from Germany and remember many mouthwatering dishes my Mom used to make. One of the most delicious salad is a "Wurst Salat" which means cold cut or lunch meat salad. Read more below!
A Wurst Salat can be quite different if you travel through all parts of Germany but this one is a mix of all States. It has the tangy-ness this type of dish needs through red wine vinegar and don't be deterred when you hear "bologna salad"! It's actually quite yummy when you mix all the listed ingredients!
⇓———————— PIN THIS ——————————⇓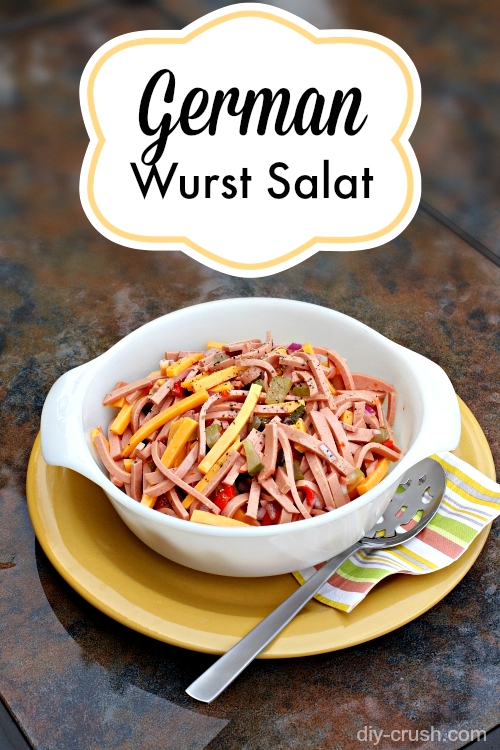 Most true Wurst Salad dishes use swiss cheese instead of cheddar but in my house we just love cheddar cheese so I tried it in this salad and my daughter and I loved it!
Hubby doesn't care for onions, nor pickles so he was out of the game. That meant more for baby girl and I! 😉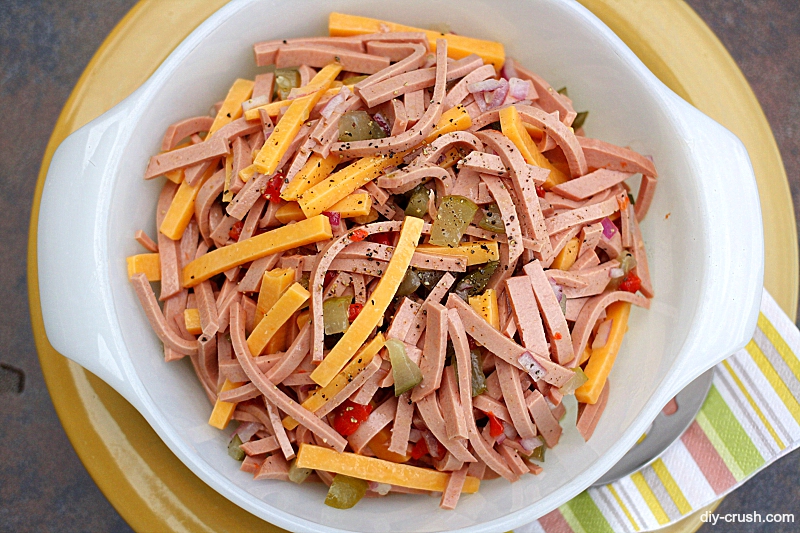 Details:
It will make about 5 cups of salad
Very easy!
Takes 15 minutes to prepare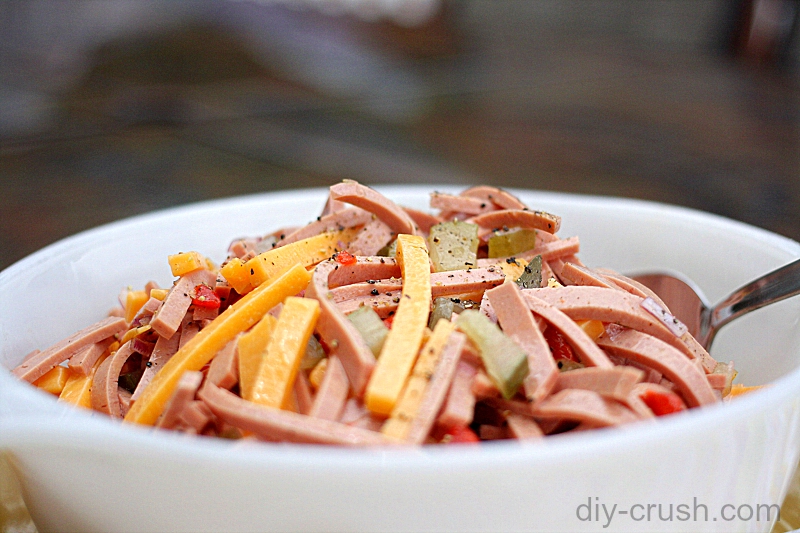 Ready to make this delicious German Wurst Salat with me today? Let's get started! Oh, before we dig in, here are some valuable coupons to download for free! I honestly use those all the time and safe up to $100 a month!
---
The Ingredients: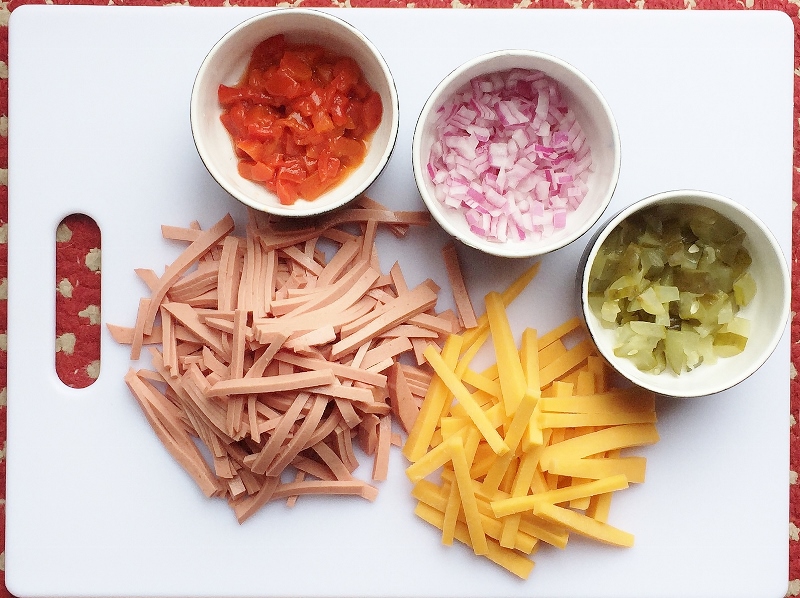 (not full amounts of ingredients shown in the picture)
1 16 oz. pack bologna (I use beef & pork) cut in thin strips
1/8 to 1/4 cup chopped red onion
4 oz. (half a small block) cheddar cheese, cut in 1/4″ strips
1/8 cup roasted peppers (from glass jar)
1/2 cup chopped dill pickles
1/2 tsp. sea salt
1/4 tsp. coarse pepper
a pinch of garlic powder
a good amount of extra virgin olive oil to taste
a few splashes of red wine vinegar to taste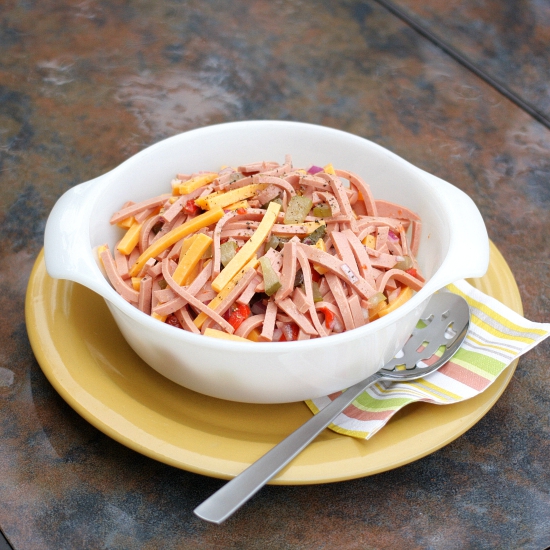 Instructions:
Toss all ingredients together and serve immediately with crusty bread or as a side at BBQ's.
As a variation if you don't like the amount of bologna in the dish, try mixing cold cuts such as hard salami, sliced chicken or turkey along with bologna. I guarantee, if you have a savory taste, you'll love it!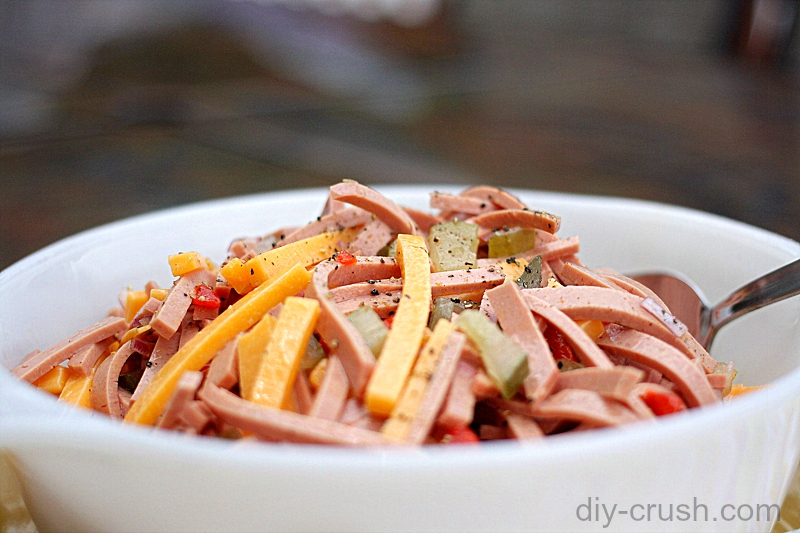 Hope you enjoyed this recipe and will stop by soon! Oh btw, check out this amazingly easy Garlic Bread recipe! It would go great with this salad!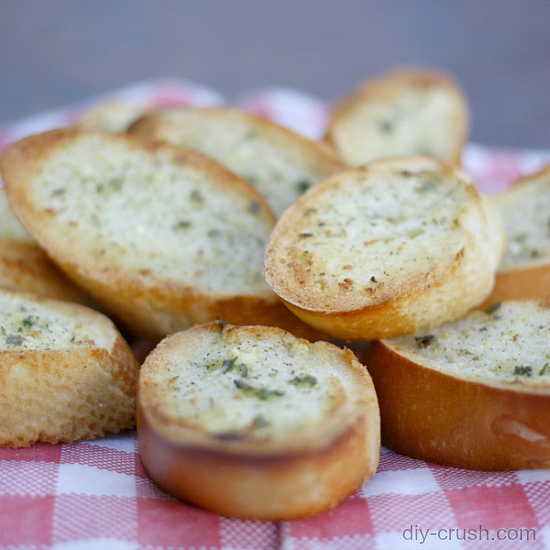 ♥♥♥ ♥♥♥ ♥♥♥ ♥♥♥ ♥♥♥♥ ♥♥♥ ♥♥♥
---
What are your favorite salad recipes? Leave us a comment below!! We will reply!! ♥ ♥ ♥