This simple apron is not only great for Mom but for everyone who loves to cook and bake! The style is unisex so it can be made for Dad too! (wink, wink). The finished size is 15″ long and 20″ wide. I call it the '1 hour 'til Mother's Day' apron! lol
Ready to make one? Let's go!
Have I mentioned that you only need about 1 hour to make this pretty little thing? Not bad for something so cute AND handmade!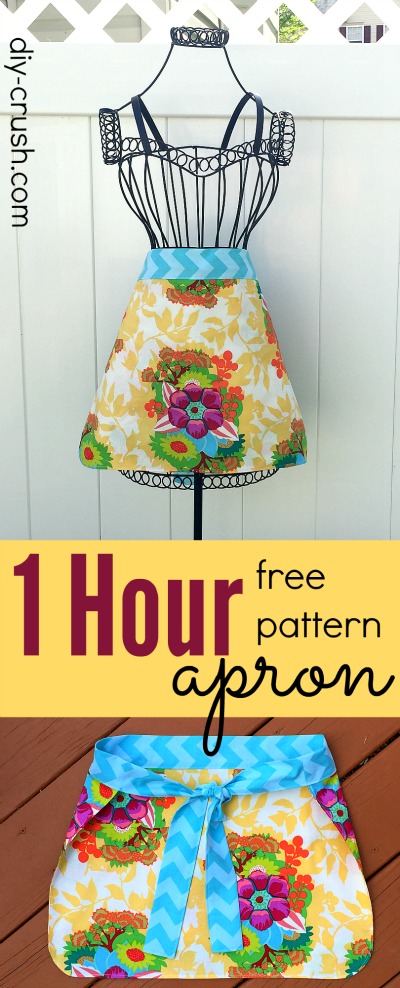 Gather your materials
1/2 yard of cotton fabric for front and 1/4 yard for the ties.
straight pins
scissors
corner template

download HERE



iron
sewing machine
matching thread
Follow this 14-step picture tutorial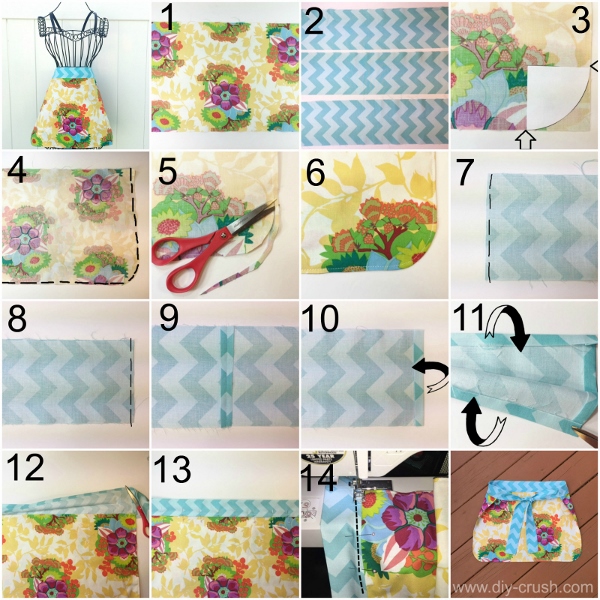 cut 2 pieces of fabric 21″ wide by 14″ long for the main apron
3x ties at 21″ wide by 5″ long
cut out your corner template and place it into the bottom right corner of the apron piece, pin and cut around it. Repeat with all remaining bottom corners.
Place both apron pieces with right sides together and pin then sew with a 3/8″ seam allowance around the perimeter, leaving the straight top edge open.
trim off half of the seam allowance.
Turn apron with right sides out and press then top stitch. Leave the top edge open.
To make the ties you want to put 2 tie strips with right sides together and pin the left edges together then sew in place.
Repeat this with the 3rd tie strap and sew it to the right side. You will now have a continuously long strip.
Press the two seam allowances of the tie open.
Fold in both short edges 3/8″ and press.
Fold down both long edges 3/8″ and press.
Place the apron piece with cut edges into the tie strip so that the apron top edge matches with the tie's inner folds cut edge.
Pin in place every 1-2″. Continue pinning the remaining tie folds as well.
Sew starting on one of the tie ends and continue on over the apron part until you reach the other tie's end. Backstitch the beginning and ends.
Your free apron sewing pattern is done in time for Mother's Day!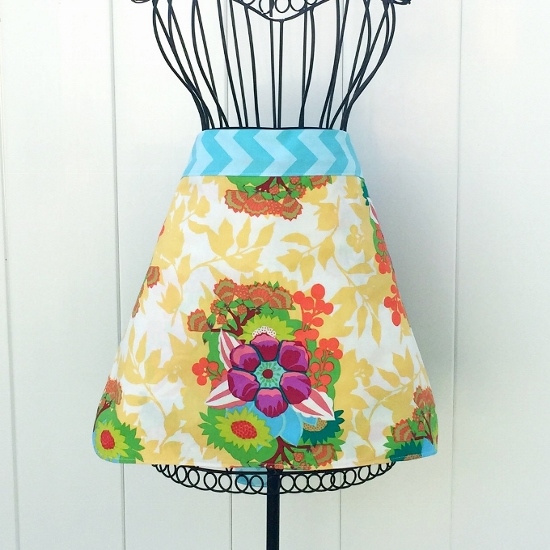 Please follow us through our social media channels:
---
If you liked this free apron sewing pattern, please check out the other free patterns!