Since fleece is one of my favorite materials to sew with during cold months I want to show you today how I made a one-sided fleece bolero tutorial from a pattern and added trim.
Boleros are not only great essentials for adding extra warmth throughout the cold months but also to add some interest to a wardrobe. This bolero is made from fleece or cuddle fabric (minky as pictured, available HERE) and has some cute trim around the perimeter.
⇓ – – – – – PIN THIS – – – – – ⇓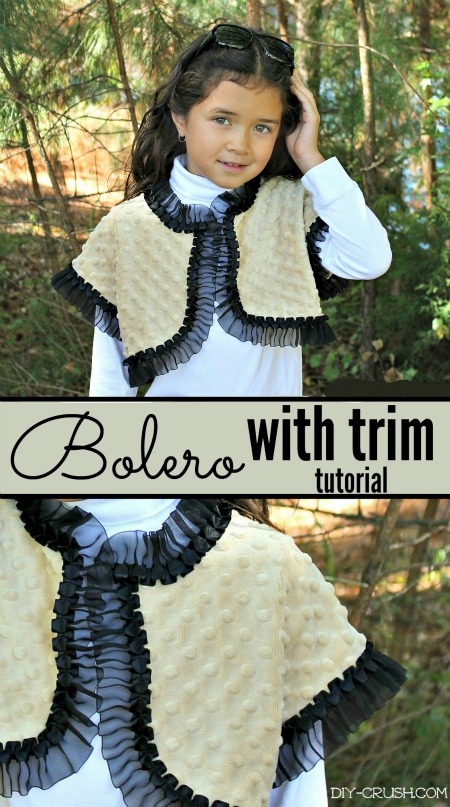 For this fleece bolero tutorial I am using my free bolero sewing pattern (which is lined). You can make this bolero lined and still add trim but for this tutorial I chose to make a single layer bolero.
Gather Your Materials
Fleece or minky/cuddle fabric
sewing machine
thread
scissors
bolero pattern (I used my free one from

this post

)

trim (measure perimeter of the bolero incl. sleeves to determine how much you need – plus 2″)
optional clasp
Follow this picture tutorial:
Print out your pattern of choice and cut out one back piece and two front pieces of the bolero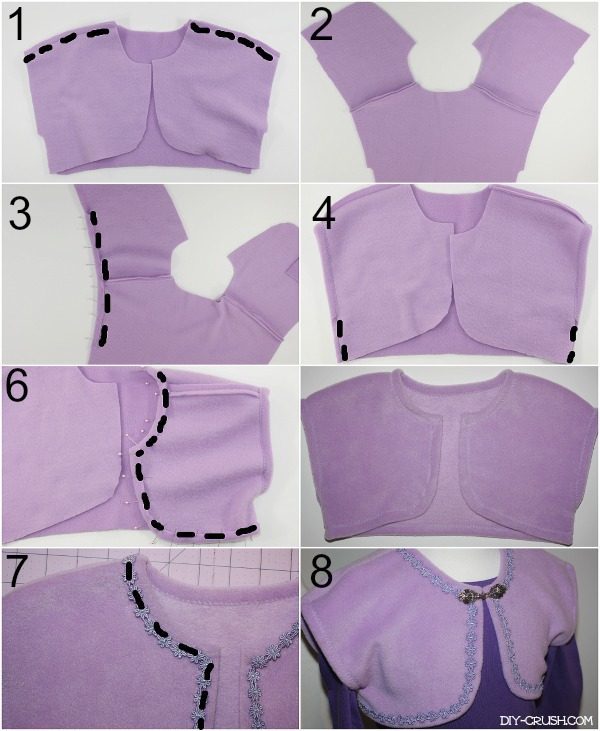 Place the front pieces onto the back piece with right sides down and pin then sew both shoulder areas.
Unfold bolero so that the right side is facing down.
Fold the sleeve hem 1/2″ up and pin then sew in place using a zigzag stitch. Repeat with other side.
Pin and sew the sides.
Pin and sew the entire perimeter of the bolero.
This is your bolero now.
Pin your trim to the outside of the bolero and sew it on.
Add a clasp if you prefer.
And your (one-sided) bolero with pretty trim is done!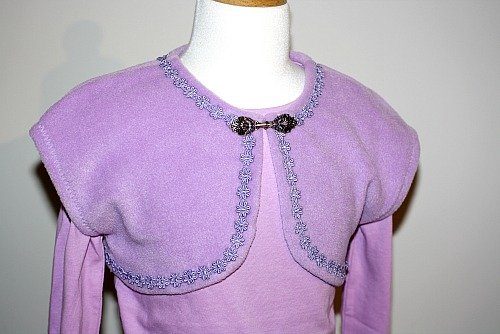 ---
Happy sewing!!