Jocy said: Sewing pants was a big challenge for me for a long time. I didn't want to use patterns as I found them confusing and I didn't know how else I could make them. That's until one day this idea popped into my head and I decided to create 2 pieces instead of 4 using my pajama pants as a 'pattern'. And it worked! This trick has been my go to sewing method for pants and it works like a charm.

20 Minute Palazzo Pants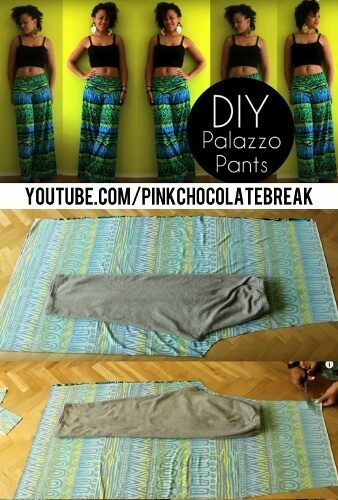 If you want to DIY pants quickly and create a beautiful look while doing it the easy way, check out these DIY palazzo pants tutorial.
What you'll need:
– 1 yard of stretch fabric (I used lycra fabric)
– pair of wide legged pants for the 'pattern'
– thread
– pins
– fabric scissors
– wide elastic band
– sewing machine
You might also be interested in these free tutorials:
Get to the fabric store to purchase your fabric and get sewing! You'll love these palazzo pants!
Ready to sew? Check out Jocy's post today! This post was submitted by DIY Clothes With Jocy:


Are you interested in submitting your own DIY projects such as sewing, crochet, quilting, recipes or other helpful do-it-yourself tips? Hop over HERE to submit your projects!
—-
Have fun sewing these 20 minute palazzo pants! If you do please share some pictures in our facebook group! We'd love to see them!
If you enjoyed this free tutorial, would you like us to email you when we have a new post up? You can choose what interests you! Then hop on the list by entering your email below! We promise, we only send you 1-2 emails per week!
Need more DIY inspiration? Come over to our link party on Thursdays at 7pm EST!