FiskarsRuffle fabric has been on the market since quite a while now and it's a great material for clothes! Sew it like pretty much any other knit fabric. I use it a lot and today I want to show you a cute DIY with ruffle fabric and decorative elastic!
When using ruffle fabric you want to make sure to use a pattern that does not require to do folded hems as the rows of ruffles can be really hindering. When I use ruffle fabric I love to find ways to prevent making casings and rather add pretty elastic to the outside of the garment such as in this tutorial.
⇓ – – – – –  PIN THIS – – – – -⇓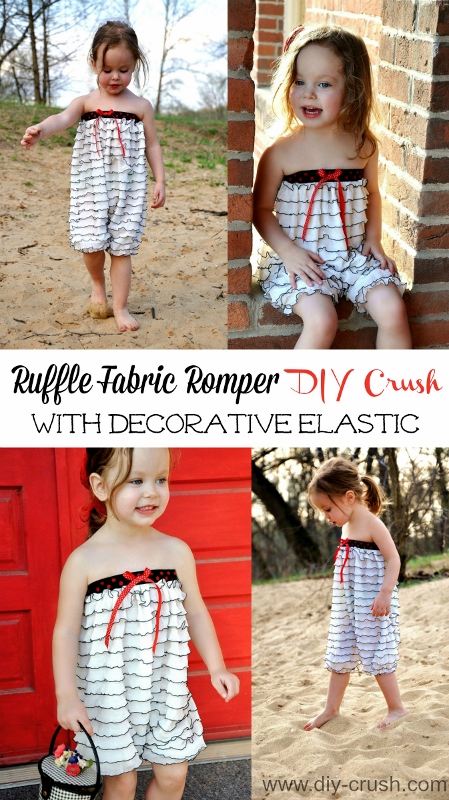 Gather your materials
a baby romper pattern with a straight chest line and a wide/loose fit such as this one (which I used for this example)
ruffle fabric
scissors (Fiskars are my favorite fabric scissors!
sewing machine
1″ wide decorative elastic (you can also use fold-over elastic)
straight pins
thread
measuring tape
Follow this quick picture tutorial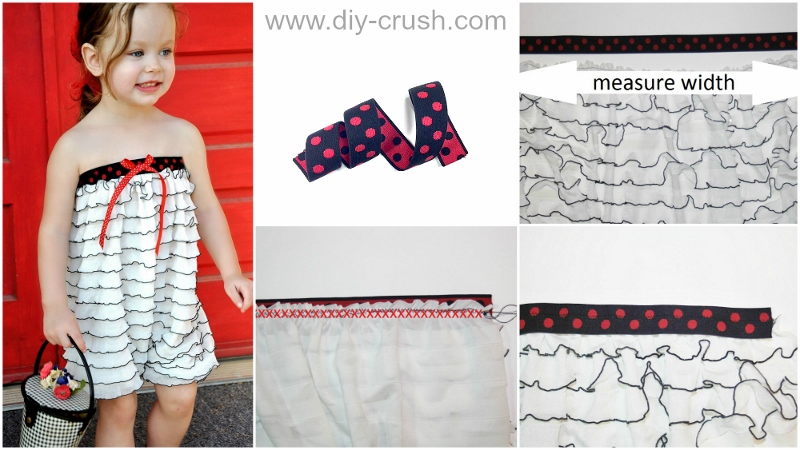 First you want to gather the top edge of your romper. Measure the chest width of your child.
Cut 2 strips of elastic about 1″ shorter than the chest width (per side)
Place gathered romper piece with right side down onto the elastic so that the romper fabric top edge is in the center of the elastic. Pin in place and zigzag stitch together (or use a twin needle and stitch on the right side of the elastic, along top and bottom edge).
Repeat with other romper piece and elastic and sew both romper pieces together according to the pattern instruction.
Finish the romper as instructed.
Our ruffle fabric romper is done and looks adorable!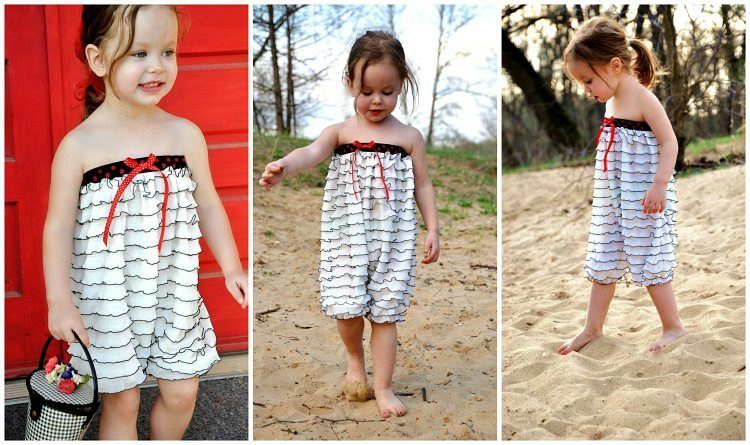 Note, some of the links in the post may be from our affiliates – please see our disclosure policy).
♥♥♥ ♥♥♥ ♥♥♥ ♥♥♥ ♥♥♥♥ ♥♥♥ ♥♥♥
Hope you like this quick tutorial and will make one soon!
Please follow us here:
Will you sew a romper with decorative elastic soon? Leave us a comment below!! ♥ ♥