Love having dinner cooked for you? Me too! Here is my go-to delicious slow cooker chili recipe I make probably way too much during cold months. The best part is that the ingredients are pantry/freezer items!

This literally only takes about 30 minutes to get started, then it will cook all day! Actually it only takes 4-5 hours set on low but I love when it cooks 6-7 hours. My husband prefers to eat it with saltine crackers or corn muffins but I love the true taste with just some (no, a lot!) added sour cream and cheese. Ready to make this?
Slow Cooker Chili
Thank God for slow cookers, right?! I use mine a lot, not only during cold months. I rather prepare dinner in the morning and have it ready by the time dinner is requested. That leaves me pretty much all day to do what I need for work and for my family. Here is another of my very favorite recipes for BBQ chicken sandwiches!
⇓ – – – – – PIN THIS – – – – –  ⇓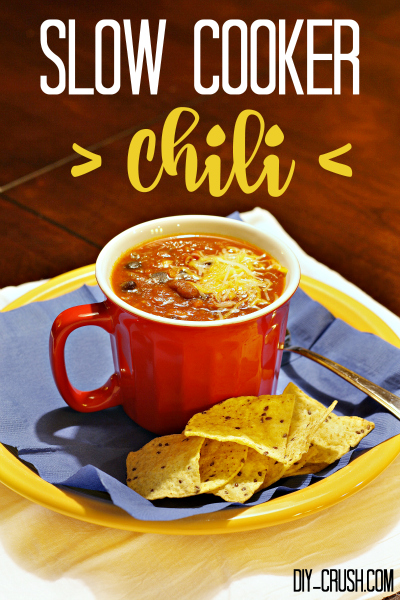 Ingredients:
1 lbs. ground beef (any fat content)
1 medium yellow or white onion
3-5 cloves of garlic
1 28-30 oz. can of crushed tomatoes
1 15 oz. can of diced tomatoes
1 15 oz. can of kidney beans
1 15 oz. can of black beans
1 15 oz. can of cream corn
1 8 oz. can tomato sauce
1.5 cups beef or chicken broth
1 package taco seasoning (salt reduced)
1 tbs. cumin
1 tbs. Mrs. Dash's fiesta seasoning
1 tbs. sugar
1 tsp. black pepper
sour cream
grated cheese
>> see all of my recipes HERE! And check out my Recipe board on pinterest!<<
Directions: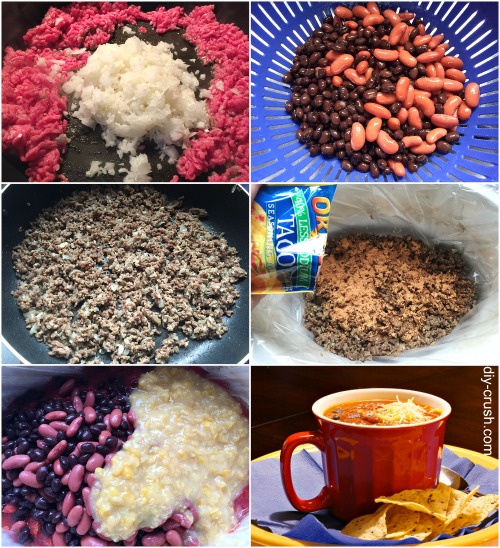 Chop onion and garlic finely. I love using my electric chopper for this process. Heat frying pan over medium heat and brown meet with onion and garlic until the meet is slightly crispy to ensure it's fully cooked. Meanwhile drain and wash beans and line slow cooker with plastic liner if preferred and add meet. Season with taco seasoning, sugar, cumin and pepper. Add remaining ingredients and cover your slow cooker. Now all is left to do is cook this delicious chili on low for at least 4 hours up until 6 hours. Stir a few times during cooking which is necessary because it tends to cook on to the sides on the bottom. Serve with sour cream and grated cheese. I also love some tortilla chips with this warming meal!
Print out this slow cooker chili recipe below and enjoy!
[amd-zlrecipe-recipe:7]
If you like to get more recipes into your inbox, then hop onto the mailing list and select 'Recipes'. You can choose other topics as well which interests you!
We are linking up to some of these awesome blogs! Check them out to find more amazing DIY inspiration and come over to our link party on Thursdays at 7pm EST!