Patterns with bodice and ties in one piece look beautiful but what if you don't have enough fabric on hand or just want to save some fabric? Such a continuous bodice sucks up lots of fabric and leaves you with awkwardly cut remnants that can't really be used for much else. Here is a great sewing hack about how to divide long ties.
Sewing Hack: How To Divide Long Ties
If you have a halter top or dress pattern which has the ties seamlessly connected to the bodice you might be getting tired of wasting a lot of fabric. Cutting out such a continuous piece of fabric leaves you with a lot of unusable fabric left over. I had designed two patterns which have such long ties. These patterns are mainly loved because of the nice, clean look such a halter garment provides plus it is faster to sew up. I did however, receive questions about how this enormous fabric wasting could be stopped so I thought of making this quick tutorial for you.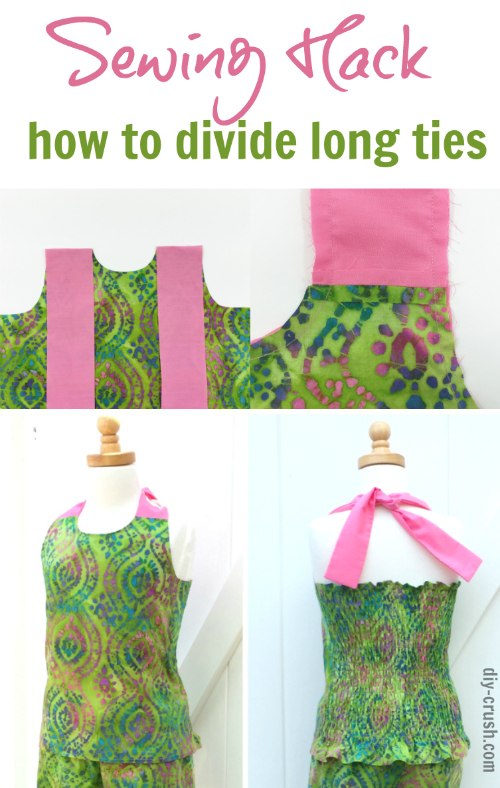 *This post contains links to affiliates. Please see full disclosure here.
Here are the two mentioned patterns, the [eafl id=16635 name="beach comber halter romper" text="Beach Comber Halter Romper"] and the [eafl id=16636 name="fiorella halter dress pattern" text="Fiorella Halter Dress Pattern"]. Both have almost the same bodice with continuing halter ties.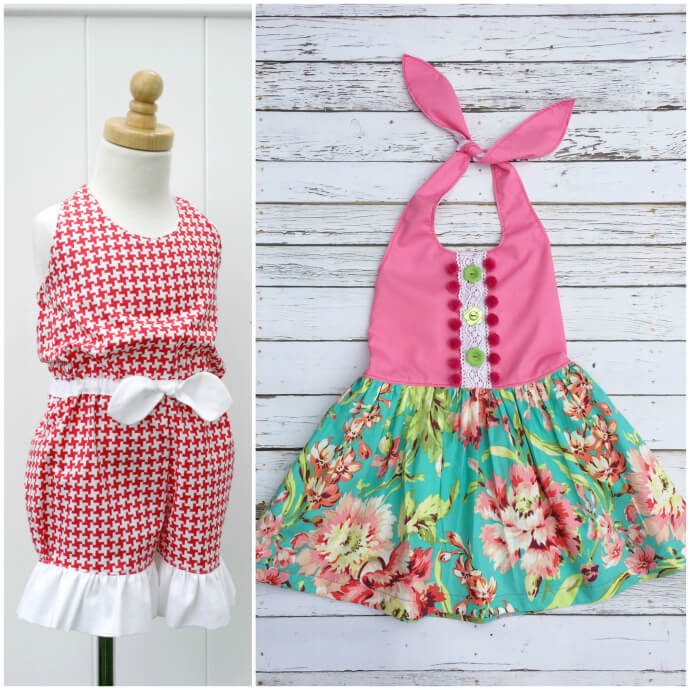 How to divide long ties:
Here I have the cut out bodice of the halter romper pattern and beside it on the right is my example project of a top I am making from the Fiorella dress pattern. I have already divided the ties by simply cutting the template of the bodice a few inches up from the neckline. You can decide where you want to make the cut but I thought it would be a great place. Then I cut out the remaining ties from the template from another fabric, I also added 1″ to that fabric to make for the seam allowance.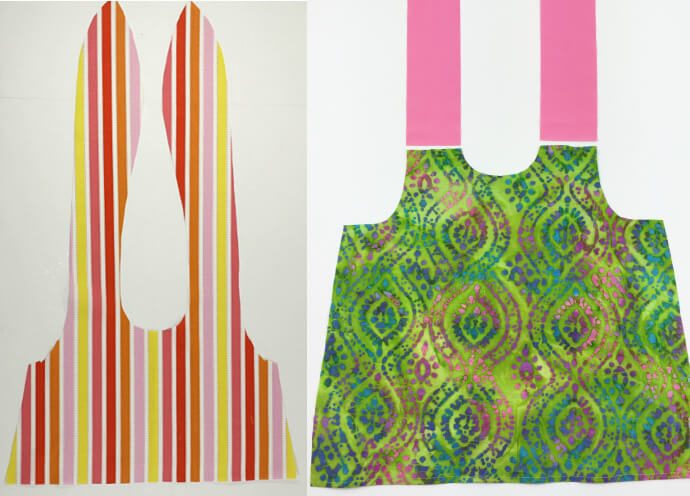 Sew the fabric pieces together:
I flipped the separate tie pieces over the bodice and pinned them into place. Then I sewed them down with a 1/2″ seam allowance. My added 1″ provides exactly enough for the 1/2″ seam allowance.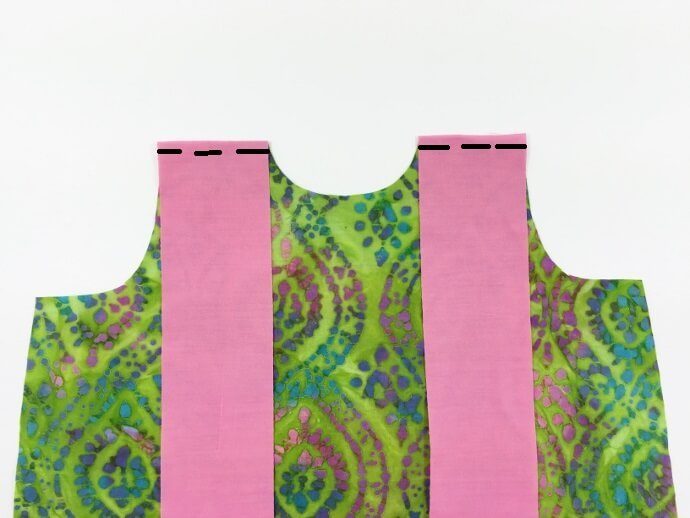 Once I flipped the ties up again, I pressed the seam allowance open as shown below. Then I followed through with sewing the bodice.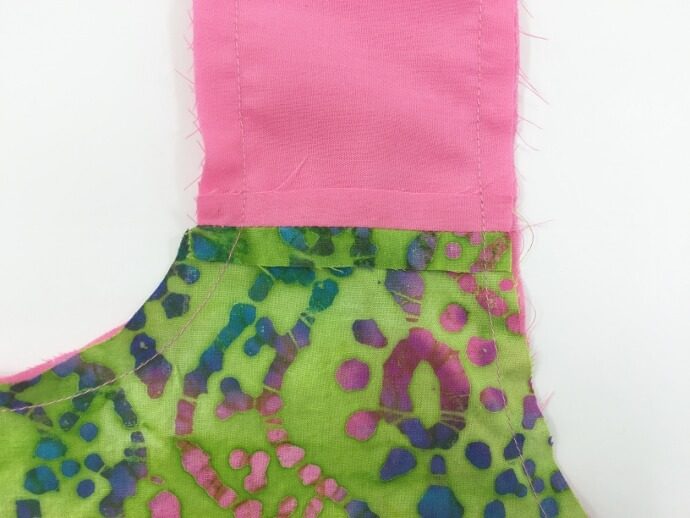 And here is my finished halter top plus some matching shorts in this ravishing batik fabric! 😉 I want to share another tip with you for making a top from a dress pattern. See below!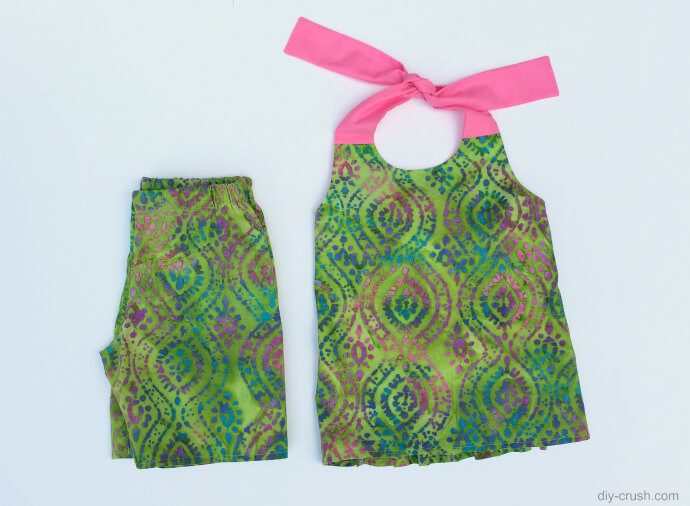 I love making tops for my daughter since she likes tops and bottoms more than dresses. Sigh! Anyways, so when making a top from a dress pattern it's important to measure how long the top should be and either cut off the original dress pattern or make a new template by using freezer paper or a big poster. Then add seam allowance and start sewing it. My top is lined as the original pattern I'm using so I had to finish the bottom hems separately before sewing the sides. That way my lining was not connected to the outer top fabrics' hem.
I chose to match the hot pink in this beautiful batik print (purchased at Hancock Fabrics). I love how it turned out!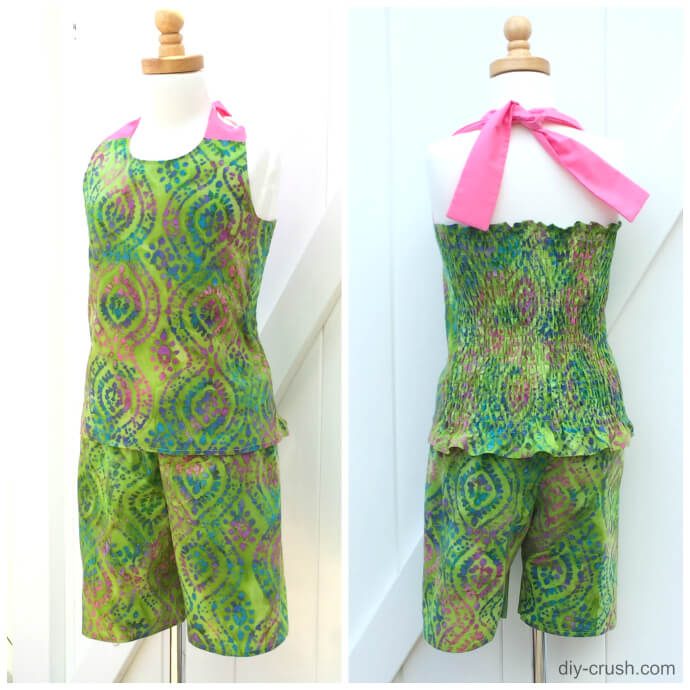 You might also like my tutorial on how to make a regular knot dress into a halter dress!
Would you like us to email you when we have a new post up? You can choose what interests you! Then hop on the list by entering your email below! We promise, we only send you 1-2 emails per week!
We are linking up to some of these awesome blogs! Come over to our link party on Thursdays at 7pm EST!