Oh these butterflies are so adorable! I used this pretty fabric for the Rayann's Retro Top & Dress pattern review. Actually as part of a blog tour. The pattern is from Simple Life Pattern Company and has a very unique neckline. Read how I altered this pattern a tiny bit and what I think of the pattern (and gorgeous fabric)!
The Rayann's Retro Top & Dress pattern by Simple Life Pattern Company is nothing short of being versatile (check out their facebook page because they will have a huge sale coming!). At first sight I loved the square neckline because it makes a garment look very different from the usual dress style.
⇓ – – – – – PIN THIS – – – – – ⇓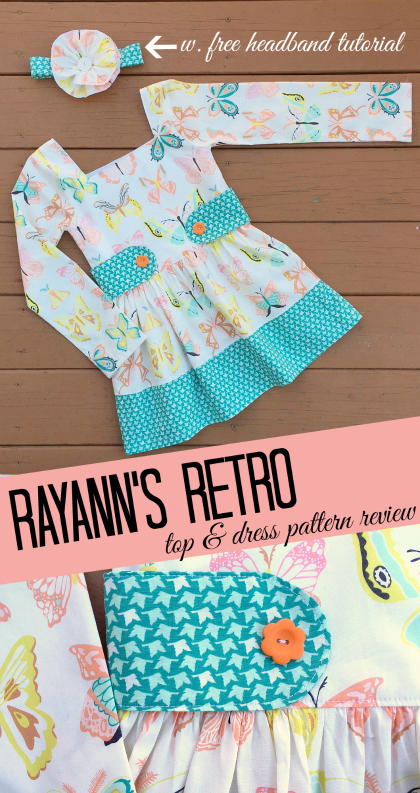 The fabric used to make this top is from Art Gallery Wingspan collection.
I got started and cut out size 10. I wanted to make those puffy sleeves so badly but knew my daughter wouldn't like them (see started to be a little bit non-girly lol) so after I cut the sleeve fabric pieces I had an idea.
See the tutorial below: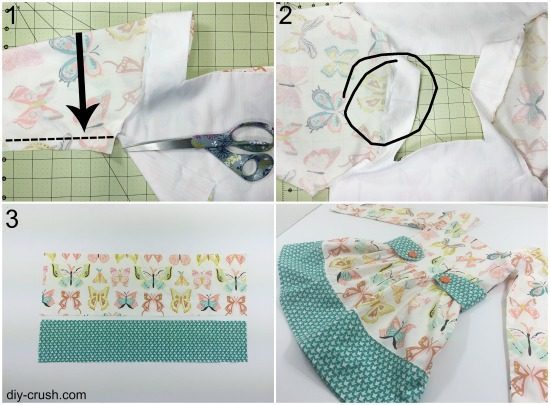 1. According to the tutorial I was supposed to slightly gather the top area of the sleeves to make them a bit poufy on top but I wanted the sleeves to be straight so I had to trim off some from the bottom seam. I sewed the sleeves on without gathering and basically went from the center of the sleeve (highest point) and pinned then sewed down each side separately. That way I ensured to keep the sleeves straight without issues and with the same amount of fabric left on both sides. Then I trimmed off the access of the sleeves.
2. That left me with nice and straight shoulder areas.
3. For the bottom part of the skirt I wanted to do a big border to balance the look with the adorable buttoned sash. I still loved the original look with the 2 strips for the top and 3 strips for the dress!
I chose to cut my skirt part to 8″ instead of the 5.5″ given in the sizing chart since I wanted the top to be longer so she could wear it over leggings. The border I cut to 5″ and hemmed it with a 1/2″ double fold. Then I finished the top and loved the outcome. Unfortunately I couldn't bribe convince my daughter to model it for me since "it was not a winter top"! Oh well, I guess I need to wait until the weather warms up!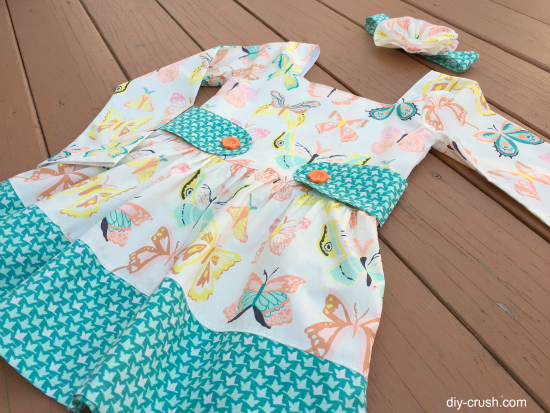 The pattern review:
LOVED the instructions!
Very clear with easy to understand steps.
The templates were easy to print, cut and tape together.
All in all a great pattern which will definitely be on my sewing list for spring/summer!
The fabric review:
Of course the fabric is awesome since it's Art Gallery fabric!
If you like to see more SLPC reviews/blog tours, head over to Because Of Brenna to see her choice of a Simple Life Pattern Company pattern on Tuesday, January 26th and on Wednesday, January 27 it's That's Sew Kari's time for the blog tour.
Happy sewing!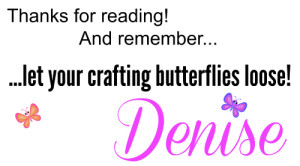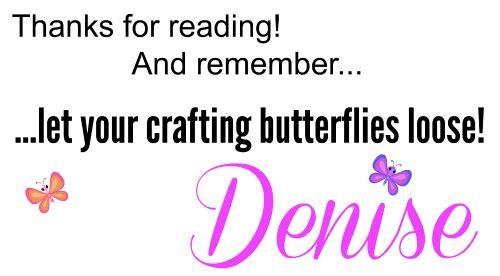 Hi! I'm a craft & sewing loving mom of 4 (+ 2 dogs). When I am not crafting or sewing, you can find me playing with my kids and dogs! I am a slow cooker & coffee addict. My favorite color is any color and I have a degree in business management. My 24/7 job is DIY Crush and Whimsy Couture, besides being a mom. Hope to inspire you to DIY with me!