If your kids love stuffed animals then this pattern is for you! This adorable puppy plushie pattern makes a cute little dog with diaper and bone shaped sleeping bag. It is a great advanced beginner pattern who loves to step out of their comfy zone. See what sweet little puppies I made for my daughter.
Puppy Plushie Pattern – A Review For You
In a hurry?? Head over to her shop to purchase this Puppy Plushie Pattern right away!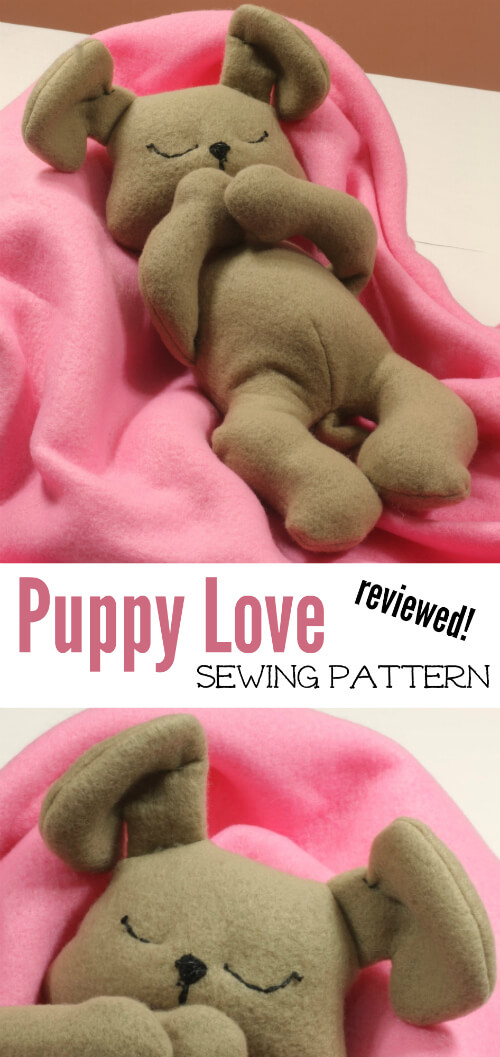 *This post contains links to affiliates. Please see full disclosure here.
Heads up! There is a giveaway which is on the very bottom! Be sure to enter before you leave!
I was excited when I was asked to sew the Tiny Puppy Pattern, what a cutie by the way. But first a little bit about Naomi.

Who is this designer?
Naomi designs honestly the cutest plushie patterns I have seen in a while! Her stuffed animal patterns have great detail such as cute facial features and some come with accessories. She writes this about her business she named NIMBLE PHISH: "As a mom I have been able to fully embrace my inner child and follow my dream of embracing life with flamboyant creativity. I only hope that I can share that with the world and bring a little of my own light into the lives of others."
What type of patterns does NimblePhish offer?
Her patterns are on PDF's and downloadable instantly
Her softies include dolls, baby dolls, animals & creatures plus accessories
What do her customers say?
Looking at her ratings, she has over 1500 happy customers and a full 5 stars on Etsy! That is one awesome accomplishment. Her total sales reach well over 10.000! See for yourself and click over to her shop!
My review of the adorable plush dog pattern "Tiny Puppy":
Foreword:
Oh goodness, all I can say is that my daughter and I absolutely love this sweet little puppy! My daughter said the pattern should be called "Puppy Love" which is actually on the PDF file lol…
What the dog softie pattern contains:
Printable pattern pieces for the head, ears, tail, arms, front body with legs, back body with legs, diaper and bone shaped sleeping bag
11 pages to print
Picture tutorial with easy to follow steps and how to achieve the cute puppy facial features such as cheeks and floppy ears
Details about the puppy pattern:
the finished puppy measures about 12″ long
suitable materials are fleece, craft velour or suede cloth as per her listing.
you want to be able to do a ladder stitch as this is required for closing the openings
What I liked about the pattern:
I liked the simplicity of the pattern pieces as too many pieces would make this pattern more difficult to complete
Her pictures are great and help tremendously in creating this plush dog pattern
What I suggest adding/changing to/about this pattern:
Although this pattern is for a TINY puppy, most pattern pieces are big enough to handle well. For turning the sewn pieces with right sides out, I would increase the width of the arm and ear template about 1/4″. They are a bit fiddly to work with.
I suggest using a turning tool to help with turning the sewn pieces
On page 2, step 4 and 5: I changed this a bit to make it easier because the tail is super tiny and it would be difficult to sew the finished tail onto the back bodice. I sewed the tail together first and then I was able to sew the entire bodice with tail at once. See images of the step below.
Conclusion:
So, all in all it's a wonderful puppy plushie pattern that I can highly recommend! It would be the perfect Christmas gift for kids that love stuffies!
GIVEAWAY!!!!!
That's not all! Naomi was gracious and offered you a giveaway for 3 of her patterns! One winner can gets to choose 3 sewing patterns from her Etsy shop! All you have to do is leave a comment below and tell me which 3 patterns you would pick and include your email so I can contact you. Only one comment please!! Allow time for me to publish your comment! It's not automatic to prevent spam. Visit her shop HERE!
The giveaway will end October 5, 2016, so hurry to enter below!