There is something magical about the word 'Enchanting' that lets us think about princesses and fairy tales. So as the definition of enchanting says "charming, captivating"…Ready for an 'enchanting' dress pattern review? Read below!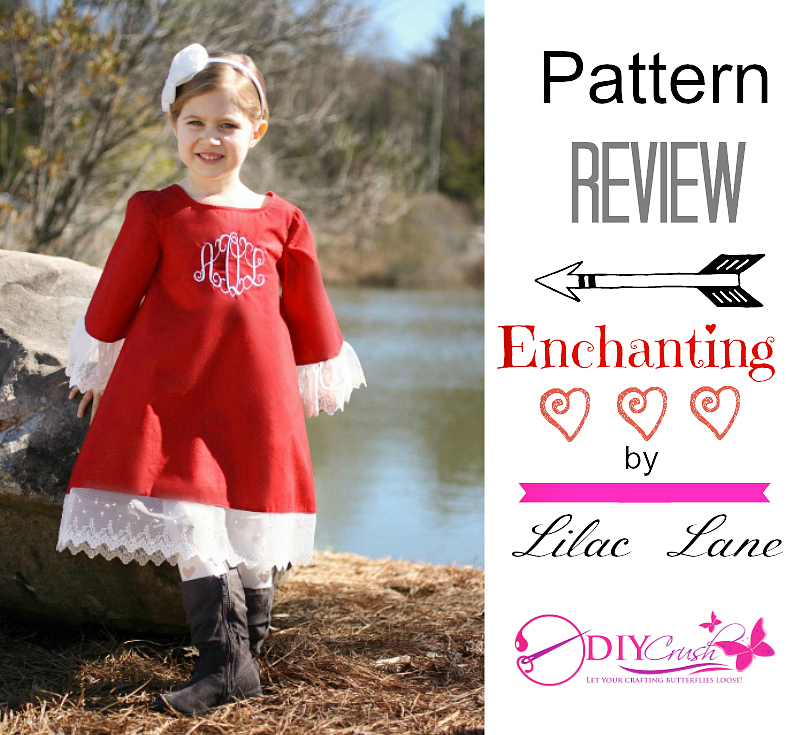 This review has been done by Kayla, my wonderful assistant. Read what she has to say about this adorable sewing pattern!
---
The Review
I always love a good, versatile pattern.  I knew immediately after seeing the Enchanting Dress from Lilac Lane (not available anymore) that I was going to be a huge fan because of it's simple lines, yet stunning features.  This dress is great because you can play around with the design to change up the look.  Want a fancier dress to wear to church or for photos?  Make it with the ruffle sleeve and over sized bow! Prefer a more casual dress?  Leave them off! I personally think it looks pretty stellar with a monogram, and an applique would be nice, too 😉
This dress is a very easy sew.  There are no buttons or zippers, and the dress just slips over the head. There's a dramatic dip in the back that's just gorgeous, and it allows for the dress to easily be put on or taken off.  It's probably my favorite feature of the dress.   There's gathering on the sleeve ruffle, but other than that, it's just sewing straight lines.  The trickiest part was attaching the bias tape to the neckline, but the directions are straight forward and it really is quite simple if you go slowly.
The Pattern Details
I made the size 3 for my soon to be 4 year old after referencing the sizing chart.  I thought the fit was spot on.  I added the 3 inches of lace to the bottom that the pattern didn't call for because I thought it was really pretty, ha!  Baby girl is tall for her age anyways, so I didn't think it would hurt.  I think it turned out really cute.
The pattern file itself is 168 pages, but don't let that scare you!  The first 13 pages are the tutorial with the remainder of the pages being the pattern pieces.  The pattern fits sizes 2T – Girls 10, and each of those sizes is printed out separately.  Just look at the handy chart on page 13 to determine the size you need, and then you'll be directed to which pages you need to print out.  Super easy.  I always love when a pattern is labeled with the designer, pattern title, and page number on every page, and this one fits the bill.   Each step of the tutorial is numbered and has a corresponding color photo.  Also included is a cutting layout, supply list, recommended fabrics, plus there are several design examples sent in from testers (I love seeing those).
The Outcome
I'm sooo excited about how cute this little dress turned out!  I wasn't sure about using a solid color fabric at first, but I am definitely pleased with the results.  Sometimes it just gives a nice backdrop to all the fun extras like the lace, monogram, and bow.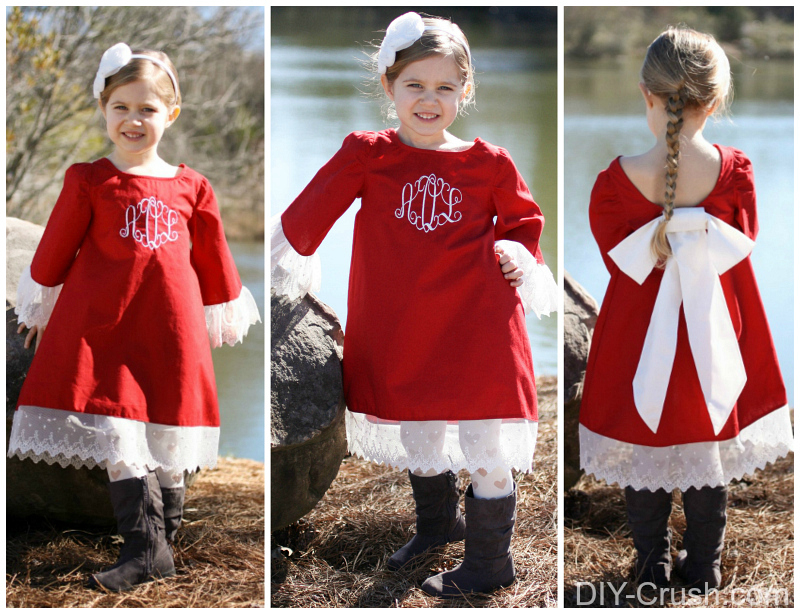 View all of Lilac Lane's sewing patterns HERE!
---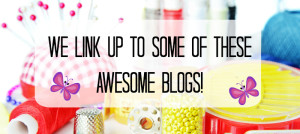 ♥ Like this post?♥ We would love it if you would follow us through our social media channels:
And please leave us a comment below!! We will love your forever!! ♥ ♥ ♥