Whimsy Couture Sunny Day SuitThis tutorial is for adding cute ruffles to a plain bib of a sun suit. This method can be applied to many other patterns as well that are lined.  Learn more below!
 ⇓———- PIN THIS ———-⇓

For this example I am using Whimsy Couture's Sunny Day Suit sewing pattern which is plain to begin with and for girls it would really pop with ruffles!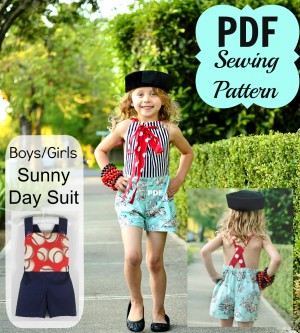 I used a pretty floral fabric by Jennifer Paganelli's line 'West Indies'. The aqua fabric is Kona cotton from Hancock Fabrics.
The legs in this example have elastic which you can add if you do not want to add snap button tape. If you want to add snap button tape you want to do a different method of adding elastic to the leg hems.
Gather your materials
a baby sun suit sewing pattern with a lined bodice such as the Whimsy Couture Sunny Day Suit (which I used for this example)
about 1/4 to 1/3 yd fabric for ruffles
scissors
sewing machine
serger (optional)
3/8″ non-roll elastic for legs
straight pins
thread
measuring tape
Follow this 12-step picture tutorial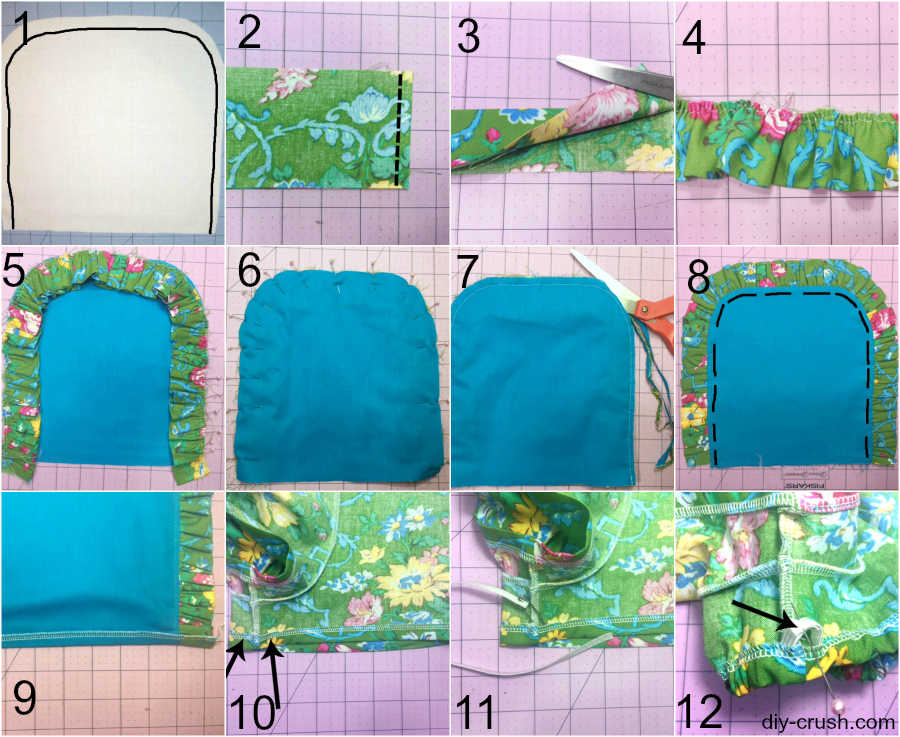 After you have printed the bib template, trim off about half of the perimeter to make room for the ruffles. Then follow the tutorial and cut your two bib pieces out.
Measure the perimeter of the template's curved edge and cut ruffle strips (4″ wide) 2.5 times that measurements. For example if your perimeter measures 20″ then cut 2 fabric strips which should make up 60″. Sew the two (or three strips) with right sides together.
Fold this long strip in half.
Sew a gathering stitch along the cut edges with a 1/4″ seam allowance.
Place ruffles along the curved perimeter of your bib fabric, place right sides together making sure the print direction will match on the ruffles once finished. Distribute the gathers to match the bib curved perimeter.
Place lining bib piece onto the ruffles and pin in place then sew around the curved edges with a 3/8″ seam allowance.
Trim away half of the seam allowance.
Turn the bib with right sides out and finger press the entire seams out so that they are nice and smooth. Then top stitch as instructed in the tutorial.
Serge/zigzag stitch the bottom hem of the big and fold up 3/8″. Lay aside
FOLLOW THROUGH WITH THE TUTORIAL UNTIL YOU DO THE LEG HEMS: To make the shorts legs elasticized fold the hem up 1/2 inch and press, then sew as instructed in the tutorial but leave a 1/2 inch opening on the inseam. Backstitch the beginning and the end.
Secure a safety pin to one end of the elastic and insert it into the casing.
Once both ends meet, overlap 3/8″ and pin, then hand stitch together with at least 10 stitches back and forth. Close the opening. Repeat with other leg.
♥ Ready to get the pattern? Find it HERE! ♥
Our cute little sunny day suit with ruffles is done and looks stunning on this beautiful girl!
If you like this project, browse all our Baby Tutorials!<====== click this link!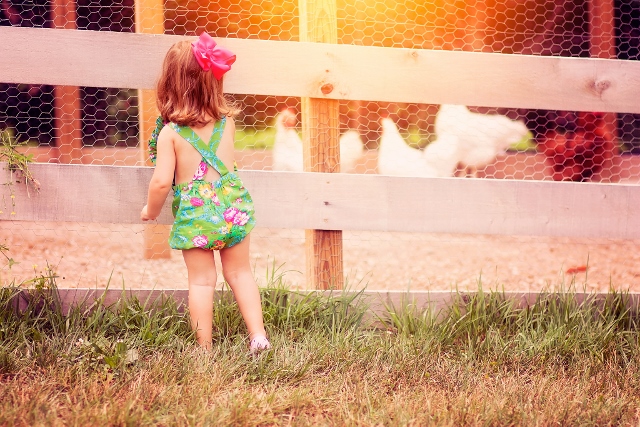 ♥♥♥ ♥♥♥ ♥♥♥ ♥♥♥ ♥♥♥♥ ♥♥♥ ♥♥♥
Hope you like this tutorial and will make a sun suit with ruffles soon! If you do, please share it with us on FACEBOOK!
Please follow us here:
♥ ♥ ♥