Sew a cute and comfy beanie that accommodates your messy bun (and ponytail)! Learn how to make a messy bun beanie today and whip some warm hats up in 15 minutes flat. These beanies are great scrap fabric busters and make lovely gifts for kids and women who love to have their hair up.
How to make a messy bun beanie – for kids & women
*This post contains affiliate links. Please see full disclosure here.
Winter is well in progress here in the D.C. area and I am just obsessed with all the amazing fleece I recently purchased. It's definitely time to get sewing now. A dear customer approached me with the idea of making a 'messy bun' beanie pattern! I have seen messy bun beanies on Pinterest more often now but they were all either crocheted or knitted. Now with me being a fleece addict I thought immediately to whip one up with fleece.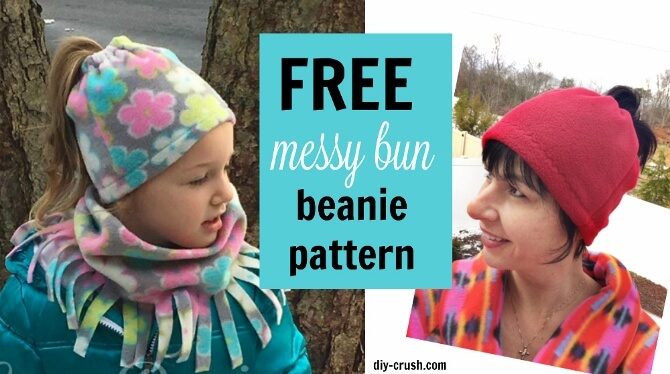 After a few attempts I came up with a crazy easy style. No kidding. It's simply a hat with a hole on top….for the bun. LOL…
So I made up 3 size groups which will fit kids ages 6 & up plus women. They are so easy to make too! And fast!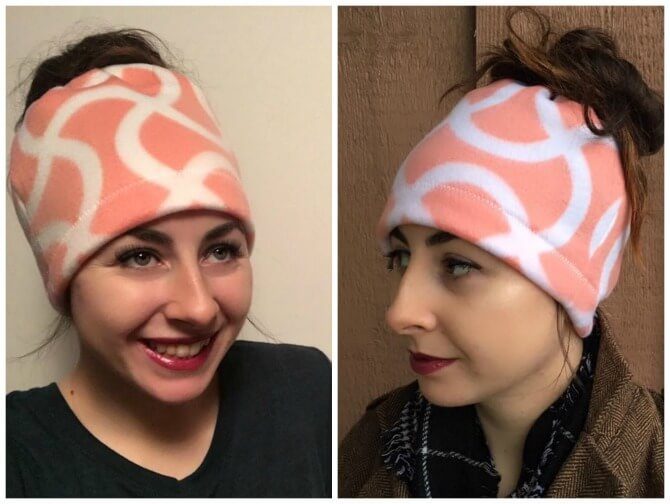 Fabric requirements: only stretchy fleece, no cuddle/minky fabric unless it stretches a bit. If using knit fabric you want to take off 1" of the width.
Elastic: regular band elastic, non-roll, 3/8" wide
Seam allowance: 3/8" unless stated otherwise
Stitch: stretch/knit stitch, small/tighter zig zag stitch or decorate zig zag stitch
Needle: regular/standard needle for fleece, ball point needle for knits
Cutting chart for fleece and elastic:

Watch the video tutorial on how to make a messy bun beanie:
*if you are watching this video on my blog then please disregard the link mention in the video.
I hope you have enjoyed this video tutorial on how to make a messy bun beanie and will make a bunch now too! If you do, please share the pics in our facebook group! I can't wait to see all your cute messy bun beanies!
Check out our Free fleece patterns & tutorials <====== click this link!
BTW, if you are in the fleece hat making craze, I can highly recommend this book! It has over 25 most adorable fleece hat designs to sew.

Pin this image for reference: