I just love bunnies in any shape or form! Real or as a toy! This free bunny sewing pattern is great for three purposes! Ready to get your last minute Easter sewing on? Learn more below!
it makes a lovely decoration piece for your Easter setting
it would for sure make a great toy for your kids
it is so small that it's perfect for your fabric scrap pile and to use no longer wanted clothing as we show you in this free tutorial
⇓ – – – –  PIN THIS – – – – – ⇓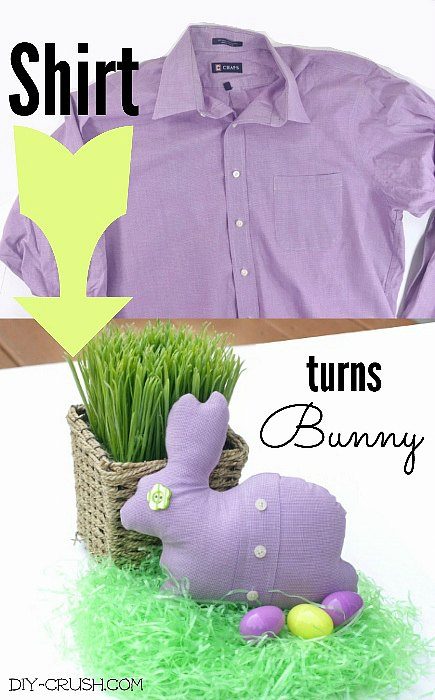 For this free project I am using a button down from my husband. He no longer wanted to sport the ravishing lavender lol…and I just loved the idea of having the buttons on the bunny!
You will only need about 30 minutes from start to finish!
Got 30 minutes? Come and craft with us today!
Gather your materials
download the bunny template <=== click this link!
woven fabric (the size of a fat quarter would work great)  or a piece of old clothing
iron
scissors
one of two buttons
a small bag of stuffing such as fiberfill
notions
double threaded hand sew needle
Follow this 8-step clover picture tutorial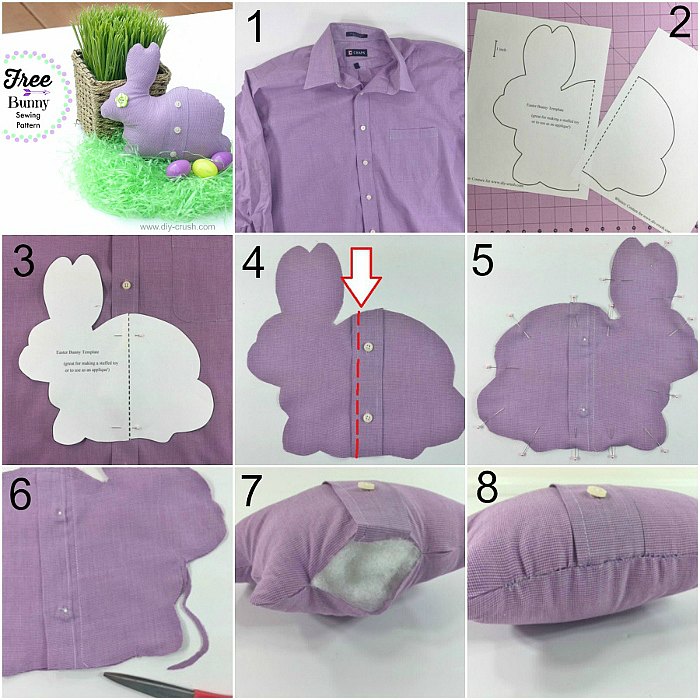 prepare your fabric or your piece of clothing by pressing it well
print the two bunny shape pages out with no scaling (set to 100%). Download the templates (my newsletter subscribers can download the templates. Sign up to 'sewing' below and once you receive the email, click on the link and look for no.4). Cut out the shapes and tape together.
Place the template onto your two layered fabric. I placed it right over the buttons. Pin in place and cut around template.
if you are using a button down shirt you want to sew the button tape closed so the stuffing won't come out. Only sew the front piece.
Place both bunny fabric pieces with right sides together and sew around the perimeter. Leave a 4 inch opening on the underside. Back stitch the beginning and the end.
Cut down the seam allowance about half only going around the sewn perimeter.
Stuff bunny with fiberfill firmly. First push stuffing into the ears and then work your way throughout the body. Stuffing it firmly will make it nice and plum and prevent some of the wrinkly appearance as well.
last step is to slip stitch the opening closed with your double threaded hand sew needle.
ALL DONE!!!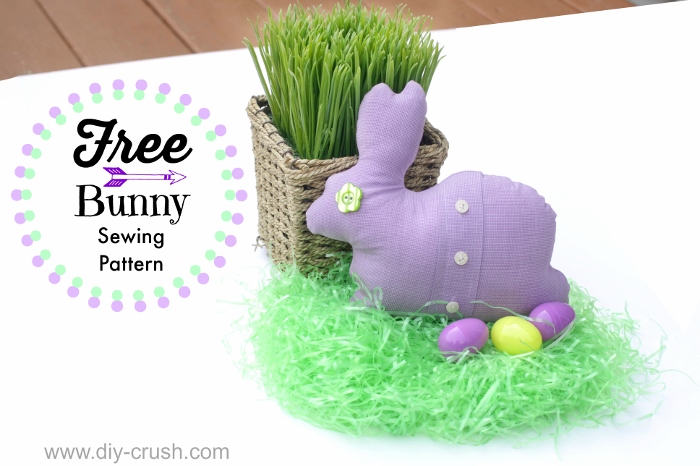 If you enjoy free sewing patterns & tutorials, would you like us to email you when we have a new post up? Then hop on the list by entering your email on the sidebar! We promise, we only send you 1-2 emails per week!