Here are my most important facts & tips for sewing with double gauze fabric. This fabric has gotten more and more involved in discussions and you can find several beautiful sewing patterns designed for double gauze. Basically it's an all round material when you are sewing for babies and looking for a hot weather fabric that allows the wearer to feel comfortable and cool in.
*this post contains links to some of my affiliates. Read my disclosure policy here. For this post I received the shown fabric and all opinions are my own.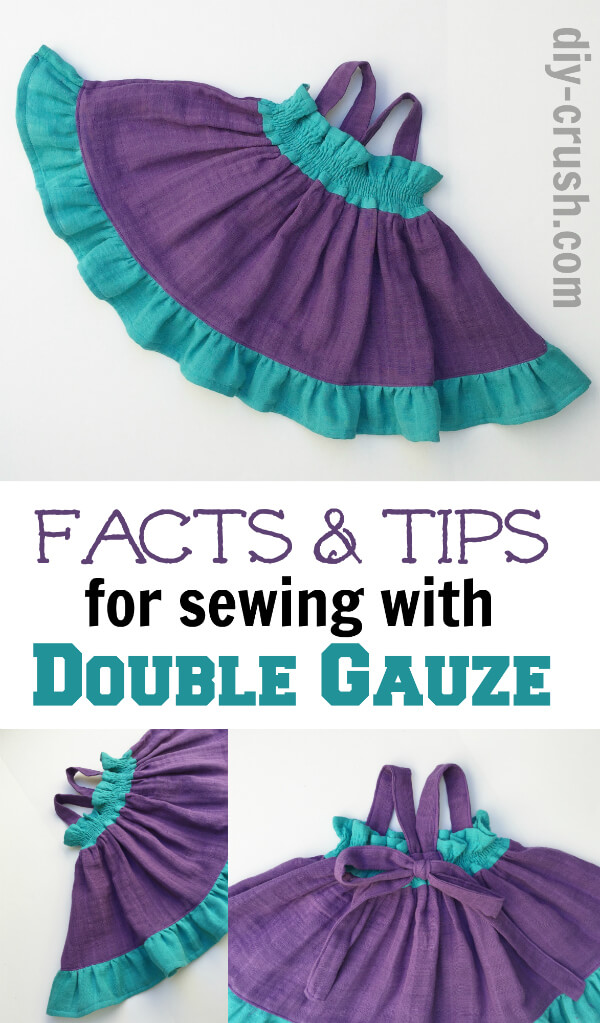 I haven't been sewing with double gauze for that long but I sure love the benefits of things made from it. Double gauze is mainly known for sewing swaddle blankets and burp cloths with but you can sew so much more than those things. I have rounded up some important facts & tips for sewing with double gauze fabric and have made a cute example of a baby dress.
The amazing double gauze fabric in this post was provided by Shannon Fabrics, a manufacturer for many materials including their awesome double gauze line called Embrace. Check out their currently 112 prints/colors. I am showcasing the colors amethyst and teal (<<====shopping links) from their Embrace line.
Facts & Tips For Sewing With Double Gauze Fabric
1. What is double gauze:
 Double gauze is mostly constructed with a leno weave ( 
https://en.wikipedia.org/wiki/Leno_weave
) or cross weave, which lends this airy material its looseness and soft touch. The characteristic of double gauze is simply two layers of gauze connected by tiny threads every few inches which are not visible much at all from the right side.
.
2. What is so great about double gauze:
 Due to the loose weave of double gauze, it is breathable which allows air to pass through freely. That's why double gauze is perfect for sewing clothing to be worn when it's hot and humid, as it absorbs perspiration without leaving a mark. The drape of double gauze is similar to light-weight linen but it won't wrinkle as much. But don't assume that double gauze is only for summer, it provides comfy and cozy clothing and blankets for winter as well.
3. What can be made with double gauze:
 Swaddling blankets, bibs, burp cloths, bedding, quilts, baby accessories, clothing sbuch as pajamas/nighties, blouses, kaftans. It's perfect for clothing that need to be lightweight and airy but not see-through and it doesn't require a lining.
.
4. How to sew with double gauze:
 As with all cotton fabrics, you want to prewash your double gauze on low heat with a mild detergent. Pop into the dryer on low heat for about 5-10 minutes, then lay flat to fully dry. Before cutting into your double gauze you want to use spray starch to slightly stiffen the fabric before cutting, then press the fabric to smooth out any wrinkles and to flatten the fabric so it's easier to cut. Do not move the iron around in circles, grab one end and hold slightly taut, then press the area in sections. A standard needle will be fine but it should be a new one. Use a longer stitch if your project will allow.
.
5. Which patterns are great for double gauze?
Pretty much any pattern you would use regular woven fabric for. The pattern I used showcasing this itty bitty baby dress is my own, the Whimsy Couture Bow Twirl dress pattern. I super easy sew that only requires to know how to sew with elastic thread. The dress I made features a ruffle on the bottom which is not part of the pattern but it's easy to do. Just cut the skirt length a bit shorter to accommodate the ruffle. Cut the ruffle twice as wide as the skirt part so I would have nice gathers. I cut mine to 2.5″ long which was plenty for a baby dress.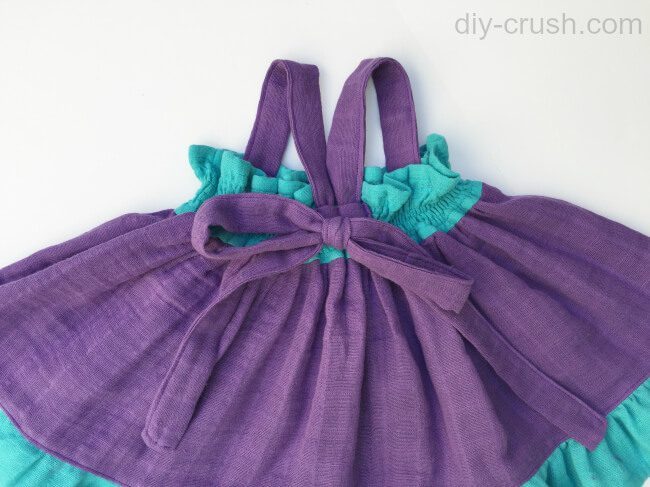 I hope these tips for sewing with double gauze will make you get started! Love the showcased Embrace double gauze fabric by Shannon Fabrics? Find a retailer near you!
.
Find Shannon Fabrics here:
I hope you liked this informative post about facts & tips for sewing with double gauze fabric!
——-
If you have projects made with double gauze, share some pictures in our facebook group! We'd love to see them!