Hi there! Welcome to the 16th week of our DIY Craft Party! This party is so much fun and not only for crafts but also for recipes, blogging/business/life tips and other instructional posts. Let's party!
It's the beginning of a new year and we all tend to do a little more organization than throughout the year. Today I am showing my favorite three organizing tips and ideas that you can make! But, before we party, I want to show off my three favorites from last week's party! PLEASE spread the word about this party!!
♥ ♥ ♥ ♥ ♥ ♥
I will pin every instructional post but won't be able to comment on every post, but if you are one of my three faves, I will comment to let you know!
♥ ♥ ♥ ♥ ♥ ♥
Please be kind and share/pin/tweet this post! Thank you!
⇓ – – – – – PIN THIS – – – – – ⇓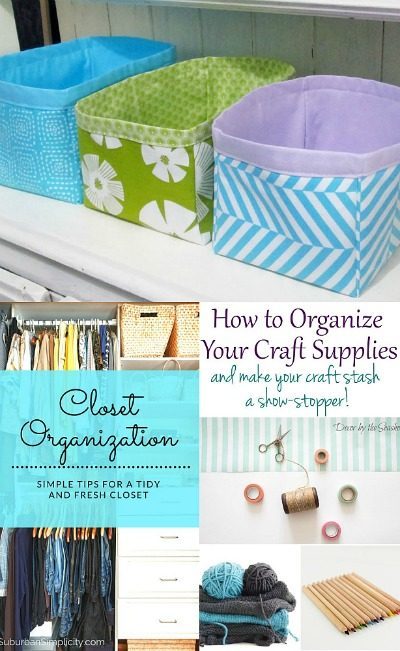 Tea And A Sewing Machine offers a really great tutorial on how to sew nesting fabric storage boxes. I'm loving this idea that you can make them to match any room. Not only for the sewing room 😉
Closets tend to get messy at times, I know oh so well because I have kids and a husband haha… Erin from Suburban Simplicity knows what she is talking about when it comes to organization! Her post Closet Organization: Simple Tips for A Tidy and Fresh Closet shows some really doable things to keep it nice looking! I especially love what she is putting into shoes to keep them smelling fresh!
Celeste from Décor By The Seashore shows us how to organize your craft supplies! Awesome ideas!! She even has a complete pinterest board dedicated for 'craft rooms & storage ideas'.
I am in dire need of organizing my sewing room, that's for sure! Now it's time to start a new party!
What Can You Show Off?
free craft tutorials & patterns
pattern reviews (can include links to the pattern for purchase)
decoration with small list of how you did it
recipes for foods that are also kids friendly (no alcoholic recipes please)
business/blogging tips
money tips for SAHM's and WAHM's
What You CAN'T Show Off?
shops
giveaways
spam sites
products for sale
adult content
///By linking up you are giving us permission to visit your blog, pin/share images from linked up post and link back to you///<
If you liked this link party, would you like us to email you when we have a new post up? You can choose what interests you! Then hop on the list by entering your email below! We promise, we only send you 1-2 emails per week!