Woohoo! This is our 4th DIY Crush Craft Party!!! Four awesome weeks full of amazing DIY inspiration! I am very thankful for each and everyone who comes over to visit and links up their crafty posts!
The lucky one is me who gets to pick 3 amazing DIY's that get featured every Thursday when a new craft party starts. This time I knew exactly what DIY's I loved when I saw them. Before I present you my favorite three posts I'd like to ask you to please pin the image below to one of your craft pinterest board. Thank you!
⇓ – – – – – – –  PIN THIS – – – – – – – – ⇓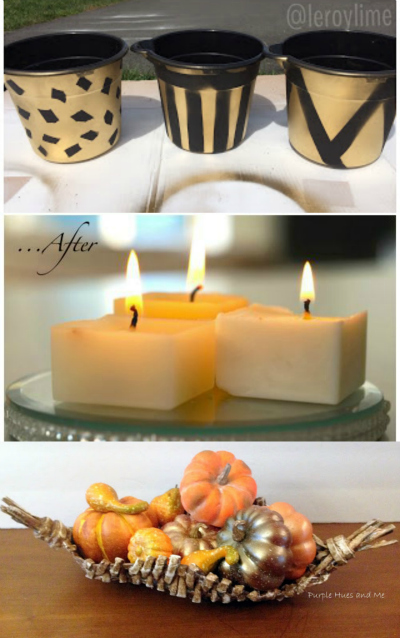 – – – Find my 3 top favorite projects from last week: – – –
Dollar store bucket makeover by LeroyLime. These are so pretty and would look great in or outside your home!
What to do with your old, used candles by Sparkles In The Everyday. This is such a great recycle project! Makes me want to go melt all my candle stumps now!
Recycled Newspaper Tubes Tray/Basket by Purple Hues And Me. This DIY is simply mind blowing because it's made from newspaper!!! Look how gorgeous the finished product is!!
I just ♥Love♥ these thrifty and inexpensive projects so much and hope you do too! Please visit their websites for detailed instructions.
---
 ♥ ♥ ♥ Now off to a new week! ♥ ♥ ♥
What Can You Show Off?
free craft tutorials & patterns
pattern reviews (can include links to the pattern for purchase
decoration with small list of how you did it
recipes for foods that are also kids friendly (no alcoholic recipes please)
business/blogging tips
money tips for SAHM's and WAHM's
What You CAN'T Show Off?
shops
giveaways
spam sites
products for sale
adult content
///By linking up you are giving us permission to visit your blog, pin/share images from linked up post and link back to you///
All of the posts must link to something you have made and should contain a small step-by-step info or a list of materials with some instructions. It can be either a tutorial, instructions or a quick how-to of your latest home décor.