This chocolate whoopie pies recipe starts with a cake mix and is so easy to make. They are filled with a fluffy, marshmallow filling and these delicious pies have a cake-like texture. Lots of fun and a great change from your average cake or cookie dessert! Check it out today!

Chocolate Whoopie Pies With Marshmallow Filling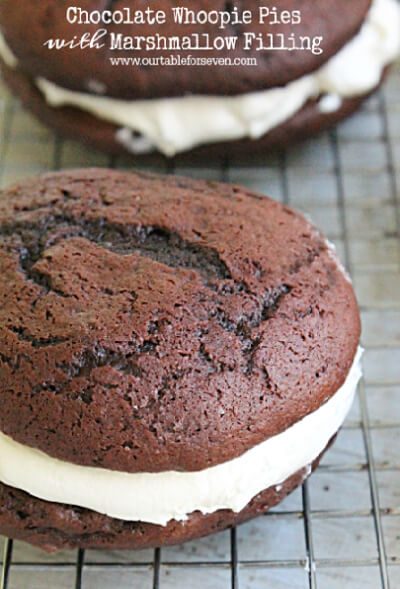 ====> Check out more deliciously baked sweets!! <=====
Ingredients needed:
box fudge cake mix
butter
…..see the rest on Erin's blog!
Ready to bake these delicious chocolate whoopie pies? Check out Erin's post today! This post was submitted by Table For Seven:


Are you interested in submitting your own DIY projects such as sewing, crochet, quilting, recipes or other helpful do-it-yourself tips? Hop over HERE to submit your projects!
---
I hope you will enjoy using this tutorial and would like to invite you to subscribe to my posts!
Hi! I'm a craft & sewing loving mom of 4 (+ 3 dogs). When I am not crafting or sewing, you can find me playing with my kids and dogs! I am a slow cooker & coffee addict. My favorite color is any color and I have a degree in business management. My 24/7 job is DIY Crush and Whimsy Couture, besides being a mom. Hope to inspire you to DIY with me!