What I love about crafting is that you can use and re-use old things such as clothing or burned out glass candle holders. Make a candy corn luminary with old knit t-shirts.
Candy Corn luminary
Two of my FAVORITE materials to work with, knit fabric and glassware. Since it's Halloween time I thought of what to do with my kids' outgrown t-shirts and my empty, burned down candles in glass. Besides, it's a great budget saving project since it's basically free! Here is a candy corn knit fabric wrapped candle holder DIY!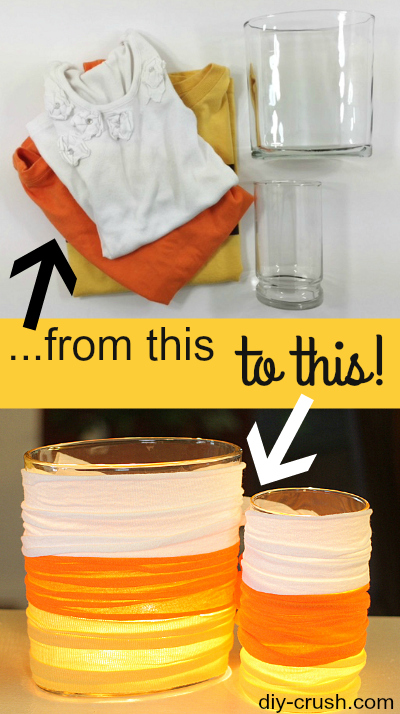 How to make a candy corn luminary
Make these cute fabric wrapped candle holders for your Halloween décor! Or make them for any holiday in corresponding colors too! There are endless possibilities!
So let's make them together!! You only need a few materials and about 15 minutes.
Watch this quick video first:
Gather Your Materials
knit fabric scraps or knit clothing
glassware such from empty candles or vases (clean out wax first)
scissors
Follow the 9-step picture tutorial: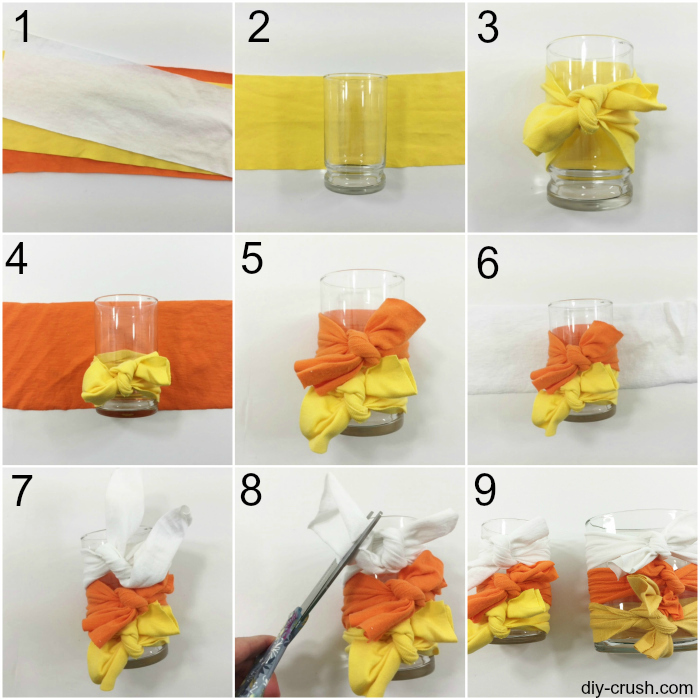 Cut a strips of knit fabric from your old knit clothes to about 4-5″ tall and twice the width of the glass ware you are using
Place glass ware onto your first strip (in this case yellow for the candy corn's bottom row
Wrap glass ware in the strip of fabric and tie a double knot
Repeat step with orange piece
Tie a double knot
Repeat step with white fabric
Tie a double knot
Trim off access of knots
I made two glass candle holders
 Place a votive or two or a tea ight into your glass candle holder! Now it's time to enjoy your illuminated DIY!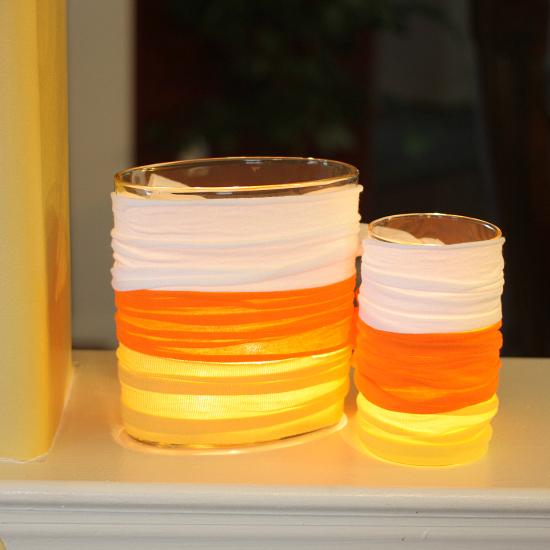 ♥♥♥ ♥♥♥ ♥♥♥ ♥♥♥ ♥♥♥♥ ♥♥♥ ♥♥♥
Join our CRAFT PARTY every Thursday at 7pm EST to link up your own projects or find new ones.
♥♥♥ ♥♥♥ ♥♥♥ ♥♥♥ ♥♥♥♥ ♥♥♥ ♥♥♥
Here is a great post with 40+ sewing patterns that can be used to use up knit fabric scrap pieces! Head over to Swoodson Says!
If you liked this pattern, would you like us to email you when we have a new post up? You can choose what interests you! Then hop on the list by entering your email on the sidebar!
We are linking up to some of these awesome blogs! Come over to our link party on Thursdays at 7pm EST!