Today I have a free multi sized pattern for you!! Make adorable bubble skirts for your girls in sizes 3 months through 12 girls! Although this pattern does not include a printable template, it's so easy to make with the provided cutting instructions.
⇓- – – – – – PIN THIS – – – – – – ⇓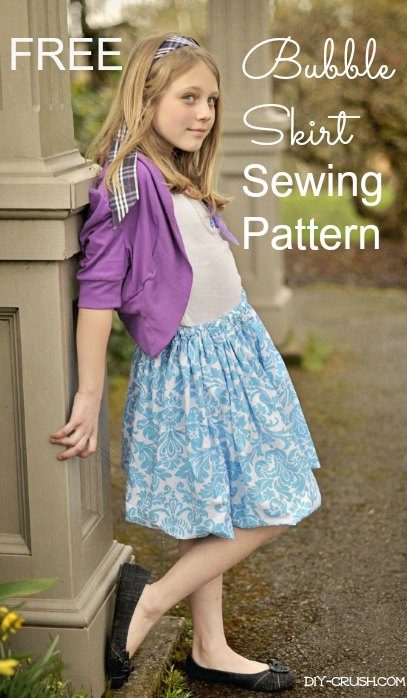 Free Bubble Skirt Sewing Pattern
Gather your materials:
Fabric
3/4″ wide Elastic
Sewing machine
Elastic thread
Notions
Scissors
Lip edge cutter or measuring tape
Safety pin
iron
Suitable fabrics:
woven cotton
plaid
chambray
silk
polyester
Knit fabric is unfortunately too thick in most cases but I have seen bubble skirts made from very lightweight knit mixes.
To begin, cut your fabric according to the cutting chart below: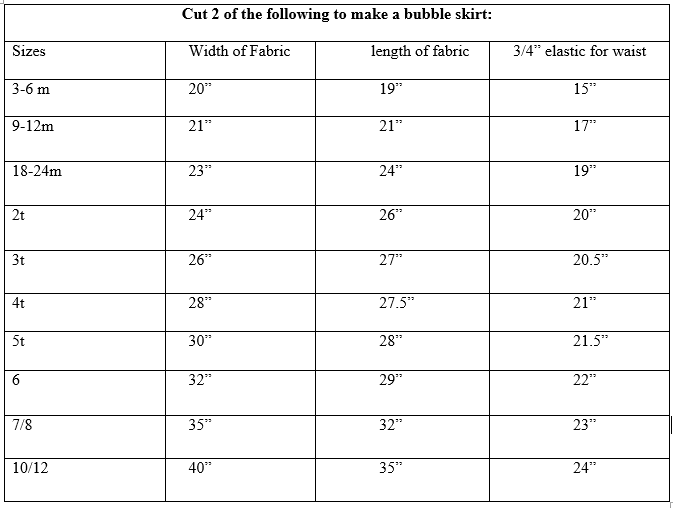 Seam allowance: 3/8 inch unless stated otherwise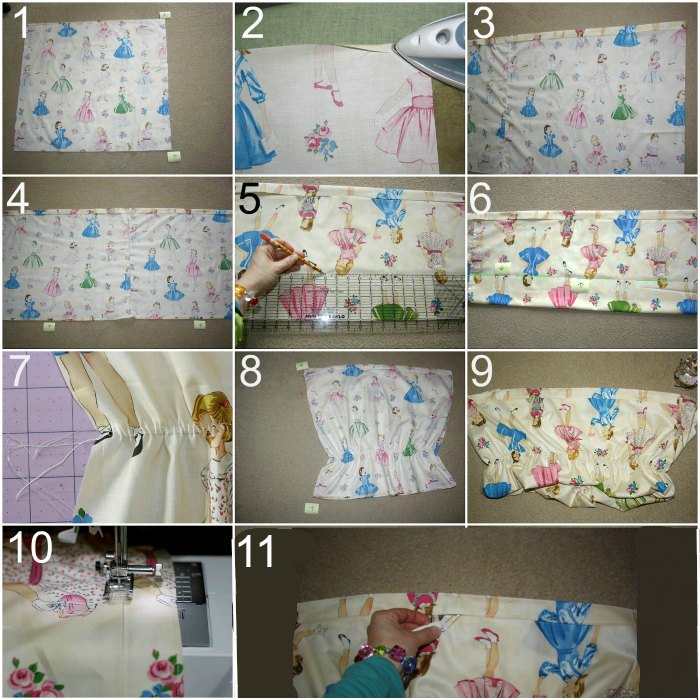 Place both fabric pieces with right sides together, making sure the print direction is going down. Pin and sew only one side! Serge/zigzag hem the raw edge
Fold down the top edge 3/8″ and press.
Fold down the top edge once more but this time 1.25″ and press. Now sew close to the folded edge to make the casing. Leave a 1″ opening in the center back for the elastic. Backstitch the beginning and the end.
Fold up the bottom edge 3/8″ and press.
Fold the bottom edge all the way up so it meets the bottom edge of the casing which you have sewn in place.
Draw a line 1/3 up from the folded bottom edge. Unfold and shirr this line (with elastic thread in the lower compartment of your sewing machine and regular thread on top). Sew 3 rows with a 1/4″ distance from each other.
This is how the sides should look like now.
Fold the fabric over sideways so that both edges meet. Pin and sew side together. Backstitch beginning and end.
Fold up the bottom edge again until it meets the casing. Pin in place.
Sew it down all the way around as shown.
Secure the safety pin to one end of the elastic and insert it into the casing. Overlap both ends of the elastic, stitch it down several times to secure it. Close the opening with your machine.
All done!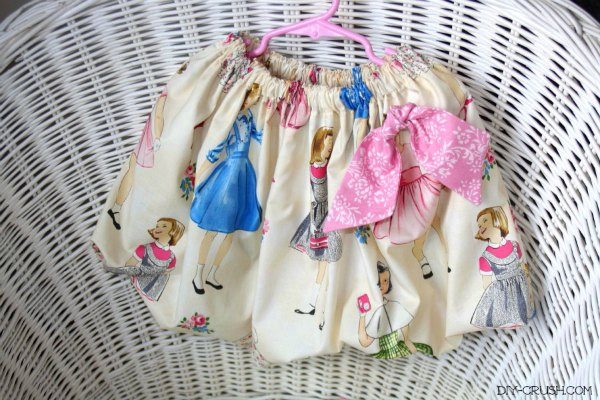 PS: A tutorial for the cute accent bow will be posted very soon so check back in!
If you liked this pattern, would you like us to email you when we have a new post up? You can choose what interests you! Then hop on the list by entering your email below! We promise, we only send you 1-2 emails per week!
We are linking up to some of these awesome blogs! Come over to our link party on Thursdays at 7pm EST!