Stick puppet crafts are the perfect projects for kids. They are easy and fast to make. Today I am bringing part of an earlier post back into Halloween season plus a few I absolutely love. Check them out!
Here is my little stick spider! And actually I am pretty terrified of spiders. Period. But this little guy….and look at those cute eyes?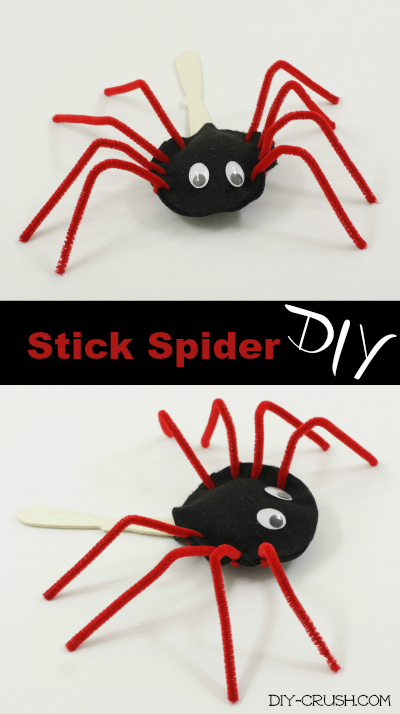 So let's make one together!! You only need a few materials and about 15 minutes.
Gather Your Materials
•Two 5" x 5" squares of black felt
•4 red pipe cleaners cut in half
•Fabric glue
•2 craft wiggly eyes
•One 4" diameter circle template (download the template HERE)
•A handful of cotton stuffing
•1 large popsicle stick
•Scissors
•Felt hole-punch
Directions:
Place the two pieces of felt together on table and cut around the circle template to create two circles. Glue one end of the craft popsicle stick to the bottom inside of one of the felt circle. Place a little bit of cotton stuffing on top of the felt circle and place the other felt circle on top. Carefully glue the inside of the edges of felt circles together. Allow to dry and then punch four holes on each side of the circle for adding legs. Put the pipe cleaners through the eight holes and twist ends to secure. Glue the two craft wiggly eyes on and let dry. That's it!
 Little Spider is done!
 ♥♥♥ ♥♥♥ ♥♥♥ ♥♥♥ ♥♥♥♥ ♥♥♥ ♥♥♥
Join our CRAFT PARTY every Thursday at 7pm EST.
♥♥♥ ♥♥♥ ♥♥♥ ♥♥♥ ♥♥♥♥ ♥♥♥ ♥♥♥
I also found a couple of adorable spider puppet crafts while browsing the internet. See them below:
1. Stick spider web with spider. Click HERE to see the post.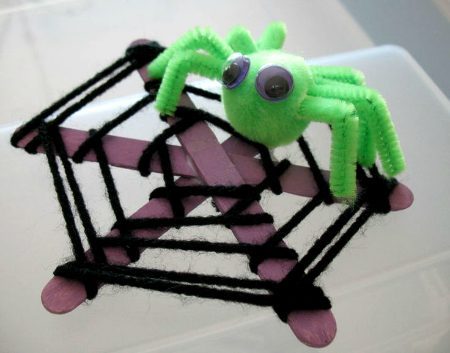 2. Toilet roll and felt stick spider. Kids will love this!! Click HERE to see the post!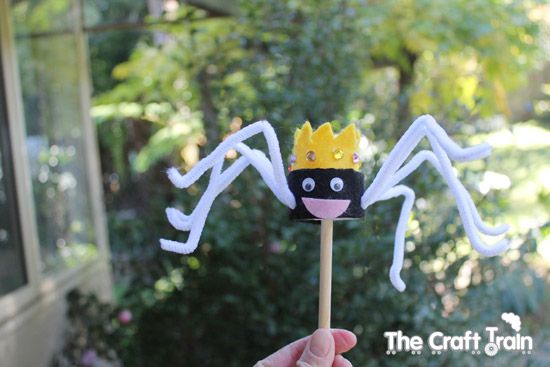 3. This cutie is made with all craft paper (and wooden skewers) and nobody will be afraid of it. See how it's made HERE.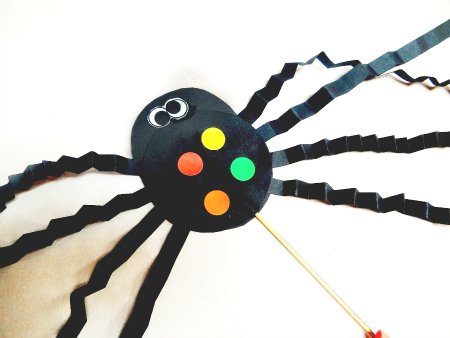 Are you ready to overcome your fear of spiders? Make some of the above! And follow us on PINTEREST:


---
We are linking up to some of these awesome blogs!
---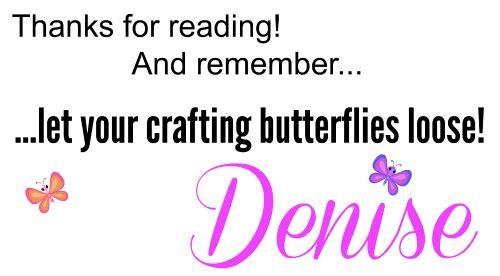 I hope you like this tutorial and will check out the other free craft tutorials!