What you can do if your sewing machine suddenly quits working. Here are some great tips for troubleshooting when your sewing machine quits. These tips are from an expert sewist.
Troubleshooting When Your Sewing Machine Quits
Today we have Jodi from Mother Grimm here. Welcome Jodi!
Jodi will tell us about what she does when her sewing machine won't sew anymore. It may only need some good cleaning 🙂
"Perhaps you are new to sewing or you have taken it up again after a long time. Maybe you have invested in some top of the range machine or you have inherited/been given an old sewing machine whilst you decide if sewing is really for you.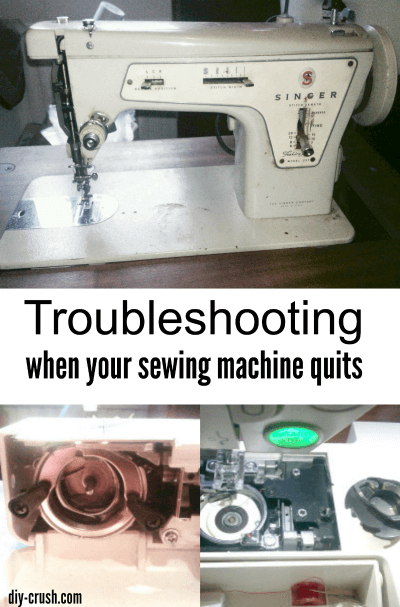 (This is what I first learned to sew on and I loved it. One day I will fix it)
It doesn't matter what machine you have or the level of expertise you have reached; at some point your machine will for what seems like no reason at all either; chew your fabric to bits; drunkenly scribble stitches all over the back; make horrible clunk clunk clunk sounds or whirrr. This normally happens as you are coming to the end of a really important project that you are really pleased with and which has irreplaceable fabric.
After you have turned the machine off and painstakingly used the stitch unpicker to salvage what you can, you may wonder if sewing is really for you and how much it will cost to get the machine fixed. Well before you splash out the cash on getting the machine serviced, there are some cheaper methods that you can do yourself to try and fix the problem.
Go through the following stages and this should fix the majority of issues.
1. Rethread everything
The needles thread and the bobbin thread. I know you may have been sewing since you were eight, and you know how to thread a machine but just humor me. Do it very carefully and make sure that the needle thread goes through the tension dial/plate/etc. (I had a week recently where I was unable to sew anything properly and each time I rethreaded I found that I had forgotten to make sure the thread was properly going through the tension. This happened on the serger and sewing machine a couple of times. I couldn't believe that I made the same mistake repeatedly and for the first time in years!).
Make sure that the bobbin thread is running the correct way. When the thread is tugged, then
Have a quick test on some scrap fabric and see if this has helped.
2. Adjust the tension
If the needle tension is too tight then the bobbin thread will appear on the top of the fabric. If it is too low then the needle thread will appear underneath. If you have a front loading machine then you can also try adjusting the bobbin tension to see if that helps. A quick test is to take the bobbin holder with the threaded bobbin inside and hold it by the thread. Tug the thread sharply; if the bobbin holder moves slowly down the thread, then it is the correct tension. Too fast or no movement and you should adjust it until it moves slowly when it is tugged.
3. Next thing to try, change your needle
Make sure you are using the correct needle type and size for the type of fabric you are using. Knits need ball points, thicker fabrics usually need larger sharper needles (90, 100) and fine fabrics do better with smaller needles (70,80)
For all needles apart from ball points (for obvious reasons) I test the sharpness by running my finger gently under the tip to see if it snags. Another test is to test the straightness of the needle by taking it out and laying it on a flat surface. Mirrors can be good for this as they will show any bends in the needle easily. But generally if I have had issues then I will change the needle and then test sew on some scrap fabric to see if that has solved the issue.
4. Next try cleaning the bobbin case and the feed dog area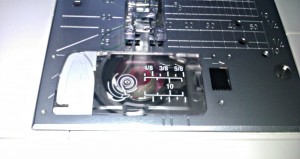 Unplug your machine for this. Machines usually come with a screwdriver and a small brush to allow you to open the feed dog area and clean it.
Check the manual to find out how to clean yours. If you have inherited your machine or bought it second hand then these items may no longer be with the machine. You can check online, but most machines will have either screws around the needle plate holding it in place or clips.
Remove these and check for loose threads and fluff. If you have no brush with the machine then a clean paintbrush or spare eye shadow brush can be used to help clean the area.
Make sure when you put the needle plate and the bobbin back in that everything is in correctly before you try stitching anything. I usually rotate the hand wheel gently for a few turns to make sure that everything is running smoothly and nothing is rubbing or catching on anything.
5. If you are still having issues
then you can try a couple of more things. Are the bobbins the original ones that came with the machine? This is something I have found out quite recently. I had been using my lovely metal bobbins inherited from my 1950's singer in my new machines as they look so much better than plastic, but kept having issues with snags and stitches.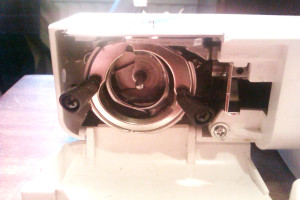 Once I bought some spools specifically for the machine, then I no longer had as many issues as before.
6. Lastly, look at the type of thread you are using
Machines are snobs about threads. That box of cheap thread may seem like a money saver but once it has clogged up your machine and ruined your best fabric, it is no longer cost effective. Always get the best thread for sewing and make sure it is suitable. Cotton thread has no stretch so is best for quilting or decorative effects. Use polyester thread whenever you are sewing items that need some give, such as dress and knit fabrics.
If you are still having issues, then it is probably time to have a few biscuits, a cup of tea and book your machine in for a service. Use the time without your machine to tidy up your fabric collection, prep patterns for the future or perhaps re-join your family and friends for a little while. They've probably missed you!"
Thank you Jodi, for this interesting list of tips!
Let us know what your favorite tips are by leaving a comment below!
If you liked this post please pin it and share it with your friends! Social media buttons are on top of this post! Thank you!