Cowl ScarfMake this super fast Knit Fabric Infinity Scarf! This free tutorial shows you how to sew one in less than 10 minutes. They are great for using up remnants of fabric as I did after I made myself a knit top.
How to make a knit fabric infinity scarf in 10 minutes
⇓ – – – –  PIN THIS – – – – – ⇓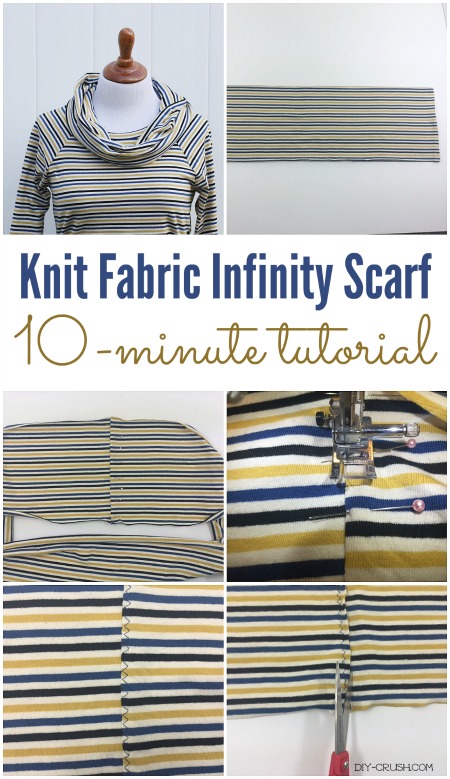 I had this perfect remnant from my knit top I made myself using the awesome jersey knit fabric from
Girl Charlee. I thought it would make a cute infinity scarf to match my top exactly. It makes it look like it's a top with an attached cowl neck. What I love about jersey knit fabric is the rolling hems. Normally you wouldn't go for rolling (or curling) hems when sewing with knit fabric but for my top and this infinity scarf it really looked awesome and I didn't have to finish the edges either. It's kind of like a win-win.
My remnant measured about 60 inches from selvage to selvage which made it perfect for this scarf. The width was 8″ and the minimum width of what I would like for a scarf. You can certainly make yours much wider if preferred. I have seen infinity scarves with a width of 36 inches! Wow, those were thick but looked awesome and the one I loved, even doubled as a nursing cover! How clever!
What I did was insanely easy and fast.
I slightly overlapped the short sides and pinned them in place
Then I stitched them together with a wide zigzag stitch. I also love using my stretch zigzag stitch, also called 3-point zigzag stitch as wonderfully explained here. Beginning and end got backstitched with a straight stitch to secure the stitches.
The front side's stitches were nicely lined up with the overlapping fabric edge but the underside was not. Since knit fabric does not unravel, I simply trimmed off the access with sharp fabric scissors. Voila' , my knit fabric infinity scarf was done! In 10 minutest flat!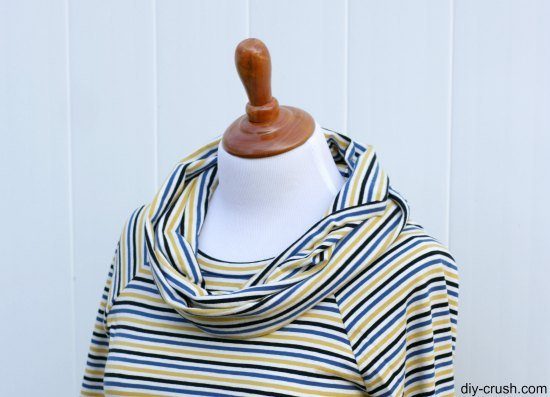 For more great scarf tutorials please see the following: