It's time for a new freebie for you all! This time it's Valentine's Day oriented, of course! I had this awesome shiny red crinkle material for quite some time in my fabric closet and wanted to use it on something very special. What other occasion would be better than Valentine's Day?? See this free skirt tutorial below!
⇓ – – – – –  PIN THIS – – – – – ⇓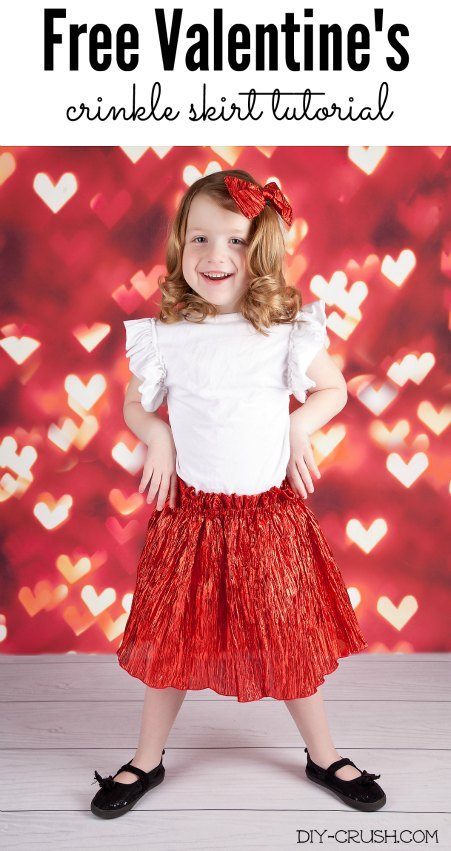 *This post contains affiliate links. Please see full disclosure here.
Crinkle fabric can be purchased pretty much anywhere where fabric is being sold. For this project it does not have to be a specific kind. I chose this one, not only because I had it in my stash but also because it was good to sew with. I did not need a special needle or sewing machine foot, even my serger had no trouble hemming the edges. Yes, you read that right! I serged the edges!!! HA!
Suitable fabrics
non-stretch lame fabric
costume material
any other desired material
Really, you can use any material for this little skirt but today it's about crinkle fabric!
Other materials you need
straight pins
cutting board
lip edge ruler
rotary cutter
sewing machine
serger
1/2″ wide non-roll elastic
safety pin
This sample skirt is a size 5t so I am including the measurements for a size 5t skirt for you. Cut 2 pieces 22″ wide x 17.5″ long (you need about 1 yard of fabric). Cut one piece of elastic to 21″. The finished skirt measures about 15″.
Free Skirt Tutorial:
Step-by-step picture guide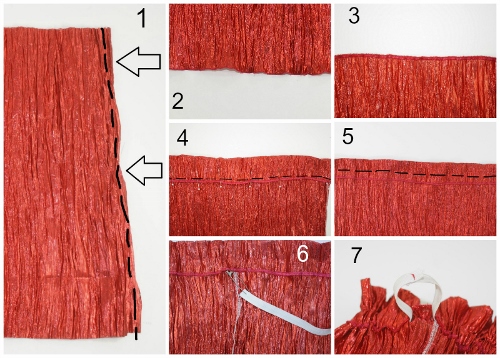 Pin and sew your two (right sides together) pieces along the sides. Be sure to match the print direction on both sides.
Roll hem the bottom edge
Serge the top edge
Fold the top edge down 1 1/4″ towards the inside, pin and sew along the roll hemmed edges. Leave a 1″ opening in the back center of the skirt.
Sew a top casing line 1/2″ away from the folded top edge. No opening needed.
Secure a safety pin to one end of the elastic and feed it into the casing.
Once both ends meet, pin and stitch together several times.
Close the opening with your machine, tuck all threads in and top stitch and your Valentine's Day Crinkle Skirt is done!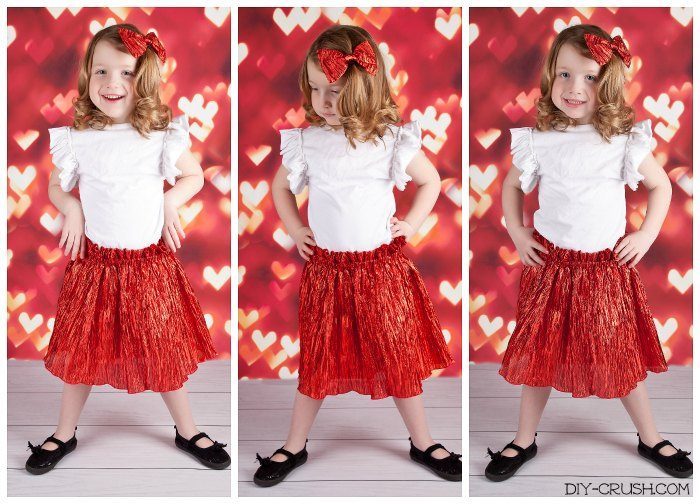 If you enjoy free sewing patterns & tutorials, would you like us to email you when we have a new post up? Then hop on the list by entering your email on the sidebar!